How I wish I was Krishna's daughter, Charumathi!
The easy camaraderie that exists between a father and daughter, although an adolescent, the trustworthy intimacy where Krishna even shares glimpses of his love life, his narration of certain events in his life with a vitalizing philosophical touch to it, all laced with humour, and the crowning glory of Charumathi as the only one privileged to sport a peacock feather in her hair, were the strands which made Charumathi a delectable, delightful and entertaining dance feature, high inemotional quotient.
Premiered at Bengaluru the other day, one was piqued by the title, as Charumathi finds a mere mention in the Srimad Bhagavatam, as Krishna's daughter. Perforce, a fictitious person around whom a characterization had to be built; Certainlymuch scope for imagination! Featuringjust two dancers, Sandhya Muralidharan and Pritika Krishnakumar, this Sarthika production radiated a liveliness and depth that had as much to do with the emotive abilities of the dancers and their supple movements and agility, as the simply strung episodes, which were refreshing despite their familiarity.
Breezy, informalconversations between Krishna and Charumathi threaded the narrative, made crisp by exquisitely conjoined and energetically executed nritta that ran through the entire feature till the concluding tillana, formatted as an episodic component. The dancers'generous use of karanas, the easy flexions and buoyancy of movementgave it a feminine grace that yet did not reflect as effeminate on the character of Krishna. A tri-lingual presentation with lyrics in Samskritam and Tamil, and dialogues in English, Charumathi, an enjoyable outing that transcended the ordinary, left a trail of vivid impressions.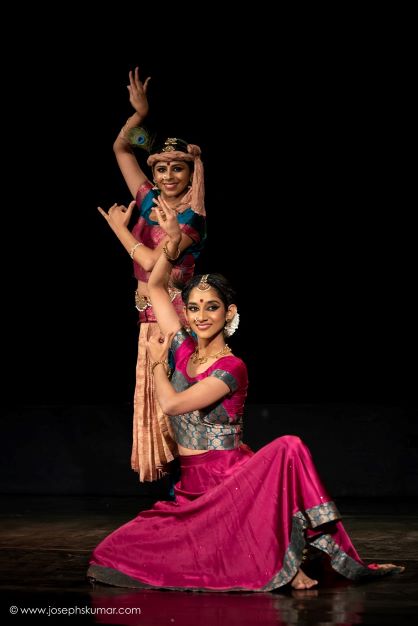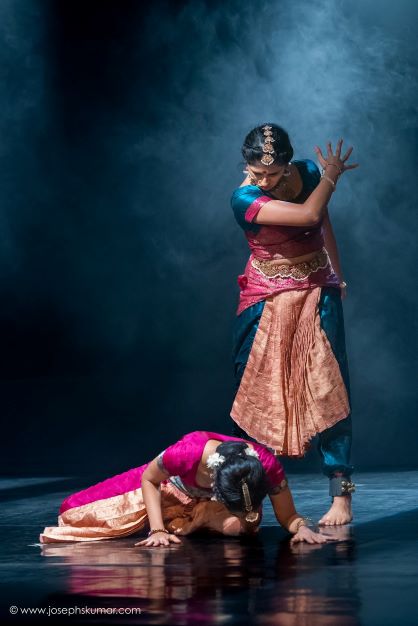 Poignant was the contrasting lives of Devaki and Yashodha, the former longing for her estranged infant, even as Yashodha revels in the rearing of the lively, naughty Krishna; both projected simultaneously evoked pathos as well asjoy—an admirable feat! Rukmini and Satyabhama vying for Krishna's attention, successfully etched the contrasting characters of the two consorts. Artistic liberty in portraying Rukmini as a feisty woman– a departure from her docile image, was a refreshing change; a little toning down would have contoured her dignity better. Draupadi vastrapaharanam, an otherwise shop-soiled episode, waselevating and deeply touching in impact.The love of Radha and Krishna foundlyrical expressionthrough an exuberant enjoyment of their togetherness.
Underlying all this was wit, even pace, conviction and spontaneity, Sandhya and Pritika'shigh spiritsmadeCharumathi eminently watchable. Credit goes to several other quarters too, the lucid lyrics of Devarajan Swamy finding musical excellence in the hands of Rohit Bhat. It was a garland of apt ragas including Amritavarshini, Behag and Kadanakuthuhala that echoed the underlying sentiments; while Sandhya and Pritika, with their script, concept and choreography proved themselves to be boldly innovative.
However, loud expressions at times came in the way of aesthetics.
Professionalism extended to even the stage decor; the stark, dark backdrop helped one to focus exclusively on the dancers, although periodic movements in the wings was a distraction that should have been avoided. Effective lighting by Niranjan Gokhale enhanced the theatrics.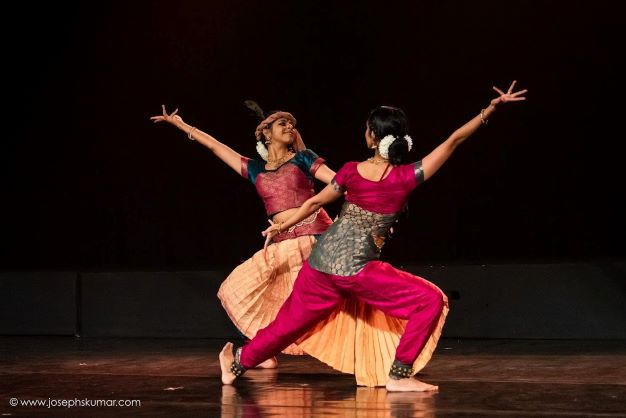 Was Charumathi a misnomer? Yes, if one looks at the etching of the character, which was almost nil. But through this youthful daughter of Krishna was woven an enchanting tale of varied emotions, capped by a heartwarming, dramatic ending. Charumathi will remain in memory for this alone….
 Photos by Joseph Kumar