Of expressions in melody and gharanas
– Ranjani Govind
Hindustani expert Pt. Iman Das on stalwart gurus who shaped his artistic sensibilities to become a versatile musician. Ahead of his multi-city book release 'Reimagining – One Nation One Music' which he has co-authored along with the renowned violin-sisters Lalitha & Nandini, the vocalist talks of the importance of inspirational associations that helped him take to the pen.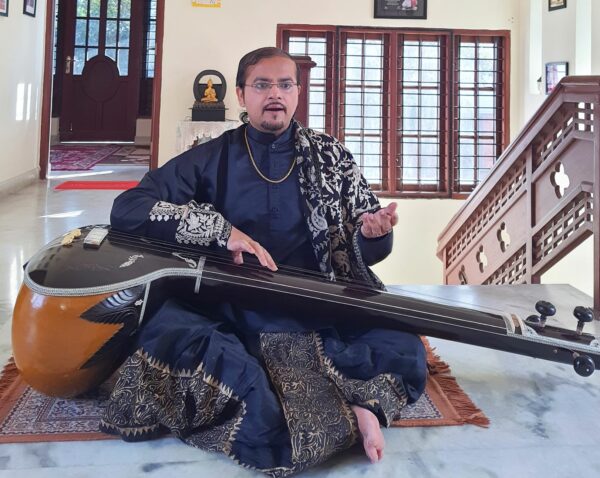 It was recently in Bangalore that one witnessed acclaimed Hindustani vocalist Pt. Iman Das' newer expressions in melody with classical touches at 'AnandGeethe' presented by Omkar Music Academy. Along with Bhavageethe singer MD Pallavi the jugalbandi brought in Hindustani ragas, along with Kannada film songs and thumri. This melodic experiment coincided with Iman Das' 40th birthday, and the 5th anniversary of his Omkar Music Academy.
Proud about his rigorous musical schooling under various gurus, Iman Das, in a recent Akashavani Gurupoornima special spoke about one of them, Pt. Kalyan Basu (93), a direct disciple of Bade Ghulam Ali Khan of the Patiala Kasoor gharana. A prominent school known for its thumri, ghazal and khyal styles is said to have adapted to khyal with the changing times and tastes, as against dhrupad gayaki that had been the norm for long. The authentic taleem (schooling) of Patiala Gharana is what Iman Das absorbed from Basu. "As a guru he was the first to tweak my food intake too, as he often said 'singing requires the right nutrients,' said Iman Das, an A-Grade artist of AIR and Doordarshan, who has performed around the world.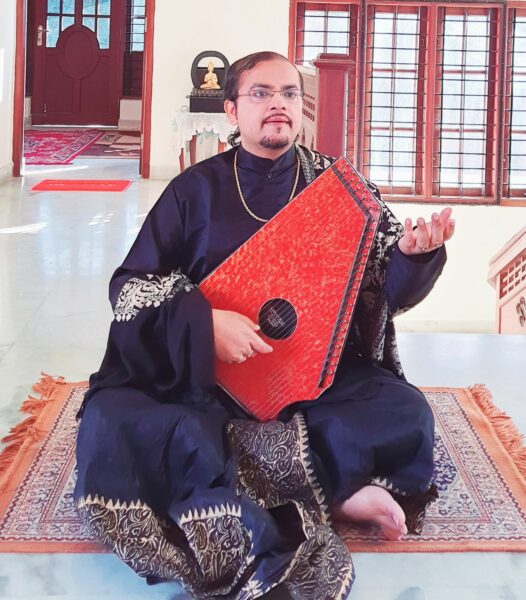 Amongst the several forms of art passed on since generations, musical ideologies are no exception. "Hindustani classical consists of various gharanas (schools), each with a set of features that are developed through masters and disciples, making it the guru-shishya parampara," explains Iman Das, who also learnt from Pt. Ajay Chakrabarty (a student of Munawwar Ali Khan) and Pt. Shantanu Bhattacharya. "So my lineage belongs to Patiala gharana. Each gharana would imply a new approach to music, its interpretation or form, embellishing the existing structure. It helps every successor become a participant amidst an inheritance and dissemination of ideas," says Iman Das.     
Hindustani music had progressed with an artistic blend of several streams. "If the meditative dhrupad gayaki maintained the pure vedic tradition, Khyal evolved under the Moghul influence. So, music had no defined religious boundary, its patrons and practitioners were a different story," says Das. But there are many other sides to Iman Das' musical persona that makes him multi-faceted. His rare musical collaborations with Anup Jalota, Amit Kumar, Pt. Jayateerth Mevundi, Pt. Venkatesh Kumar amongst others, has much been in focus for their imaginative brilliance in presentation. "During my serious learning phases with all my gurus  I had observed and imbibed the art of classical presentations. As my perceptive abilities increased every kind of melody drew me closer. I felt the urge to make music my  raison d' etre," says Das, who has been acknowledged by WNYR New York Radio in the 'World's Top Emerging Artistes' category for the special song /Sanskrit shloka  'Maa Meera' https://youtu.be/oIqEJkz-1E0.  A documentary on him titled 'Omkar: The sound of the Soul' has musical stalwarts speaking on his contribution to music, to be released soon
If Das is able to take up a serious morning raga as Basant Mukhari at the Panchakshari Gawai Ashram Jatra fest in Gadag, he is equally at ease composing songs or exploring paths to creating new ragas. Swarna-Deshi is one such of his recent ones that even had Anup Jalota joining him in enjoying the newly explored scale during a musical meet.
Early life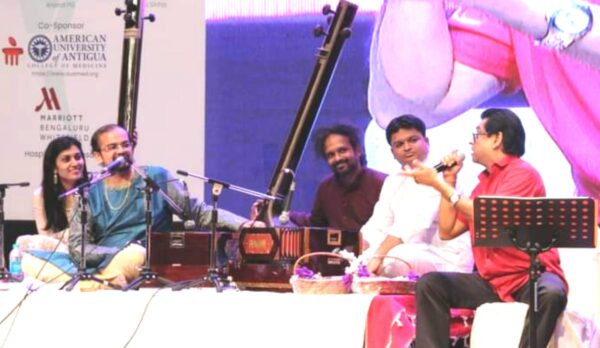 Brought up in Kolkata, Iman Das was attracted towards Bangalore after his music received a good response from the IT city that "embraces new aspects of culture and music with a broader acceptance." Das says he would often visit the city, but during the last decade he decided to make it his home as his student-strength in his city-based Omkar Music Academy grew multiple folds.
One of the aspects of the Academy is the housing of lessons that discusses all systems of world music, although Indian classical Hindustani in all its variety and genres are taught and given expressions to. "One of the best ways to teach any connoisseur of western music is to make them sing their genre, even as I follow the same lines through Indian systems of swaras and raga movements. No other system can do this, we can notate any world genres through our seven notes and have students to understand music perfectly!" We need to have people cherish and value our own systems replete with richness," says Das.
Call of the pen
It was a relatively free time during the pandemic in 2021 when Iman Das was pleasantly surprised to receive a call from well-known author Utpal Kumar Banerjee (88) who persuaded him to consider writing a book. The idea given was to discover the possible merge of the Hindustani and Carnatic classical in the coming generations, as after all, the two genres had no demarcation, and had been a single stream until eight centuries ago before the foreign invasions happened. "Utpal ji had asked me if I could hypothetically imagine no jagalbandis, but a single-form of classical music presentation in the years to come. He asked me to seriously reflect on this possibility and come out with 'reimagining one nation-one music or Ek Bharat Ek Sangeet' and look into having a content for people to reflect upon," he recalls.
"The oceanic contemplation had to be seen in a broader historical perspective where both Hindustani and Carnatic is traced, and a new unified journey is visualized," says Iman Das. Since he was in touch with violinist-duo Dr. Lalitha Mutthuswamy and Dr. Nandini Mutthuswamy as they jam and collaborate often, the duo agreed to be the co-authors for the book. The Violin Sisters, scions of an illustrious lineage of L. Vaidyanathan, L.Subramaniam and L. Shankar, took up unravelling their expertise for the Carnatic tradition. The two have authored several books and research papers.
The book, One Nation, One music: Ek Bharat, Ek Sangeet (Shubhi Publications, New Delhi is all set for a multi-city release (after the first one at Kolkata recently) with music lovers and stalwarts hailing the effort for the curious outlook. As a busy performer and a teacher in his own Academy, Das says the book is based on his own explorations and encounters in melody for the last two decades, and Lalitha & Nandini's take on Carnatic traditions and ragas. Das' deep delve has helped him look into historical aspects of ragas and their flowering in different schools, newer scales and the similarities and possibilities of Carnatic and Hindustani squaring off into a single stream that form the core of his narrative. Several chapters as 'Raga-music for eternity' and 'Raga – mystique, mythology and meditation' trace the expeditions of raga-scales and the timing of each raga for its effectiveness, even as the last chapter is co-written by the three.
 "My research also includes the science behind the sargams, looking at the notes that form the structure for the said raga, and using them in multiple melodic ways to show their aakaar (make-up). The book has comparative and dissimilarities of Indian music traditions and western music elements. "We have brought in commentaries on Indian classical genres, current popular musicians and songwriters of the West, not to forget our take on Jazz traditions that have been part of this comparative journey," says Das.
Das has created new ragas with elements of Hindustani and Carnatic, new bandishes and new taals to be presented by the team of musician-authors along with every book launch spanning many cities. "Each book too has a QR code for scanning where one can watch the video of the presentations. It will contain practical renditions and demonstrations of the connection between Indian and Western music, and the Hindustani & Carnatic traditions. This can be a reference guide brimming with research value," says Das.
New raga and talas created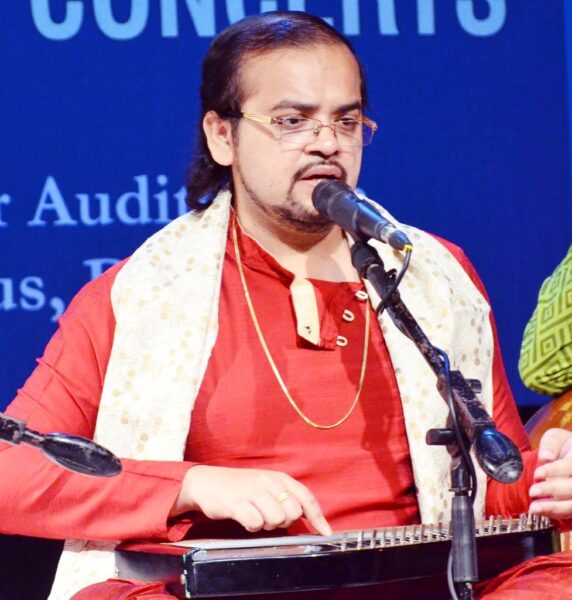 Iman Das has also created a new raga "Swarna Deshi" a combo of Desh and Charukesi as the book is to be dedicated to the nation during "Azaadi Ki Amrit Mahotsav" and the lyrics flow in two new taals – Anant and Bharat – and is dedicated to Matanga Muni's Brihaddesi written 800 years ago. The word raga is used in this historical work for the first time. I have done a lot of research on gharanas, particularly on Patiala gharana and delved into the works of Matanga Muni, Sarangadeva  and how the Hindustani system came into being after foreign invasion, how Khyal gradually came into use after Dhrupad, " he explains.
Does the book mirror what classical music was when Hindustani and Carnatic was one music? Or the factors that made them become independent streams gradually, at a later point? What are the reference details the authors have brought in to corroborate the interesting details?
"We have taken support from the well-known established work of theorist Matanga Muni's Brihaddeshi, an early treatise on classical Indian music dated 6th to 8th Century CE, a well-known thesis amongst serious music lovers today. Matanga Muni's text is in classical Sanskrit, explained in technical terms without audio, as it was done centuries ago. It was the first text to speak of raga and was the foremost to make a distinction between the classical (marga) and the folk (desi). It also introduced sargam (solfa) and the names of the first syllable of the seven musical notes; and how the seven notes of the octave map into 22 srutis for singing. Matanga Muni based his work on Bharata Muni's Natya Shastra where there are commentaries on musical-scales and micro-tonal intervals and has clearer explanations on issues related to sruti. This way, it helped our book 'One Nation- One Music' gain a more authentic voice," says Iman Das adding that this hypothesis of a single music is what is addressed. It can be understood better with our video explanations, as our music is ancient and has been wonderfully evolving too.
Perhaps, Iman Das' association with both classical and non-classical and other streams helped him with the chapters 'Raga for Eternity; and Raga for Mystique and Meditation'? "Raga music is eternal as it can fit in anywhere; and the mystique part of it is my personal experiences. One example is when my guru Ajoy Chakrabarty sang Meerabhai Ki Malhar near Kolkata 20 years ago, just when he was completing the last tihai it rained heavily when nobody ever expected the cloud to burst! When Hariprasad Chaurasia played Shudda Sarang the audience literally fell into a trance, even after the alaap-jod-jaala, it took them a few minutes to shake themselves up! That is the power of the purest melody!" he says referring to mystical stories of Tansen and Haridas swamy that is akin to meditation. "My breathing technique improves tremendously by singing akaar just for a minute or two daily!"
With so much of musicality that he has garnered from all around, what are the finer distinctions of his own gharana-formatting evolved to include multiple facets? Patiala gharana, says Das, has intrinsic open aakars for its signature expression, with highly ornate melodic and rhythmic patterns. "Our raga renditions speak volumes of our rigorous riyaaz, with refreshing individualistic approach that refuses to blindly copy our celebrated gurus," says Das.
 Development of the Patiala Gharana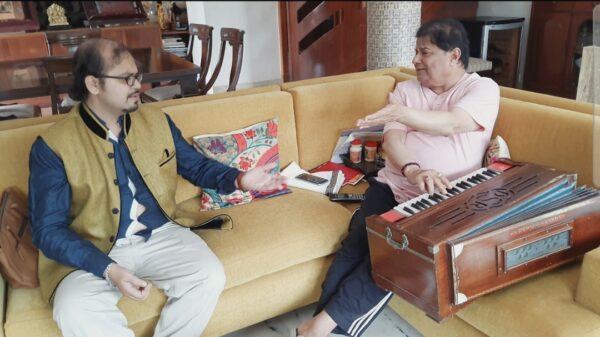 The musical traditions of Punjab – tale of brilliance earned through generations of hard work – was washed away. After the Partition of 1947, most Punjab-based gharanas started flourishing when stalwarts of music migrated from Delhi after the disintegration of the Moghul Empire in the 18th Century. They sought patronage in the riyasats of Punjab region, ruled by the Sikh kings. The Gurbani kirtan was done in pure ragas, mostly in dhrupad style with the accompaniment of stringed instruments like the rebab, dilruba and taus and pakhawaj for percussion. Hence the gharanas of Punjab developed acumen not only in vocal rendition but stringed instruments, and percussion evolved to reach inimitable levels of perfection. Kirtan played a vital role in the propagation of dhrupad gayaki, while the partition had caused an irreparable loss to both traditions – dhrupad and kirtan.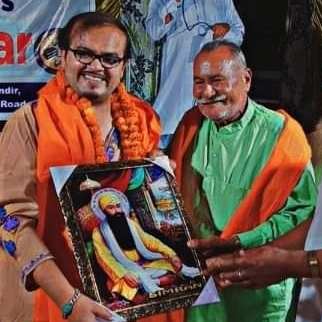 Amongst the several other schools that flowered, it is Patiala Kasoor Gharana, founded by Ustad Bade Fateh Ali Khan and Ustad Ali Baksh Khan at Kasoor (now in Pakistan), that had the royalty of Patiala as patrons of the only gharana from Punjab that still retains its distinct identity in public memory. Though the popularity earned by late Bade Ghulam Ali Khan has not been touched by his descendants, who also rendered semi-classical genres as thumri, tappa and dadra with equal élan, the style known for its rich embellishments gained popularity for rendering of complex but graceful taans. Iman Das says "Ustad Bade Ghulam Ali Khan saheb took many elements from Gwalior, Agra, Delhi and even from Dhrupad styles of the Dagars and blended it with the Patiala Gharana. Extended meends, packed gamaks, captivating taans, shuddha aakar, bol-banavat and some elements of Punjabi folk was punctuated with amazing murkis and harkats was the beautiful picture he musically painted."The ITC Sangeet Research Academy, Kolkata has been researching and teaching the Patiala Gharana under the traditional guru-shishya parampara. Pt. Ajoy Chakrabarty, a disciple of Munawwar Ali Khan (son of Bade Ghulam Ali Khan) and his daughter Kaushiki Chakrabarty are star performers of this gharana.
Article courtesy: The Critical Mirror
*********