Menority – Sri Prabal Gupta
– Shashank K Nair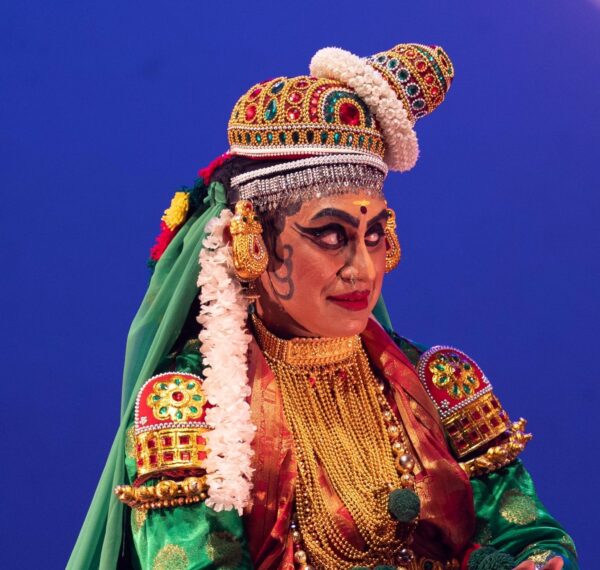 Prabal Gupta, a prominent name in the world of Kathakali has been instrumental in promoting and propagating the rich cultural art of Kathakali in Namma Bengaluru.  His performances and workshops have taken him around the globe over the past three and a half decades. Having specialised in the Stree Vesham aspect of Kathakali, Sri Prabal has created a repertoire of unique solo and troup choreographis enhanced by his research work correlating Kathakali to various other art forms including english drama and literature. Ananya Kalasinchana speaks to this path breaking artist about his journey from Kolkata to Kathakali….
Could you share with us how your journey in dance began?
My journey in dance began with some unique circumstances. My mother was extremely passionate about dance and had learned a little bit as well, but due to several reasons, my maternal grandparents had to discontinue her dance classes. However, her indomitable spirit kept alive her immense love for dance. During her pregnancy with me, whenever she listened to music, she felt that the baby was dancing. It was as if I had inherited the passion for dance within her womb. Despite complications during her pregnancy, both my mother and I were ultimately saved by what I believe was divine intervention. From a very tender age, my body would naturally dance along to music.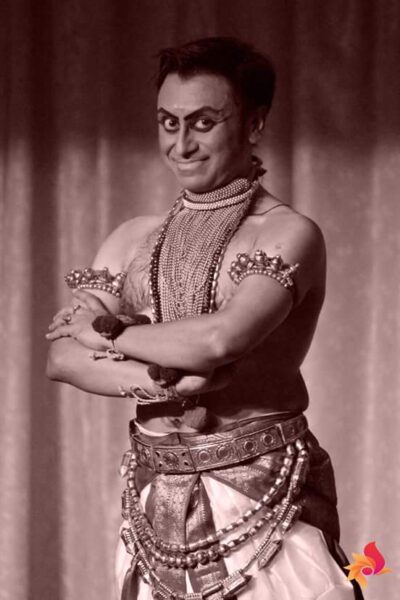 How were the initial days of your formal dance training?

I started off by learning Odissi at the age of three. Accompanied by our tenants, I would go to watch the performances of Sanjukta Panigrahiji, a renowned Odissi dancer. I learned Odissi for about a year and a half, and whenever anyone asked me to perform, I would showcase the "Saveri Pallavi." However, during that time, Odissi was dominated by women, and my mother felt that I should explore Bharatanatyam instead. I began learning under an alumnus of Kalakshetra and completed my Arangetram in 1990. The same year, I was fortunate to watch a performance by Bharati Shivaji ma'am in Kolkata, I was drawn to her like a magnet, finding myself captivated by her dance pictures and performances. I vividly recall a book by Kapila Vatsayan, "Indian Classical Dance" where I would gaze at Bharati Shivaji ma'am's picture with fascination. I convinced my parents to let me attend her performance, and afterward, I even participated in a workshop that she conducted. However, she advised me that Mohiniyattam was not best suited for men at that time and suggested I explore Kathakali instead. I then began learning Kathakali under the guidance of Kalamandalam Govindankutty.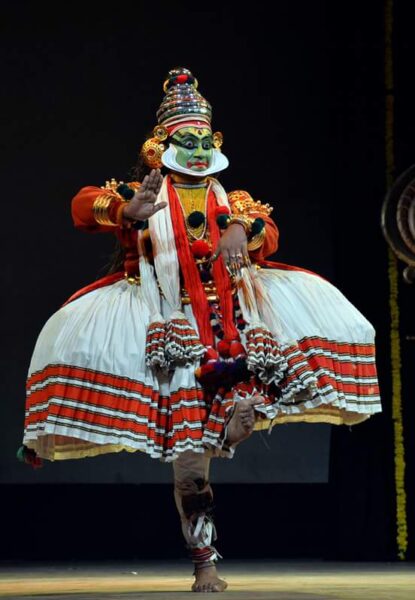 Could you share some memories and experience of learning Kathakali?
In 1995, there was a grand three-day dance festival organized by Shaw Wallace at Victoria Memorial in Kolkata. Distinguished dancers like Sadanam Balakrishnan, Bharati Shivaji ma'am, Leela Samson, Madhavi Mudgal, and Shashwati Sen performed. Being in grade 12 at that time, I managed to convince my parents that I needed a break from studying and wanted to accompany Guru Govindankutty to the festival. During the festival, Guru Sadanam Balakrishnan's performance had an inexplicable effect on me.
After completing my graduation and post-graduation, I began working, as my parents withdrew their financial support for my dance pursuits. They believed that, as a descendant of a 'Zamindar' family, I should pursue a career as an engineer or a doctor rather than becoming a dancer. However, I managed to find a job in Calcutta, which allowed me to support myself financially while continuing my dance training.
I was actively searching for a job in Delhi so that I could train under Guru Sadanam Balakrishnan, who was the director of the International Center for Kathakali at the time. However, despite my efforts, I couldn't secure a job there. Eventually, I ended up in Bangalore, where I found employment at a call center. It was a challenging time, shifting between jobs, but I decided to take a leap of faith and booked a ticket to Ernakulam to learn under Padmanabhan Ashan. Learning from him was a dream come true, and I had the fortune to stay in his home during my visits. I continued training under him until 2010 when Bharati Shivaji suggested I learn from Guru Sadanam Balakrishnan. I was emotionally, very attached to Padmanabhan Ashan, but something drew me towards Balakrishnan Ashan which made it a difficult decision to leave Padmanabhan Ashan and join Guru Sadanam Balakrishnan at Chennai. It took time for me to adjust to Balakrishnan Ashan's teaching style, but once I understood his philosophies and embraced the Keezhpadam style of Kathakali, there was no looking back. Since then, I have come to be recognized as a senior disciple of Guru Sadanam Balakrishnan.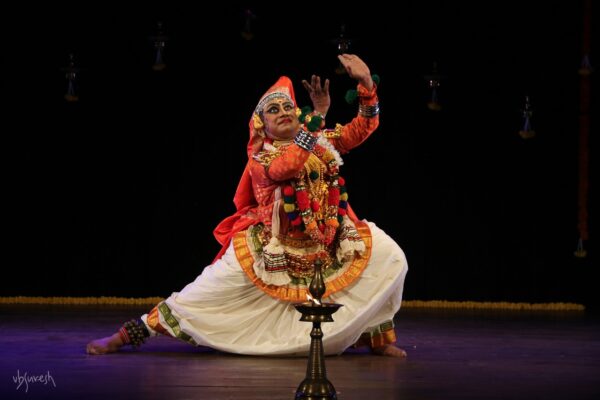 Could you tell us about the challenges you faced as an artist and how you dealt with then?

Through my journey with Kathakali, I, like most others have encountered numerous challenges. It is disheartening to admit that the acceptability factor for Kathakali still lags behind other dance styles in Bangalore. To showcase diverse dance forms, I organized a two-day dance festival that featured not only Kathakali but also other styles. However, the response for Kathakali in Bangalore is not on par with the enthusiastic response witnessed for Odissi, Kathak, Bharatanatyam, and Kuchipudi, which enjoy broader recognition. Nevertheless, I cannot overlook the unwavering support I have received from the Gurus and connoisseurs of Bangalore like Guru Veena Murthy Vijay, Guru Vyjayanthi Kashi, and Dr. Raghavendra. They have provided immense assistance in shaping my journey and enabling me to achieve what I have today. However, when it comes to the general audience, attracting them to witness a Kathakali performance remains a challenge.
Nonetheless, challenges are an integral part of any artistic pursuit, and without them, the joy of overcoming obstacles would be diminished. I believe I have made significant strides in promoting Kathakali in Bangalore.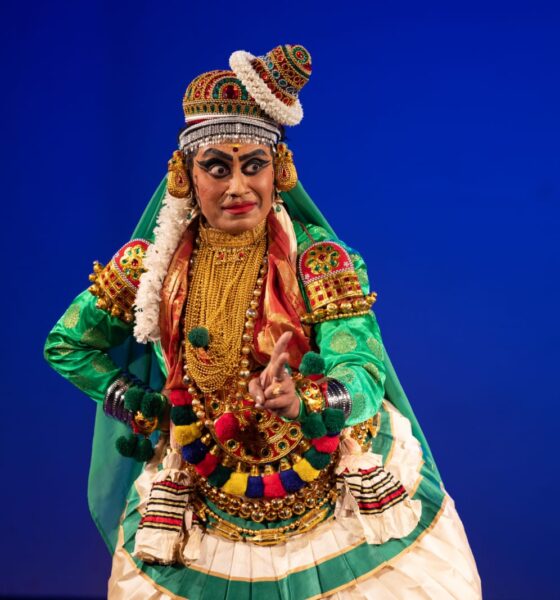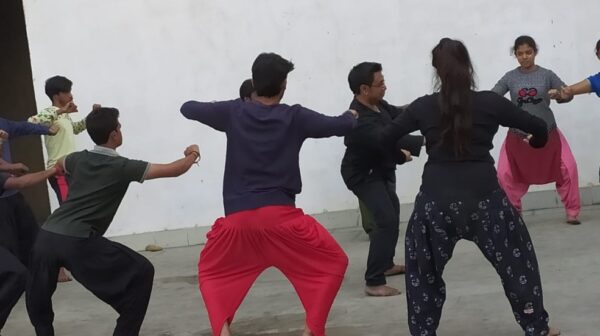 Could you tell us about your choreographic works?
Since my days of graduation, I have always harbored a desire to engage in choreography. However, I was quite young at the time. During my training under Padmanabhan Ashan's guidance, I had the opportunity to choreograph two dance dramas based on the works of Rabindranath Tagore. One of them was "Chitrangada," which incorporated elements of Kathakali, Odissi, and Bharatanatyam, and it was staged to commemorate Tagore's 150th birth anniversary. Simultaneously, the Department of Kannada and Culture organized a three-day choreography festival, where I was invited to present my choreographic work "Shama," which blended Yakshagana, Kathakali, and Odissi.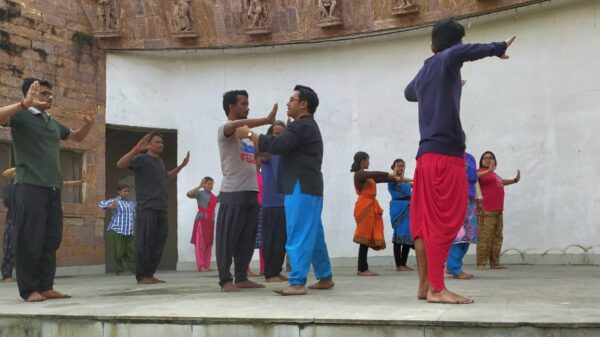 I had always aspired to explore English literature through dance, and in 2014, I approached Guru Sadanam Balakrishnan to work on William Shakespeare's "Macbeth." With his approval, I choreographed Lady Macbeth's character and later revisited it in 2022, presenting a full-fledged one-hour-ten-minute dance drama featuring both Lady Macbeth and Macbeth. In 2015, to commemorate my Silver Jubilee, I choreographed "Cleopatra," another work inspired by William Shakespeare's writings, with lyrics by Dr. Shankar Rajaraman.
In 2018, I was invited by the Whitefield Music Festival to create a Jugalbandi of Kathakali and Puruliya Chhau. Given that Kathakali doesn't lend itself well to Jugalbandi in the traditional format of Ragam, Taalam, and Pallavi, I had to find a suitable sequence. I chose "Dakshayagam" as the base, as it has relevance both in Kathakali and Bengali culture.  I reworked Irayimman Thampi's "Dakshayagam" and requested Dr. Shankar Rajaraman to translate it into Sanskrit, enabling Puruliya Chhau to accompany it. I choreographed a romantic scene between Shiva and Sati set in Mount Kailasa, which served as the Jugalbandi between Kathakali and Puruliya Chhau. This production, titled "Dakshathwaradamsanam," premiered in 2018.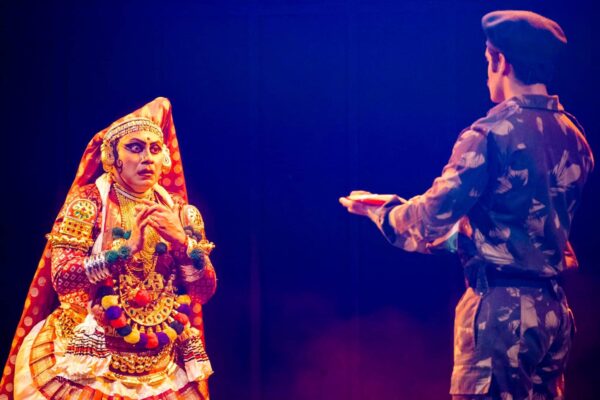 In 2021, during the peak of the pandemic's second wave, I was approached by the Ministry of Culture to contribute to the "Azadi Ka Amrit Mahotsav" celebrations of India's 75th year of Independence. I decided to dedicate my work to the loved ones of the brave martyrs of the nation. I wrote "Kshaatrabala," a story depicting a woman who loses her husband in the Kargil War. Arjun Bharadwaj penned the lyrics for the piece in Sanskrit. The production begins with her husband leaving on their nuptial night to join the war at Kargil. While she feels unhappy about his departure, she reminisces about the beautiful moments they shared. This reminiscence is expressed through a dance sequence, which I choreographed using fresh movements that resemble Kathakali, but with a unique touch. I incorporated elements from Krishnanattam and fused them with Kathakali's steps to complete the choreography. "Kshaatrabala" is a confluence of Kathakali and modern theater, evoking powerful emotions. This poignant story has brought tears to both myself and the audience.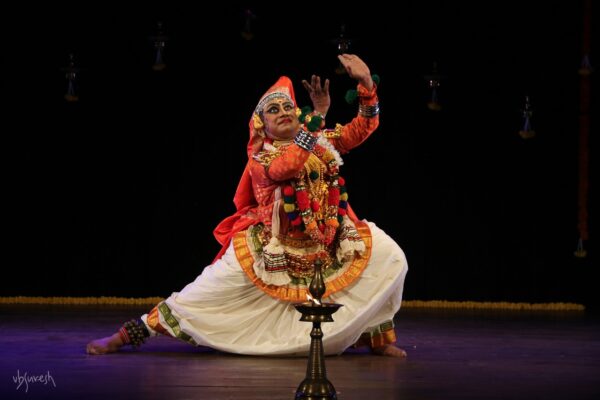 This year, as part of my festival, I presented a new production titled "Manipurakshiti Rakshanotka," inspired by Rabindranath Tagore's "Chitrangada." The performance garnered significant attendance and received widespread acclaim. Notably, in this production, I introduced the use of "Timila" in Kathakali, which is one of the Panchavadyam instruments traditionally used in Kerala temples. This was done to punctuate certain Taalas derived from Kudiyattam and enhanced the mystical ambiance, aligning with the mystical nature of the character portrayed.
Could you please share with us your experience and background in writing?
I had the opportunity to immerse myself in writing for a considerable period at The Hindu post which I dedicated myself to the craft, primarily contributing to the esteemed publication, Ananya Kalasinchana magazine, and also writing for Narthaki. However, my writing journey took an unexpected turn when I was acknowledged by the Ministry of Culture as an Outstanding Artist in the field of performance. This recognition needed me to reconsider the practice of critiquing or analyzing the work of my fellow performers, as it conflicted with my newfound role.
Now I have taken on a mentoring role, seeking out individuals whom I perceive to possess great potential.  Should the circumstances permit in the future, I may seek permission from the Ministry of Culture to resume my writing endeavors.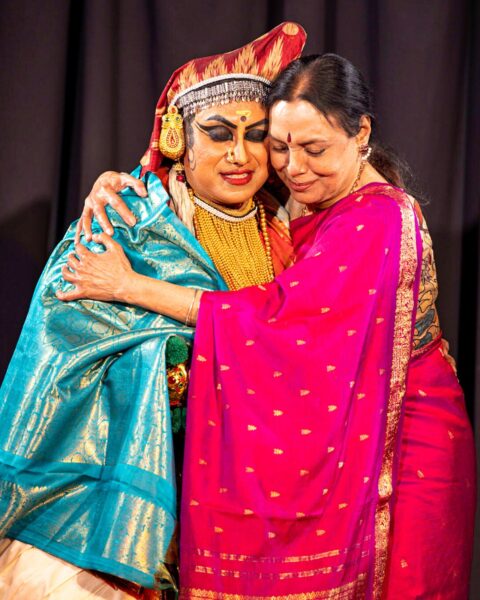 A message you would like to pass on to the readers of Ananya Kalasinchana….
In my personal opinion, attaining stardom overnight is an unrealistic expectation in the realm of dance and performing arts. These disciplines require a perpetual commitment to learning and growing. I strongly believe that individuals should invest dedication and effort into acquiring a thorough understanding of the art form, ensuring they learn it correctly. Unfortunately, I have observed a growing trend where dancers and audiences have become excessively focused on appearance. I firmly believe that dance transcends mere aesthetics. It extends beyond outward beauty because, in due course, attractive appearances without genuine art become exceedingly monotonous.
Additionally, I have noticed a tendency towards acrobatic displays and overly sensuous performances, making the art forms lose their essence. Dance encompasses far more than mere physicality. It reaches deeper realms. Dancers should invest time in thoroughly understanding the literature associated with their performances. They should discern the similes and metaphors employed by the playwright, and effectively convey them through their art. If the playwright uses hyperbole, it is essential to depict it accurately. Moreover, punctuation marks, such as semicolons and full stops, should guide the dancer's pauses during abhinaya. This will bring depth to Abhinaya.
That is my humble request to readers and enthusiasts alike. It is our collective responsibility to educate and train dancers, just as it is the dancers' responsibility to educate and enlighten their audiences. It is not reasonable to assume that audiences possess an inherent understanding of dance. Many may be unfamiliar with the intricacies and nuances of the art form. Hence, it falls upon us to ensure that we present the correct interpretations and showcase the true essence of the art form to audiences, helping them develop a deeper understanding of this sublime artistry.
 *********