An Ambassador to the Mysore baani
– Ranjani Govind
While Veena  D Balakrishna was conferred the Sangeetha Kalarathna at the 52nd Music Conference of the Bangalore Gayana Samaja in October, the vainika also bagged the Central Sangeet  Natak Akademi Award for 2021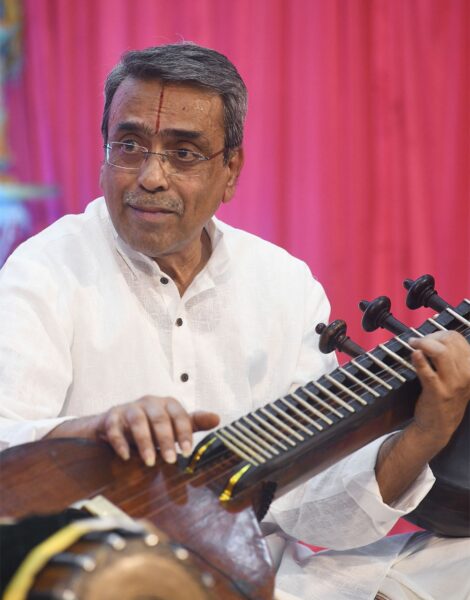 Veena D Balakrishna was on cloud nine after bagging two well-recognized awards  in the last few months – one from India's oldest running music sabha, the Bangalore Gayana Samaja; and the Central Sangeet Natak Akademi Award for 2021. "I feel honoured, awards are an impetus to delve deeper into the Carnatic genre and find fresh possibilities," says Balakrishna, known for discovering newer stances expressed through his Saraswati veena. "I dedicate this award to the Mysore school of Veena which has produced legendary players as Veene Sheshanna and Venkatagiriyappa, and my father and guru Veena Doreswamy Iyengar.
Amongst the very few to take forward this veena formatting, Balakrishna, the A-Top artist of the Akashavani, brings in hitherto unexplored facets too (of the veena) in a move to consciously expand his traditional contours and have an individual stamp. Stepping out of his classical mould, he has curated a musical video on YouTube 'Aikyamrutam' as a tribute to commemorate India's 75th Year of Independence with an assortment of songs representing various states, featuring pictures of freedom fighters, famous personalities and monuments, making it visible amongst the musical fraternity. (https://www.youtube.com/watch?v=3uF-E9z8FyQ)
"There are certain arrangements as the Pancha-veena' (five veenas) presentations that I passionately continue presenting with my students, pioneered by my father five decades ago. It was a huge success then when contact mike was yet to become a trend and the veena, a softer instrument, gained more volume with Pancha-veena to make it more audible," says Balakrishna.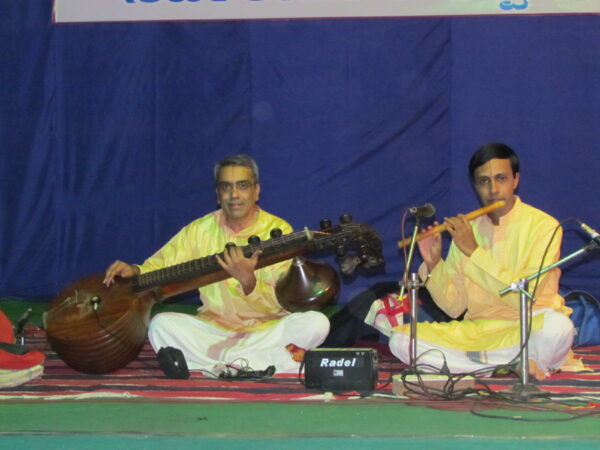 Balakrishna passionately pursued his family's musical to become a torch-bearer of the Mysore styling. Over the last few years, Balakrishna and his flautist nephew Vamshidhar have been having the veena-flute convene, the shrill resonances together providing an extra aural treat, while his jugalbandi presentations with well-known Hindustani players, including Sarod maestro Rajeev Taranath, have the platform influenced with classical ragas and intuitive improvisations.
Balakrishna, born in 1955, grew up in Hale Agrahara Mysore in the house of his grandfather Venkatesha Iyengar, also a royal court musician. He is armed with M.Sc. in Statistics, worked for RBI, and is now coaching a host of students around the globe, some of whom are graded artistes of the All India Radio.
That's the multi-faceted Vainika D. Balakrishna, whose long interview (at the Ananya GML Cultural Academy, Malleswaram, Bangalore) opened several doors of learning for this reporter as one listened to his veena speak, and the vainika sing gracefully while he demonstrated as we spoke. 
Some excerpts…
* The Kalaratna award from the Bangalore Gayana Samaja must have been gratifying now as you are amongst the handful taking the Mysore baani forward, after your farther…It is an honour that this biggest Sabha award of Karnataka is being bestowed on me. I am grateful to Gayana Samaja and my guru/father for this. And it's a glory and credit to be amongst the Kalarathna league of musicians such as Gangubhai Hangal, Dr. Ra. Sathyanarayana, Lalgudi G. Jayaraman, L. Subramaniam and Rajeev Taranath amongst others who have earlier received the award.
*Your father's musical standing is of great value to you for taking to the instrument?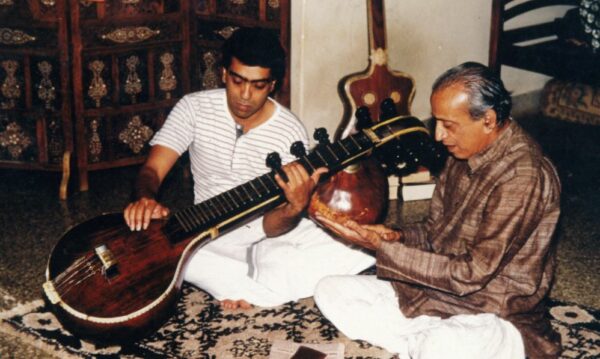 As we unfold the history of our musical parampara, it's rewarding to see that we have been perpetuating a heritage.  My father, Doreswamy Iyengar, a student of his father Venkatesh Iyengar and later Venkatagiriappa, has seen both the era's – the serious music that received royal patronage from the early 1930s to 40's, to concurrently having sabha concert presentations. In 1940 he had started broadcasting on AIR-Trichy for receiving people's patronage, a time when music had just started emerging as an entertaining medium. My father was still the Asthana Vidwan at the Mysore Royal court until Krishnaraja Wadiyar's time. In 1955, he came down to Bangalore, reluctantly leaving Mysore, when he was appointed as Music Producer at AIR Bangalore for a monthly salary of Rs.450! BV Keskar, the then Information and Broadcasting Minister in the Nehru government had wanted my father to join the Radio, after he heard him on the National Programme.
 *You started off with the mridanga?
My father had hardly asked me to play the veena as I had started my mridanga classes with vidwan CK Ayyamani Iyer as my parents noticed a flair for laya, even as they tolerated my beats on every vessel, table or book! But before my teens, I figured my heart for the veena, and secretly played on it during my father's absence, without learning from him the formal way. My father was strict; he hated the fleeting romances I showed towards mridanga and many kinds of sport. Surface-level interests don't help, realize your true interests and feel the artistic pleasure before jumping into learning, he would say. It was providence that once when I played something on the veena to my grand-uncle from Mysore, he convinced my father to teach me the veena. "Rama Nee Pai" in Kedaram started off, even as my father was particular that I had a job to fall back upon, and not made music my mainstay.
 *Iyengar's rod of discipline had both its positive and negative effects on your musical career?
I treasure his single-minded drive to lead me on to the time-honoured styling. There were many aspects that my father intrinsically believed in. He always screened his students to actually gauge their fundamental interest in music, but would strictly not waste his time otherwise.
Until 18, I had informal lessons, and he strictly started teaching in vocal first to have me absorb the nuances, and followed it with the veena as the Mysore styling is a blend of vocal and instrumental. More often he would find mistakes and correct me, but his frown and impatience unnerved me. With a charged mental battery my focus was just in following and playing with him. He expected students to learn with a single teaching, and often said 'Where is your focus?' My confidence would be punctured, and I would commit more mistakes. Even with my father giving up on me multiple times, I did not lose hope. This was my positivity, a lesson that all students of music should emulate. As a guru now, I intentionally give my students a lot of freedom so that their creative instincts get shaped without the fear factor.
 *What were his expectations as a disciplinarian?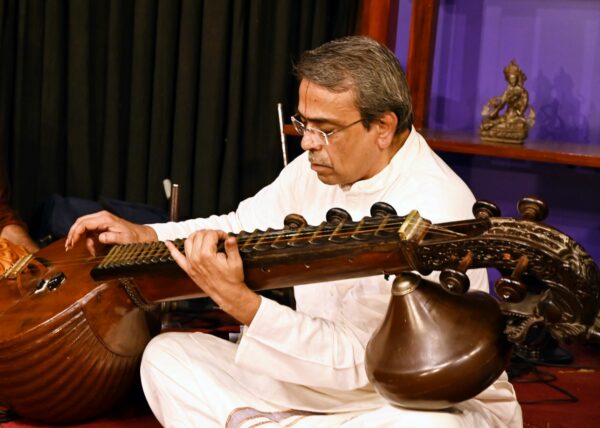 My father held that every strum on the veena and every pluck of the tala strings have an implication to the said Mysore styling. Nothing is done for fashioning a trend here. There were times I would invite a nasty glare with a wrong twang, with my father complaining that futile modernisms were divorced of classicism. It's not that he wanted only serious ragas and was against smaller compositions or peppy tail-enders. He respected them as they were appealing numbers that were celebratory towards its composers. His contention was 'get your musicality right, don't just copy, your creative alleys have to be raga, tana, pallavi and the kriti taken up the right way.' I remember some of his explanations: Your Bhairavi or Todi have to convey their stately make-up, while being educative towards your audience. Nayaki will not lend itself to be expanded beyond a sketch; a perfect Narayanagowla is a tight-rope-walk between Ketaragowla and Suruti; or Jayantasri seems so much Hindola in the ascent with the panchama adding to its character in the descent. If a student is serious, he should concentrate on such finer distinctions, and that he said can be imbibed by listening to yesteryear greats.
*Can you detail the stylized Mysore baani, and who are the musicians we can trace here?
Mysore has given its name to one of the four important veena styles in south India. Similar to the gharanas of Hindustani music, these four styles – Tanjavur, Mysore, Kerala (Tiruvananthapuram) and Andhra (Bobbili-Vizianagaram) – evolved in the four major centres where vainikas converged under royal patronage.
Coming to the characteristics of the Mysore baani, the tone is more treble with lesser base. With straight notes for preference and the use of many strings at a time, the right hand uses a lot of meetus (strokes in between sahitya syllables for instrumental effect) done with finger nails. The gamakas are with far lesser deflection of strings with pull of just two notes in one fret. The instrument gains a musical personality with split fingering technique used, as against the vocal style of singing with an excess of gamakas. In Mysore styling, imitating the vocal delivery will not help one tap the instrument's potential.
The vainika-trio Veena Shamanna (son of Rama Bhagavatar,Thanjavur asthana  vidwan who sought Mysore royal patronage) and his sons Subramanya Iyer and Venkatasubbaiah were gurus from the same family to three generations of Mysore Maharajas.
Other veena luminaries of the Mysore royal court at the time were Padmanabhaiah (1842-1900), Seshanna (1852-1926), Subbanna (1861-1939) and Chikka Lakshminarayana. All through the reign of the Wodeyar dynasty, classical music, the veena in particular, enjoyed royal patronage. Kannada Poet Laureate B.M. Sri hailed Mysore as "Veeneya bedagidu Mysooru" (veena's grace, this Mysore).
My father also spoke of the Mysore baani tracing to Pacchimiriam Adiappayya the Kannadiga who was the court musician of the Maratha Kingdom of Thanjavur in the 18th century. His descendants were V.Das of Vijayanagaram and Veena Seshanna of Mysore. Veena Venkatagiriyappa, my father's guru, learnt under Veena Seshanna who was also the Mysore Court musician. Adiappayya was a prolific composer of Carnatic music with the Attatala Bhairavi varna to his credit and his famous disciples were Syama Sastri of the Trinity composers, and Ghanam Krishna Iyer.
* Was it a struggle to take a bypass from the notable veene-Doraiswamy Iyengar mould for you?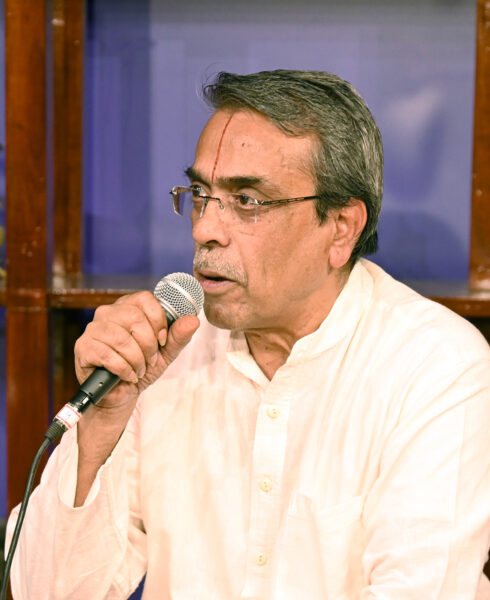 From 1973 onwards I started accompanying him and my first was at Bidaram Krishnappa Ramamandira in Mysore, thereby becoming his shadow. The next 15 years saw us take up nearly 70 concerts a year throughout India and abroad to people's awe.  Nevertheless, one day, Kannada playwright Pu.Ti. Narasimhachar, who was an ardent devotee of my father's musicality and had asked him to score music for his operas, asked me 'Why do you piggy-back on your father's technique, it's time you sprinkled some flavour of your own to be 'Balakrishna the vainika?' It woke me up from my unconscious shadowing and I willfully tried my solo-presentations with a lot more features added in. In fact, despite his reservations, it was my father's idea in 1990 that I buy a good German or American contact-mike for my veena to flow with modern requirements!
* Your academic research studies in music and lec-dems are also getting popular…
As raga and laya interests me equally and my listen-and-absorb faculty is sharp, I could take to academics in-depth for lecture-demonstrations – one of my research study includes the evolution of pallavis as presented by vidwans with élan starting from Veena Seshanna, Mysore Vasudevacharya, Semmangudi Srinisava Iyer, Alathur Brothers amongst others, to the magnum opus of TR Subramaniam. This is my tribute to their knowledge and diversity of presentation.
Article Courtesy: The Hindu & Swarajya Mag
*********