Chapter 3

Kaveri (Cauvery) as a life force for Sanketis
Ranjani Govind
Photos by Rudrapatnam S. Ramakanth
For the Telugu musical saint Bhadrachala Ramadas who sang 'Adigo bhadradri, goutami idigo choodandi' it must have been an inspiration as he reflected on the beauty of the Godavari flow to create immortal poetry and music.
The rivers of India are considered a divine blessing, not because they primarily provide physical sustenance to people surrounding them, but is sacrosanct as they essentially foster culture and fine arts and nurture spirituality. The nourishment that one draws from the jeevadhaara cannot be quantified. It has to be experienced, say several saint-composers, referring to the holy Kaveri in several kritis. Their outpourings are bhakthi-oriented; abound in their wonderment at the holy Kaveri, their devotion seems as pronounced as their loyalty to the Lord. It is a fact that such a jeevanadi not just enabled irrigation and agriculture, but irrigated the fertile creative mindscape of saints as Tyagaraja, Purandaradasa, Bhadrachala Ramdas, several Kannada poets and contemporary composers to result in a harvest of timeless kritis and verses on the sacred river.
Tyagaraja in his Asaveri kriti, in his inimitable spiritual quest, invites us to feast our eyes on the great Kaveri: Saari vedalina ee Kaverini joodare, Vaaru veeranuchu joodaka Taanavvarigaabheeshtamula Nosanguchu… (Saari Vedalina) (The river does not distinguish between the erudite and the illiterate, the virtuous and the sinner, the emperor or the pauper. It distributes its bounty to everyone. Kaveri is held to be holy as she forms a garland over Sri Ranganatha's chest, and the adornment she does in not just one place, but in three – the Aadi, Madhya and Antya-ranga.)
Not just musical saints who composed Centuries ago, but contemporary poets in the Kannada literary world and composers post-Trinity in Carnatic music too have eulogized the Kaveri.Karnataka's G.S. Shivarudrappa in his moving poem on the Kaveri writes:
Ranganathana Yoganidrege Mangalada Danigeivale / Yeradu Tolanu Chaachi Sriranganannu Takkeyali Tabbidavale….
(The little rumblings of the waves in the river Kaveri provide a rhythmic and soothing song to the relaxing Ranganatha, the two sides of her flow there appears as if she is embracing Him with her arms around Him)
Musician and musicologist TS Vasantha Madhavi in her verse on Kaveri describes this daughter of Brahma who is in the form of a pure river, and is known as the 'Ganga of the South' even as her sensuous flow from the Western Ghats cleanses our thoughts and actions. Brahmasutaam Nadee Roopaam; Nirmala Vaari Samyutaam; Brahmarshi Kumbha Jaaneetaam, Sarvapaapa Parihrutaam; Pashmimagiri Sambhootam; Samvruddhi Krutaam Sarittaam; Namata Kavereem Sateem; Dakshina Gangeti Smrutaam.
R.S. Bhaskar Avadhani, an authority on Sanketi hamlets says "Just as the Kodavas worship the Kaveri as their main deity, Sanketis believe that the river flows with a divine force to rid people of their sins! Kaveri has remained a life-force for all the Sanketi villages in Karnataka and has brought a sense of fulfillment to our lives."
Author of the book on Sanketis, Avadhani goes on to explain that as recently as even two-three decades ago Sanketis believed in naming at least one girl in a family as Kaveri. "Perhaps it is Kaveri that flows in the veins of every Sanketi!" he quips. The day for a Sanketi lady would begin with bathing, washing and pooja at the Kaveri, just as a man's would end at the banks of the river with the customary Sandhyavandana. And during festivals, the focus would be the rituals at the river.
The river basin covers several regions in Karnataka, Kerala, Pondicherry and Tamil Nadu in Southern India. Rising in South-western Karnataka, it flows 800 km South-east, traverses through the borders of each of these States to finally reach Bay of Bengal. Cauvery has been a source for far-reaching agricultural and irrigation schemes and for generating hydro-electric power besides being a life-blood of the ancient princely kingdoms and modern cities of South India.
The Kaveri legend…
Legend has it that a Kodava King once had a barrier built for Kaveri at a nearby stream near Kattepura to hold and reverse the flow back into his area. But since the surge of a river full of zip cannot be controlled, it takes a Western run at Kattepura before returning to its eastern flow towards Saragooru in Karnataka.
Rudrapatnam Chandrashekharaiah, an engineer, was responsible for building a dam in 1925 on Kaveri at Ramanathapura. On one of the rocks situated in the middle of the flowing stream, Sage Shukacharya is believed to have taken up a long penance standing on one foot! Several villagers believe the foot has permanently gathered a figurative presence.
For Sanketis too, it is the presence of Kaveri, Hemavathi, Lakshmanatirtha and Tunga that led the migrated community settle down around these rivers in Karnataka villages to pursue agriculture. Not surprisingly, the culture of nurturing fine arts, Vedas and scriptures flourished around these rivers. The religious and sacred side to the entire flow has the Kaveri taking the first glimpse at Adi Ranga (start) as she encircles the Lord at Srirangapatna, flows to Shivana Samudra for a mid-glance (Madhya Ranga) and follows Him finally at Srirangam in Tamil Nadu (Antya Ranga) in her final lap. Lord Ranganatha is thus called Kaveri Ranga, in whose praise, Saint Sripadaraja composed a devaranama – Kangalidyatako Kaaveri Rangana Nodada (What is the use of these precious eyes, when we don't get to see Kaveri Ranga!).
An enchanting route whose origins are mythical…….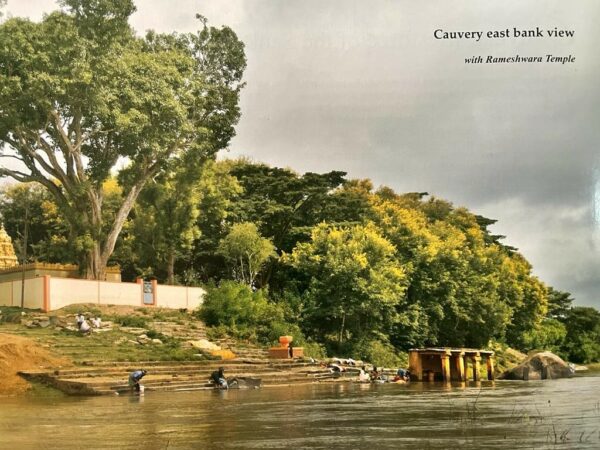 The Hindu scriptures note that just as the holy Ganga was a reward to humanity by sage Bhagiratha, the revered Cauvery is sacrosanct too with the belief of its origin owed to sage Agastya. Legend has it that King Kavera of Brahmagiri, part of the Sahyadri mountain ranges, performed tapasya (meditation) to receive a boon from the celestial beings for helping mankind. Lord Shiva grants him a daughter, Kaveri, as a blessing, and she is later married to Sage Agastya. The beautiful maiden implores her lord to enable her to serve mankind eternally in any form.
One day the sage was set to go to the lakeside, but could not take Kaveri in his customary style. So he converts her into water and takes her in a Kamandala (sacred pot) which he places on the river bank before entering the water stream for bathing. The celestial deities, who were eager to help Kaveri realize her dream, devise a plan. Lord Ganesha appears in the form of a crow, topples the pot of water. And lo! Kaveri rises and extends into a never-ending flowing stream. Lord Ganesha tells Agastya, "By your grace Kaveri has assumed the avatar (form) of a river, and her wish was fulfilled when you transformed her into water. May Kaveri provide wealth and food to people as long as the world lasts! May her presence help people remain pure and impart knowledge!"
The origin and flow…
The origin of Kaveri is traditionally considered to be at Talakaveri in Kodagu district (48 kms from Madikeri) in the Western Ghats of Karnataka. It flows South and East through Karnataka and Tamil Nadu and across the Southern Deccan plateau and runs through the South-eastern lowlands, finally pouring out into the Bay of Bengal.
The river originates from Talakaveri in Kodagu district as she energetically reaches Bhagamandala and enters Haarangi dam near Kushaalanagara. Peacefully continuing her flow through the insides of Karnataka, she enters Kanagaalu, Kattepura, Saragooru, Konanooru, Ramanathapura, Basavaapatna, Rudrapatna, Keralapura, Dodda Hanasoge and Chunchanakatte. The watercourse gradually fuses itself with river Hemavathi near Yedatore and reaches Lakshmana Thirtha to join Kannambadi dam and takes a sensuous course towards Krishna Raja Sagar at Brindavan Gardens in Mysore.
The waterway finds itself flowing through the Pakshidama and reaches Lord Ranganatha at Srirangapatna. Near Srirangapatna, the aqueduct – Bangara Doddi Nala – was constructed in the 17th Century Mysore Maharaja, Ranadhira Kanteerava, in memory of his consort. It is said that it is the only aqueduct where the water from a river dammed upstream is carried by the aqueduct over the very same river a few miles downstream. The Jeevanadhi is as much for irrigation, as it is for drinking in many parts as Mysore, Mandya, Bangalore, parts of Kerala and Tamil Nadu.
And from Srirangapatna, taking the western course, Kaveri merges with river Shimsha and bouncing her way through, drops 320 feet (98m) at Gagana Chukki dam in Shivanasamudra where Asia's first hydro-electric project has been flagged off. After joining the Kapila River she reaches T-Narsipur to be one amongst the Triveni Sangama. At Meke Daattu she gathers herself with Arkavathi River and reaches the peak at Hogeyakal (Hoganekal River falls). Crossing the threshold of Karnataka, Cauvery reaches Tamil Nadu sailing along with river Bhavani. On arriving at Mettur Dam, she passionately twirls her way through Srirangam to reach Tiruchi and Tiruvaiyyar and finally congregates at Poompuhar to embrace the Bay of Bengal.
Just as the temple at Talakaveri is dedicated to Goddess Kaveri, Sage Agastishwara and Ganapathi weaving along the mythological tale of the three, the Sanketi Ramanathapura village on the banks of the Kaveri in Karnataka has a temple dedicated to Rameshwara, Subramanya, Agasthishwara and Kaveri. However, the two sacred towns synonymous with music along the banks of the Kaveri are Rudrapatna in Karnataka and Tiruvaiyyaru in Tamil Nadu.
– to be continued
*******