Chapter 4

The birth of the star at Rudrapatna
Ranjani Govind
Photos by Rudrapatnam S. Ramakanth
This house – in one of the four main streets at Brahmanara Beedi of Rudrapatna, (those were the days when streets were divided based on caste) – though seemed just as any other rustic dwelling – fascinates me and forces me to enter in even before I see anyone ushering me inside. After all, it is here that Srikantan was born to Sannakka ninety-four years ago! While some dull blue-and-green marks the exteriors, the walls are dotted with insignificant small grilled windows. The interiors hold an idyllic charm, inviting the visitor. A captivating skylight features in the midst of the rustic ambience, with a well built within, exuding an old-world charm, reminiscent of the lifestyle that prevailed in his childhood. The house then belonged to his father, the Vedic scholar Krishna Sastry, a family known for its cognitive connection with Carnatic music.
Sannakka is said to have been a good singer during her times but fate snatched her away early in 1922 when Srikantan was just a toddler, barely two years old. Srikantan was thus predominantly raised by his sister. In 1931, Krishna Sastry decided to shift to Mysore after landing a better job at a Sanskrit Pathashala in this historic city.
The next decade saw Sastry selling the Rudrapatna house to an agriculturist whose grandson incidentally welcomed us into this 160-year-old residence! Sitting inside the fairly dimly lit house to 'feel and sense' the musicality that seemed to have pervaded naturally into this mud-walled dwelling, it felt strange, wrapped in the sundown silence and stillness, as we waited for some villagers to join the Bangalore team for reminiscing the melody makers called Sanketis.
It was sun-set time. It was this very same house that once resonated every evening with not just sandhyavandana from the male folk of the family, but was followed with Veda and Naada when neighbour scholars gathered ever so often for loud recitations. It was this very same place where Krishna Sastry's children sang along to initiate themselves into the ocean of melody.
After stories, instances, illustrative explanations and recollections that soaked us in emotional memoirs for three hours from the villagers gathered there, the house owner wasn't ready to finish his version of 'the great man Sastry' whom he had heard so much about. "Sastry nurtured academics and fine arts to hundreds in the village and is never known to have discriminated the village folk on basis of caste. His lessons were directed towards all who had inclination to learn, teaching everyone who wished to take academics forward."
Known for his versatility, Krishna Sastry worked in Keralapura and Ramanathapura as a teacher and was also Srikantan's first tutor. The Harikatha exponent was also a playwright and a poet whose knowledge of Sanskrit and Kannada made him a scholarly figure. While Sannakka's sense for music was already known, Srikantan's older brothers were equally in line with the family's passion.
R.K. Venkatrama Sastry, eldest brother, was a violinist who learnt from Mysore T. Chowdiah; R.K. Narayanaswamy, the next in line was trained by Musiri Subramanya Iyer; and the older R.K. Ramanathan was a vocalist and a professor of English. The siblings were groomed to be part of a traditional school determined by values that eschewed from playing to the gallery.
"Just as the Cauvery's relentless flow, the musicians of Rudrapatna too represented a rich stream of intellectuals, thinkers, musicians and agriculturists, some of whom were all rolled into one," explains Mallesha Vittala, a senior areca nut grower at the now-sleepy looking village that continues with agriculture as people's mainstay. Bettadapura Narayanaswamy, maternal grandfather of Srikantan, was a known Vainika and a vocalist.
As one hears of music being fundamental to Krishna Sastry's family in entirety, including the siblings' uncles and cousins who were known to have been enveloped with an indefatigable spirit of pursuing music to purify their souls, one couldn't help leaving Krishna Sastry's village home without feeling that with this kind of round-the-clock melody, the family could have established itself as 'Carnatic Choral Society' or a 'Rudrapatna family Ensemble' emulating well-known musical families of Europe! That would have been some name to reckon with!
Not surprisingly S. Krishnamurthy, musicologist and grandson of Mysore Vasudevachar, writes in his book 'Sangeetha Samaya' that "one is tempted to have the entire banyan tree family together for a Sanketi Gruhagaana Mela!" Nevertheless, the huge family is still a modest bunch, respected for holding on to its candid and sincere musical values in Karnataka.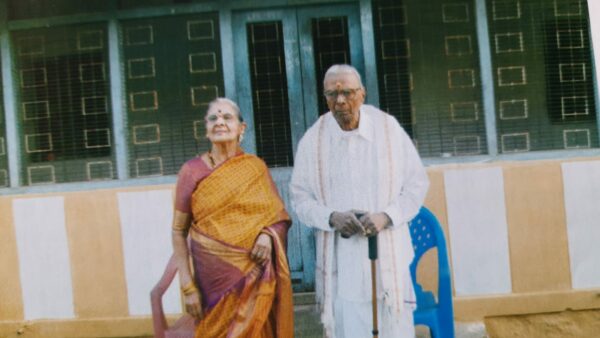 With such an intense family background, it is easy to attribute Srikantan's musical leanings, like his older brothers, to the family tree. But then why should an aptitude for fine arts be chiefly due to the prevailing home environment? N.S. Krishnamurthy, retired Station Director of Akashavani Bangalore observes that if music has been an integral part of Srikantan's upbringing, it is more his commitment and resolution to incessantly widen his knowledge in every specialty of music that led him to becoming an example for pursuing perfection. And as the senior most in the 19th Century Karnataka, at 94, his uncompromising standards and ethics sets him apart as one of the most noticeable musicians of today!
But Srikantan knits another attention-grabbing sketch of the shishya-parampara he belongs to, tracing him to being under the umbrella of Saint Tyagaraja. The link established is thus: Tyagaraja – Walajapet Venkatrama Bhagavatar – Mysore Sadashiva Rao – Veena Subbanna – R.K.Venkatrama Sastry – R.K.Srikantan.
– to be continued
*******