Chapter 5

General environment and mood, the impetus
Ranjani Govind
Photos by Rudrapatnam S. Ramakanth
The atmosphere at home in Mysore led Srikantan into the formal road for learning. Come Friday and Saturday, Krishna Sastry's house would reverberate with bhajane sessions with Daasarapada where Srikantan's brothers Narayanaswamy and Ramanathan would sing with big brother Venkatarama Sastry accompanying them on either violin or vocal.
 "I would be sitting there listening dutifully, without as much as fluttering my eye-lids," recalls Srikantan. "During my middle school, high school and college days, I regularly attended concerts. Throughout Ramotsava and other festivities, most of the senior vidwans of the Carnatic and Hindustani music would be in Mysore. And that was the era of the illustrious Mysore Wodeyars who encouraged the inflow of musicians to the Palace from all over the globe and supported them in their artistic pursuits."
Srikantan's father may have initiated him into melody, but brother VenkataramaSastry was his primary path-showing instructor. Krishna Sastry saw to it that he brought Srikantan to be continuously mentored by his eldest son who was 14 years older to Srikantan and was already making his presence in public, providing violin-accompaniment to visiting stalwarts.
If the entire Sastry's brood grew up with a strong sense of music as well as leaning towards academics, it was purely the result of his own uncompromising priorities that were imbibed. In short, it was not the rod but a persistence and assertion, encouraging the children to be in continuous pursuit of excellence.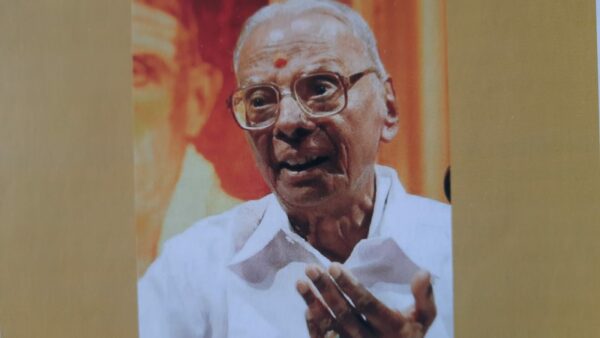 Recalling an awe-inspiring personality of sheer intellect, Srikantan says, "My father was an all-rounder and wanted us to be one. The noted orator could dash off his lyrical thoughts in spontaneous creative verses (Aashu Kavi). Being a leading Harikatha vidwan, he could take up any mythological tale and weave it in an extravagance of raga bhava. My maternal grandfather was Veena Narayanaswamy aka Veena Naranappa (of Bettadapura) a contemporary and close associate of Veene Seshanna and Veene Subbanna of Mysore. Although history has no evidence and proof that traces the route of the Sanketi community's proximity towards classical music flowing down since several generations, given our family history, it is not surprising that music has been integral to my thinking and sensibilities, raga and kritis have formed part of my lifestyle and upbringing."
Srikantan too as a little boy never missed opportunities of taking lessons from reigning stars, Veena Subbanna and Chowdiah. 'Music and academics should always run parallel in each one's life,' "my father often advised all his sons," he recalls. "He never ever wanted any one of us to side-line our academic pursuits in school and college. All of us brothers have our degrees and much more," says Srikantan who went on to study at the Sadvidya Paathashaale and Banumaiah High School in Mysore.
"I don't remember my mother at all. My sister Ammayamma looked after me initially, but Venkatarama Sastry was almost my foster parent, he was indeed my mother, father and teacher to me and my brothers, Narayanaswamy and Ramanathan," Srikantan often says.
In the 1930s, Venkataram Sastry was amongst the well-informed in the music circles and was in touch with most musicians visiting several banners known for its music propagation in Mysore. Memories related to 'Bidaram Krishnappa Rama Mandira' in Mysore are afresh in Srikantan. "Big brother that he was, Venkatrama Sastry would make me and my brothers sit in the front row and listen to the doyens of the era visiting the Heritage City for cultural exchanges. We were young and bubbling with energy. A recall of all our sabha visits puts me in splits. It used to be a hilarious sight – we would all be dressed in half-pants and Topis (traditional caps), shaking our heads and vigorously beating our hands in tala and listening to the Vidwans!"
Stalwarts from Andhra, Kerala, Tamil Nadu and the whole of North India visited our home. "They would even stay with us and relish Karnataka delicacies, while consuming wholesome music," says Srikantan. "Be it the Mysore Pak, Mysore Benne Dose or Set-dose or pure Mysore filter coffee, most visiting Vidwans were treated to all the gastronomic delights of the Heritage City! Bidaram Krishnappa, Mysore Vasudevachar and even Chowdiah were all known for their pioneering hospitality. This is the direct influence that Mysoreans have had from the Wadiyar rule known for their initiatives in being excellent hosts," he adds.
Ariyakudi Ramanuja Iyengar, Pinaakapani, Tiger Varadachari, Semmangudi Srinivasa Iyer, Musiri Subramanya Iyer, Maharajapuram Viswanatha Iyer, Pallavi Seshiyer, and Madurai Mani Iyer were some of the regulars who came to the Palace and during festivals for cutcheris.
As a teenager of fourteen, Srikantan had started performing informally at small venues. He visited Rudrapatna during summer break and the more he enjoyed his music classes, the more he got determined to continue with his dream. And once he entered the portals of higher education he took part in every music competition and participated in small functions, especially at the Maharaja's College where he was studying. "I was a curious cat, believe me, my kind of learning was in itself like a torch that regularly showed me the clear path for lapping up a future in music," he says.
Constant interactions with the visiting Vidwans in Mysore were proving to be special knowledge gathering chapters in Srikantan's life. "This way, I was fortunate enough to listen to all the wonderful performers of the era. In fact I am unable to forget the Nadaswara Vidwans of that era; it still lingers in my ears. Looking back, I think my singing style got its initial inclination for bringing about a change after I heard these players on the piped instruments bring out that pristine, vocalised music! I just can't forget Rajaratnam Pillai, Angappa Pillai, Veerusamy Pillai, Tiruvengadu Subramanya Pillai with Tavil accompaniments as Meenakshi Sundaram Pillai, Nachiar Kovil Raghava Pillai and others."
– to be continued
*******