Nattuvangam Basics Workshop by Shri Kiran Subramanyam
-B R Somashekar Jois 
World Konnakkol Academy LLP gave all the aspiring dancers and enthusiasts a wonderful opportunity to understand the basics of Nattuvangam under the amazing guidance of Karnataka Kalashree Shri Kiran Subramanyam in a 2 day workshop on June 18th and 19th 2022 at Shaale Venue, Jayanagar.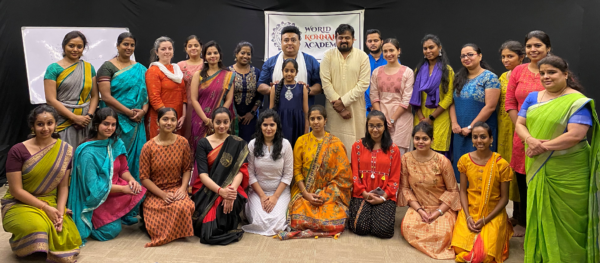 Starting with history, rare information regarding the origin of Tala and usage of Tattu Kazhi was mentioned. The way to practice and recite a Jati as well as manage the tonal quality of Tattu Kazhi was taught by Shri Kiran.  The technical terms and aspects of Laya were explained and the explanation for each concept was done with the help of an example besides theory , practical exercises were taught to improve clarity while reciting .
The 2nd day was even more interesting where ThaDhiGiNaThom variations, notation writing, composing and reciting a Trikala Jathi were taught. The importance of changing the tones for abhinaya and Nritta was demonstrated by his student Shivaranjani Harish and his daughter Rasika Kiran. Mention must be made of Shri Kiran's on-the-spot choreography.
World Konnakkol Academy is extremely thankful to Shri Kiran Subramanyam for sharing his knowledge and helping the students delve deep into the various aspects of rhythm.
**********
A FAMILY AFFAIR
-Vinita Radhakrishnan 
This Sunday, the Art community of Bangalore witnessed a unique and magnificent treat, lovingly served by the Ambalam Family. Dr. Ramya Suresh, the latest entrant to the Ambalam family, proved her mettle, as yet another Ambalam Gem, with a splendid execution of a very carefully designed traditional margam.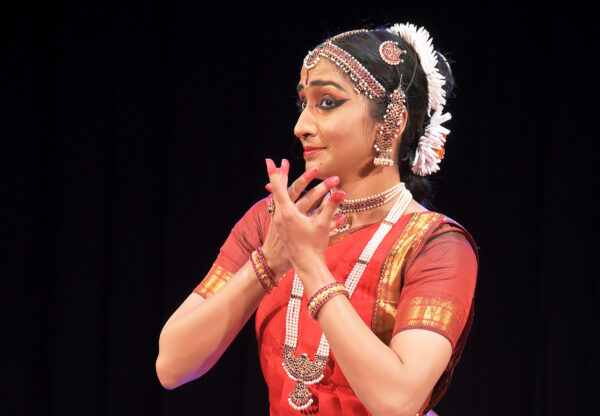 She began her recital with a Shloka on Lord Muruga, followed by a crisply executed Alarippu in Thishra  Gathi Chaturashra triputa tala. This was swiftly followed by the pièce de résistance of the day, a Tanjore Quartet Varnam, "Sarasa Ninu ipudu" in Karnataka Kapi. With her beautiful abhinaya,  dancing eyes and immaculate nritta, Ramya sailed through this hour long piece like a breeze, engaging every Rasika till the last second. While Ramya nailed the character portrayal of the nayika flirtatiously urging for the attention of Lord Brahadeeshwara, she not once, lost track of the rhythm support rendered wonderfully by Vid. Shri Harsha Samaga.
This was followed by a very rare and an extremely endearing and engaging Purandara Dasa Devarnama "Boochi Bandide", in Raga Malika. This was one of the most captivating and popular piece of the day. While it may be a very light piece on the mind, this was a very rich experience for the Rasikas, thanks to the stunning choreography of Acharya Indira Kadambi and the out of the world rendition of the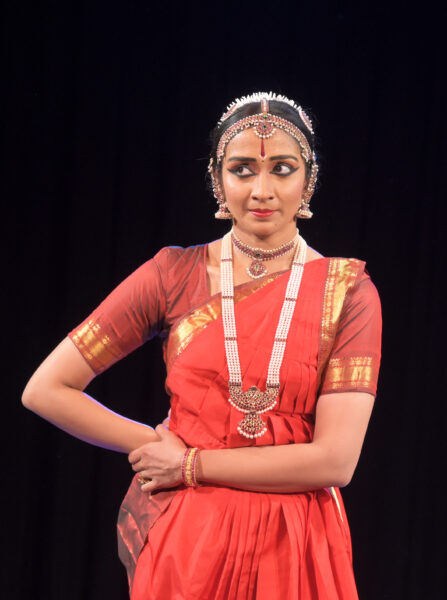 music by Vid. Shri T.V. Ramaprasad. The fine balance between the Hasya and Vaatsalya bhava was tackled by Ramya with extreme finesse.
The second half of the performance began with one of the popular Ashtapadis, "Natha Hare" in Raga Desh. The Aaharya and the grace of the dancer made her look like a celestial Radha. With the outstanding music execution by Vid. Shri T.V.Ramaprasad who was accompanied by Vid.Shri Mahesh Swamy on Flute and Vid. Vishnu on Navtar, the Rasikas were transported to the bowers of Vrindavan, witnessing the Sakhi negotiating with Krishna to put an end to Radha's pining. Ramya's switch between characters were so skilful and efficient that almost like a magician, she managed to manifest them all at ones on the stage for us to witness.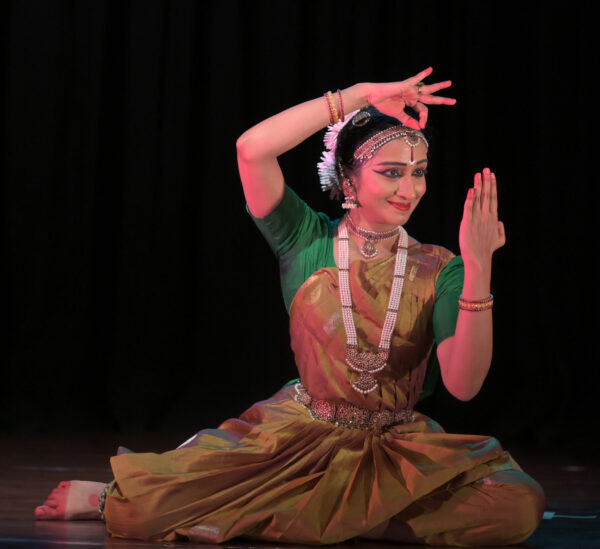 The spell Ramya casted with her Ashtapadi was only broken by a very peppy and fun Javali  "Appudu Manasu" in Raga Khamas in which she played a teenage Nayika smitten by the machissmo of the handsome Lord Venkateshwara. From the pining Radha to this bubbly teenager who is oblivious to the pinings of love, was a much required flip of mood to ease the Rasikas out of the intense  Ashtapadi trans!
And finally, as a tribute to her Late Guru, Guru.Smt. Bhanumathi, Ramya concluded the Recital with one of her Guru's  Choreographies, a
Thillana in Raga Bageshri.  There was no hint of exhaustion on the face or in the body while she aced through the thillana with absolute precision and attention to detail. It was like poetry in motion, only made sweeter with her Love and Respect for her Guru.
Apart from Ramya's outstanding performance, what breathed life into this recital was her support system which sat right next to her like a strong spine. Her mother in law and Mentor, Acharya Indira Kadambi on Nattuvangam, her father in law, the very popular Vid. T.V. Ramaprasad on Vocal and  her dear husband, Vid Vishnu on Navtar sat there with pride and confidence, accompanying her dance, taking utmost care to not let her down, with a promise to hold her if she were to stumble. What a blessed dancer she is! Im sure, just like me, most Rasikas walked out of the auditorium with their hearts filled for having witnessed such a beautiful family affair!
(Vinita Radhakrishnan is a Bharatanatyam dancer based out of Bangalore, training under the tutelage of Guru Smt. Minal Prabhu and Acharya Smt.Indira Kadambi.She has a Diploma from the Attakalari Center for Movement Art with basic training in various contemporary dance techniques, Ballet, Kalari, Chau and Deverattom. Professionally, she is a Patent Attorney  and is currently working as a Senior Partner at BananaIP Counsels.)
*****