Menority – Dr. Seshadri Iyengar
– Shashank K Nair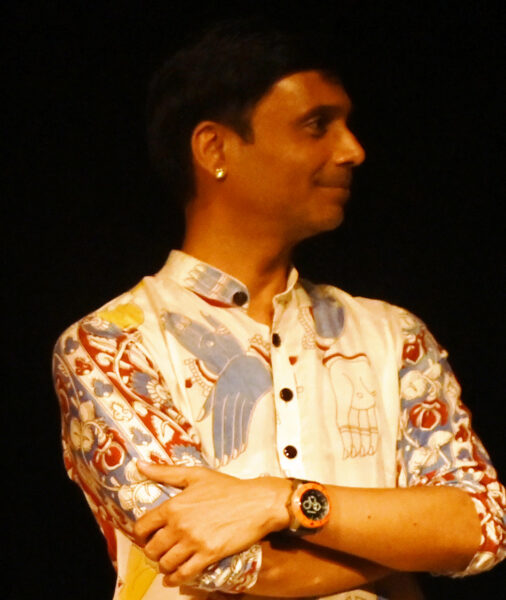 Dr. Seshadri Iyengar is a multifaceted personality. Apart from being a freelance, Neo-Classical Bharatnatyam dancer, teacher, choreographer, and art organizer he is also a Homoeopathic Physician and Yoga instructor. He is the Artistic Director of the Iyengar Centre for Fine Arts, Bangalore. His dance choreographies have been complimented for being unique, innovative, experimental, and unpredictable. He believes that prescribed grammar should not limit one's imagination while equally enjoying the flavours of  traditional works. Kalasinchana talks to Dr. Seshadri Iyengar who strongly believes that dance is beyond "form" and "gender" about his journey with dance over the years
 How did your journey in dance begin? What were the challenges and the blessings? Please do share a few memorable instances from your time training under guru Padmini
Ravi.
The biggest reason I am a dancer today is my mother. She was very passionate about dance but unfortunately was unable to pursue it. At a young age, When she noticed my interest in  dance she immediately enrolled me in training. My first teacher was Smt. Vijayashree at 'Jayakalanikethan'. I remember playing the role of 'Bheema' in one of her productions, wearing several layers of shirts to look bulky on stage. I then moved to Guru Keshav Murthy, under whom I learnt for about a year. Around that time my mother heard of Guru Padmini Ravi who had then just moved to Bangalore from Chennai and put me under her tutelage right away. From then it's always been her. Padmini aunty is an amazing teacher. She's a very candid person.
We have had some wonderful experiences together. Learning items while putting on our make-up right before going on stage was a common feature. She'd call on the landline and say " Get ready! I'm coming to pick you up " and before we knew it we'd be on our way to the venue planning out the performance in the vehicle. I distinctly remember this one instance… It was right after one of my solo shows at Chitra Kala Parishad. I received quite good feedback on my performance that day. In the car on our way back Padmini aunty turned to me and said " People will tell you things, and shower you with compliments. Ignore it… Don't let it go to your head". That's something that has still stuck with me.
What is your source of inspiration and motivation?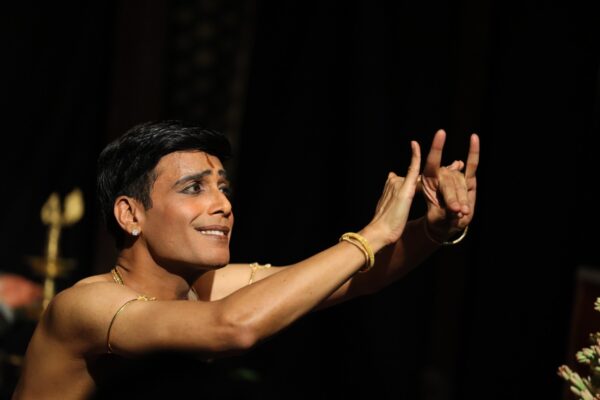 I am someone who is driven by the process. I like to put myself out there and see where it leads. I'm inspired by the journey without knowing where it will take me. Yet, I strongly believe that my efforts will sooner or later take some shape and I wait to see how it turns out. I like to be spontaneous, whether it is in my dance or life in general. If a thought strikes, then I just do it without knowing why or what it will reap. I can confidently say that I don't regret a single decision in my life.
Could you please share a few experiences from your initial days as a professional dancer? Was your gender an advantage, disadvantage, or criterion at all concerning the professional opportunities you received?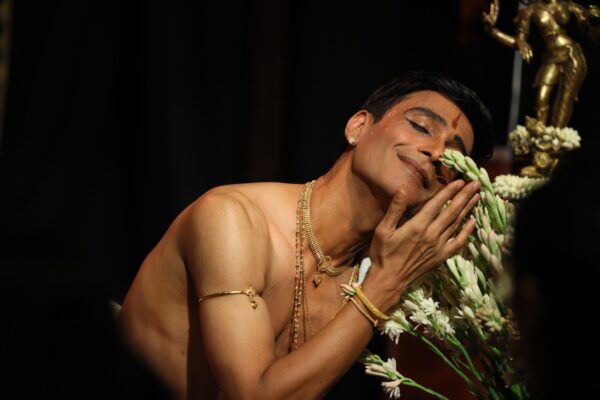 Growing up, I would see my guru travel around India performing at big venues or sabhas, and be unhappy about it. I've seen many such examples but the closest to me was my Guru. Unfortunately, the scene remains unchanged even today. This changed the way I looked at things. I decided that this was not what I wanted to do. I didn't want to be a part of the 'rat race'. I wanted to love dance and have it be a part of my life for as long as I lived. I wasn't ready to allow such situations to make me hate my dance. Even as an amateur, I was against paying to dance or even dancing for free. During this time, I was made aware of a London-based dance company looking to work exclusively with male dancers. I immediately wrote to the director and as luck would have it, she happened to be in Bangalore. We immediately met up and she connected well with my work. That was the start of our collaboration. I spent most of the next eight years in the UK. Along side, I have also collaborated with dance companies in other countries such as the USA, Canada etc
Could you share some of your takeaways from your experiences collaborating with other artists or dance companies?
Other than my 8 years stint in the UK, I was also commissioned to work with several dance companies in the USA and Canada each year. Some of these projects took me traveling to the Middle East and Europe as well. The work experience there was exactly what I had always hoped for. Weekly / monthly travel plan, rehearsal itinerary, travel booking etc and professional fee were all looked into. The overall work culture and professionalism were major takeaways for me. Working with dancers from across continents allows for the expansion of one's  vocabulary and helped me push boundaries to adapt and include local cultural influences into my choreography. I am fortunate that my passion for traveling and dancing are both taken care of in the process.
Could you tell us more about your work as a soloist?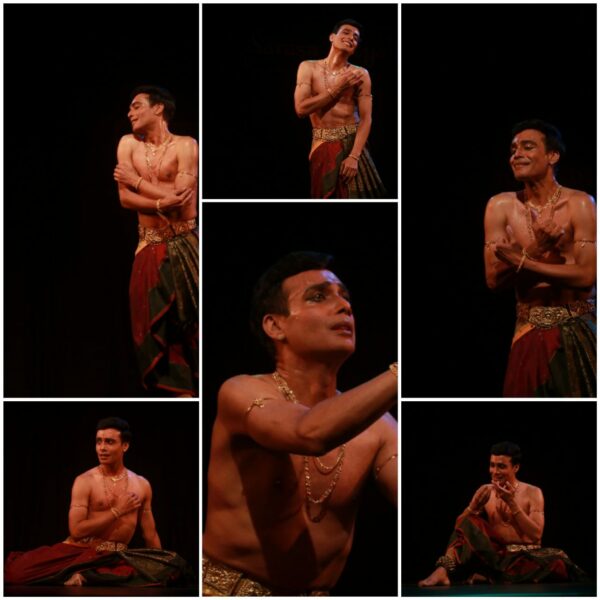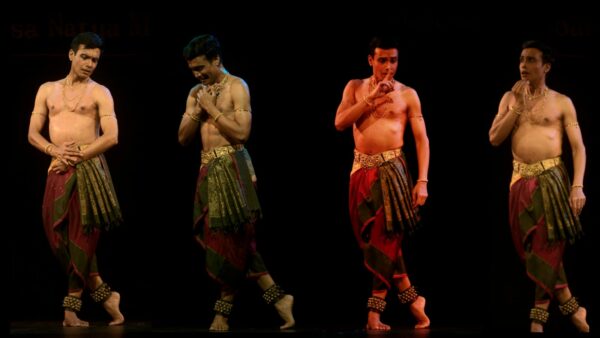 When it comes to my solo career, for a long time I was exploring looking for something missing. I felt there was a gap between me and what I portrayed through my dance in my  performances. How much of it is real? How much is artificial? For a long time, I was in the process of bridging that gap and making what I perform, my own! Being spiritually driven, I am constantly looking at peeling the layers of the onion. The want to connect with the epics and Puranas is helping me bridge that gap between the art form and myself. This process lead me and paved the way to a solo presentation; "Hrishikesha – The Journey of Ahalya" explored through the 6 senses. Now I am beginning to feel that connection more so… with time I hope this will only deepen
There is a mention of the word 'Neo-classical' in your vita … Could you please elaborate on that.
In dance, It's important for us to see the "content" different from the "form"… this understanding made it possible for me to create new works of my own and also relate to works of other artists during collaboration or when projects were commissioned to me. When working on the existing grammar of a classical dance form, I explore and adapt it to create new phrases of movement vocabulary, which does not look like the existing Adavus. Its this journey I enjoy the most. It has been an amazing experience for me to contribute my ideas into the making of interesting and fresh Choreographic works. Sometimes its important to create work with content that are relatable to a foreign audience through the medium of Indian classical dance. Working with dancers and dance companies in India and abroad made it possible to create several dance productions from scratch and present them while we toured across various continents. To mention a few – College Quadrangle, Football, Jungle life, we also explored subjects such as 'London business life', 'The power of compassion', Jagruthi, Prana, Mallari – temple architecture and many more… A lot of time was spent practically experiencing and understanding each subject in totality. Drawing from past experiences and observations etc does add texture. The next step would be introspection of the formal training and to adapt the technique to express the content and eventually present it on stage in an authentic fashion be it football or temple architecture or any other. In addition even though Indian Classical in nature; the music was structured smartly. At this point I would like to mention, this process of thinking of a concept, researching it, working on it, and creating the final choreography has been very enriching and this experience will continue to stay with me for long and inspire me to create  new works. The Neo-classical understanding and approach brings in that freshness that I enjoy.
Could you tell us a little bit about 'Body kinetics'?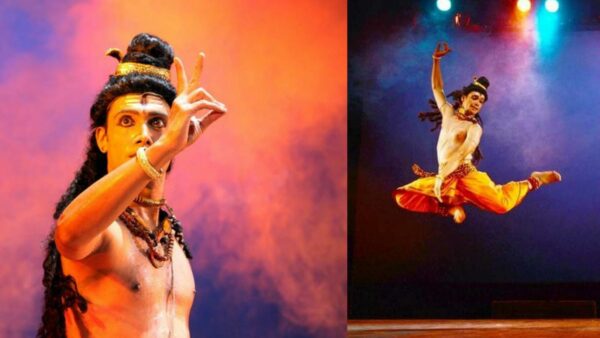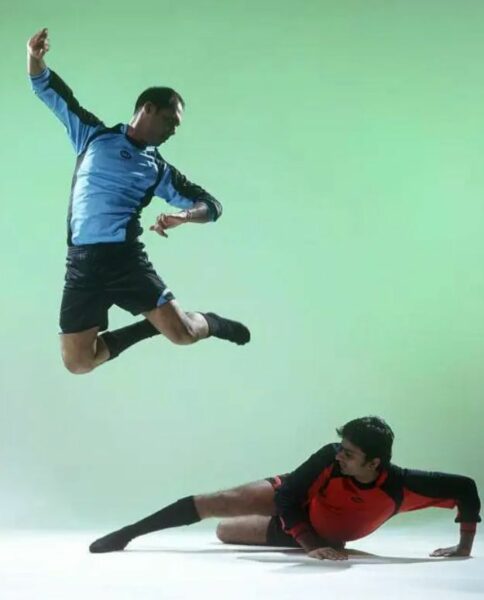 'Body kinetics are exercise modules to understand the 4 key aspects of existence: Mind, Body, Breath, and Self and how these aspects are related to one another. One must be well aware of all four of these aspects to dance. Body kinetics includes exercises that teach us healthy techniques for executing movements and poses that we use in dance. It aspires to allow one to feel light and energetic while dancing and avoid loss of breath. 'Breath' plays an important role while dancing. Body kinetics also tries to enhance breath awareness, allowing the dancer to become more aware of the 'Self' or the 'sathvika'. It is from the self that emotions or 'bhava' are born. Body Kinetics further deals with the 'Mind'. How does one keep their mind calm and free of clutter while dancing? A preoccupied mind will affect one's dance.
Apart from being an artist and teacher you are also an organizer of well-received events. Could you please share your take on this?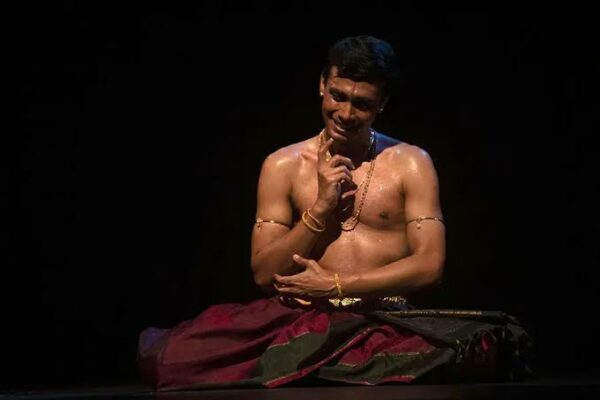 Presently I organize three types of events at the Iyengar Center for Fine Arts. Monthly Chamber Concerts – A platform to showcase creative ideas and concepts by practitioners of the art. During the performance, the artists get to observe the response of the audience and get constructive feedback that can help enhance their work. Presenting their work to an intimate  audience allows two-way communication. I make sure that every show is ticketed and the artist that performs is paid. Workshop Series – creating an opportunity for learning and interaction between students and artists. Here again, the emphasis is on understanding the creative process rather than just learning "items". Web Trio Series – an online talk session on Instagram, entailing the trio concept, that brings to the audience, topics of interest. The series concentrates on understanding the ideas and thought processes of resource personnel from varied fields and specializations. It is an interactive Instagram live session where we get a glimpse into the minds of learned artists.
In this era of social media the arts have found a stage on virtual platforms, especially during the pandemic. Do you believe it is an advantage or disadvantage for dancers? Kindly share your views on this matter.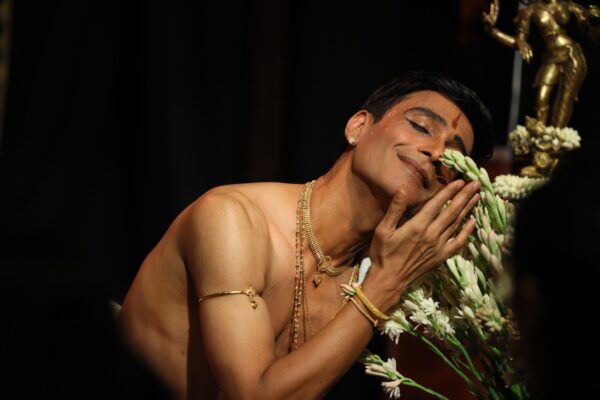 I strongly believe that social media is a big advantage for all artists. Social media gives us much-needed visibility. It's a forum to put out our artistic ideas and have discussions or debates. I often wish we had social media platforms like Instagram etc during the earlier years when I was touring with performances. I could pose away and boast of performances at some popular venues in those countries and in India alike….hee..hee. Only when it comes to performance, I do feel that the virtual platform isn't appealing. Dancing for the camera is very different from performing on stage. To perform for a camera successfully, one must first understand the medium. A virtual performance requires not just skillful dancing but also skillful cinematography. Of course, during the pandemic, we had no other choice except for virtual performances. But given a choice, I wouldn't opt to watch or perform a virtual program
Could you please share your perspective on the topic Men-ority…
I have never let Gender define an activity, behavior, hobby, or profession as far as am concerned. Society perceives us in the exact same way we perceive ourselves. The boundaries of social structure and conditioning have always been a blur to me. Penning a positive spin in, I can proudly say male dancers; stand tall and successful in the mainstream even though fewer in number.
 *********