Menority – Sri Krishnamurthy Tunga
– Shashank K Nair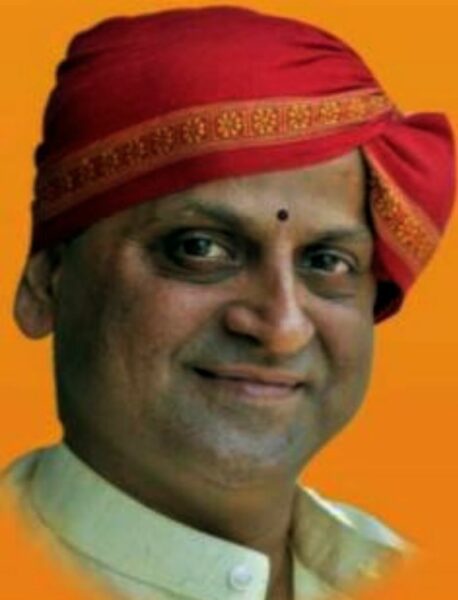 Born and raised in a modest household in South Canara, Sri Tunga has become a familiar figure in the field of Yakshagana through his undeterring passion combined with his dedication and hard work. A performer known for his versitality and teacher who refuses to compromise on quality, Sri Krishnamurthy Tunga  has been instrumental in carrying Yakshagana into the twenty-first century in all its resplendent glory. Over the past three decades, he has worked tirelessly to preserve and propagate this beautiful art form, overcoming countless challenges along the way. His tireless efforts have inspired many, and he continues his valuable work through his institute, Yaksha Kala Academy, which he founded in 2004.  Kalasinchana brings you a conversation with Sri Krishnamurthy Tunga, where he shares his experiences and learnings from his incredible journey with Yakshagana…
Could you tell us about the beginning of your journey with Yakshagana?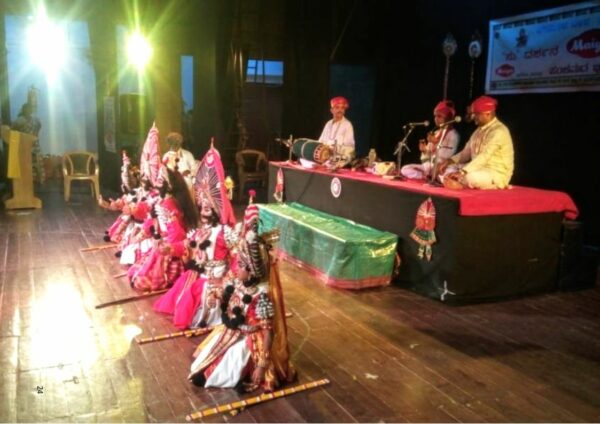 Growing up, Yakshagana was an integral part of my life in my hometown. With around 15-20 Yakshagana melas (troops) in the area, it seemed like there was always a performance to watch or an artist to learn from. Luckily, my school's headmaster was a Yakshagana artist himself, who allowed me to immerse myself in this beautiful art form. Every school annual day was a celebration of dance and culture, and Yakshagana was always a prominent feature. The school encouraged us to practice and perform regularly, not just for the annual day alone, and I jumped at the chance to showcase my skills across Karnataka and Andhra Pradesh, especially during the festive Dasara and summer vacations. At home, my father instilled in us the importance of education, but he also gave us the freedom to choose our own path. I took this opportunity to pursue my passion for Yakshagana and joined the Yakshagana Kendra in Udupi, where I was privileged to study and performing alongside my Gurus Kota Mahabalakar and Guru Bannanje Sanjeeva Suvarna under the Gurukula system.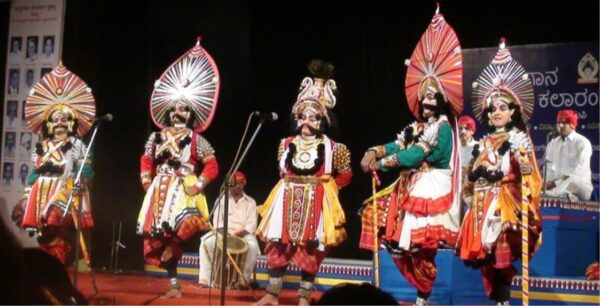 What drives and motivates you to continue your work with Yakshagana?
Yakshagana was always a part of my life, and I developed an affection for the art unknowingly as a child. As a young lad, I had great admiration for G R Kalinga Rao, the famous singer. His music and melodious voice moved me and many of my contemporaries. He was a great source of inspiration for me, and I vividly remember singing his songs while working in the fields, dreaming of becoming a singer like him. Yakshagana is not just a passion for me anymore; it is my source of bread and butter. Once you jump into the water, there is no choice but to keep swimming. However, apart from earning a living, I feel a sense of responsibility toward the art, which drives and motivates me to keep at it.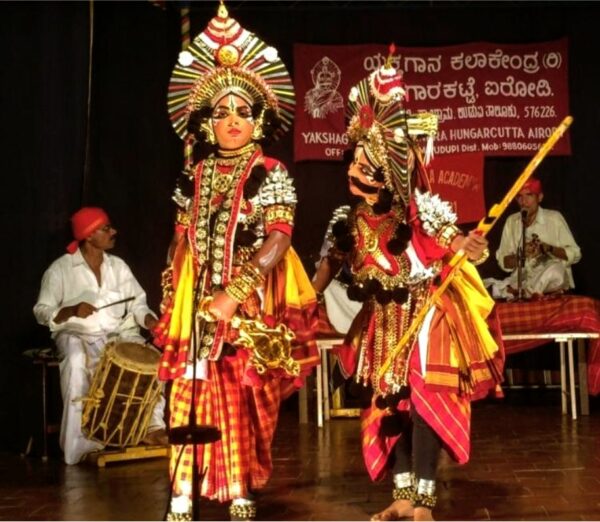 Could you share some of your fondest memories from your many collaborations?
I have been fortunate to work with many notable artists, and each collaboration has been memorable in its own way. One particular program that stands out in my mind is the Laya Nada Nruthya Samanvaya program, which was a collaboration with Padmini Rao of 'Ponnaiah Lalithakala Academy'. It was a unique program that brought together four different art forms – Bharatanatyam, Kuchipudi, Mohiniattam, and Yakshagana. We faced the interesting challenge of creating and choreographing nritta pieces within Yakshagana grammar, which was something we hadn't done before. The music for the program was solely instrumental, which allowed us to showcase pure Nritta or Nrithya at best. We used Mridangam and Chande for the music. I also had the pleasure of working with Rashmi Hegde on several of her uniquely-themed dance productions. One program that stood out to me was when we depicted the six seasons through different dance forms – Summer through Bharatanatyam, Monsoon through Yakshagana and Kalaripayattu, and so on. We also explored themes such as the Samudra Manthana, where we portrayed the Gods and Demons using two different styles of Yakshagana, and the Ratnas emerging were depicted by other dance forms. These collaborations have been incredibly fulfilling and have pushed our creativity to create wonderful productions.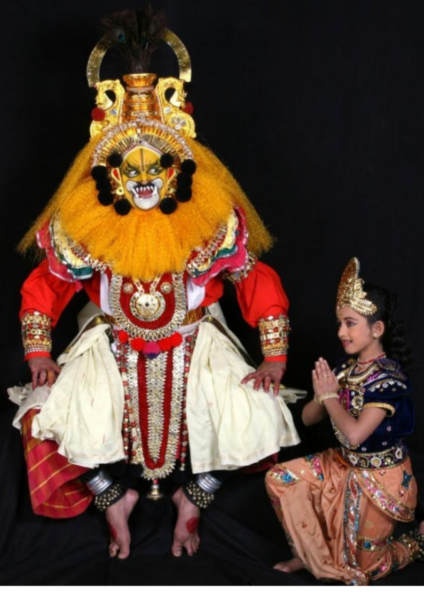 Can you share your thoughts about the evolution of Yakshagana over the years?
While Yakshagana has not undergone any significant changes over the years, it provides us ample scope to adapt to particular situations. This is possible because Yakshagana is primarily a Manodharma based artform, every performance is entirely different from the last one making it unlike other classical arts that follow set patterns. One of the most characteristic features of Yakshagana is its Aharya, which includes the colors, fabrics, accessories, and headgear and even the props used in performances. These costumes themselves are works of art and have become a fundamental part of the art's identity. When traveling abroad for performances, ready-made headgear and costumes may be used due to time, luggage, and space constraints. However, it's important to keep in mind the significance of traditional dressing techniques and that the real value of Yakshagana lies in the effort and dedication put into each performance. Dr. Padma Subrahmanyam has mentioned in one of her books that Yakshagana is one of the artforms most closely allied to the Natyashastra.  For instance, during a Yakshagana performance, the artist only enters the stage from the left and exits from the right, almost never the other way around. The costumes are do not use any metal except for the the gejje and kadaga on the feet. All the jewelry is made of wood and covered with gold foil, and everything is tied to its place with strings alone. Interestingly, Yakshagana artists have been following the principles of Natyashastra, representing the "Ashikshitha patuthvam" that gives the art it's flavour.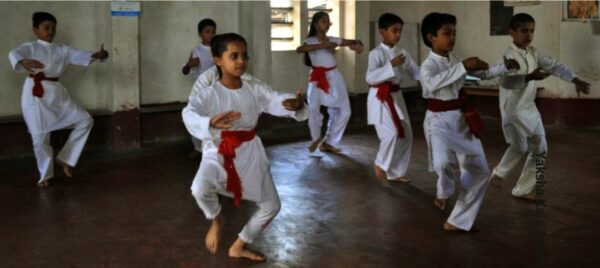 Could you please tell us about your experience with teaching…
Back in 1987, I arrived in Bangalore with nothing but a bag of clothes. Over the next 15 years, I worked diligently at Bal Bhavan, grateful for the stability and security it provided. However, in 2002, I felt the itch to pursue my passion for Yakshagana as a full-time artist. So, I decided to resign from my job and take the leap of faith. I started teaching interested students at schools and other institutes, sharing my love and knowledge of Yakshagana with others. As I continued to teach, I began to dream of starting my own institute. And eventually, that dream became a reality with the establishment of the Yakshakala Academy in 2004. Today, I am proud to see my students grow and excel in the art of Yakshagana. I owe everything I have today to my art, and I believe it's my responsibility to give back by teaching and spreading the knowledge of Yakshagana. My approach to teaching is rooted in tradition, with a strong emphasis on retaining the true identity of Yakshagana and striving for perfection. The amount of knowledge a student can absorb depends on their innate ability, along with their interest and dedication. Students are free to decide whether to further their learning or limit it to what is taught in class.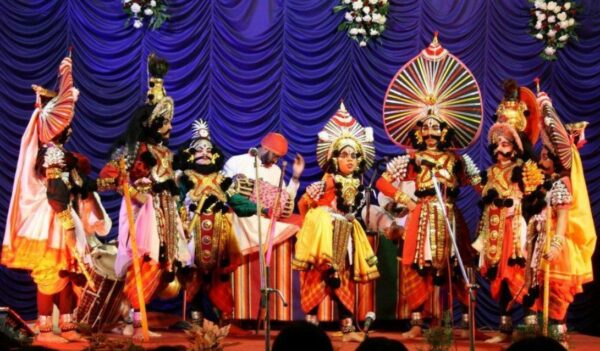 This is an era of technology and arts are finding a stage on virtual platforms. Could you share your take on this matter…
The Natyashastra has mentioned that a performance should leave the viewer in a state of bliss. Live performances create Rasaothpatthi in the audience, which I believe can never be fully conveyed through a screen, regardless of how advanced the technology becomes. Additionally, an artist cannot experience the same level of satisfaction after performing to a virtual audience as they would after a live performance, where they can feel the audience's response firsthand. During the pandemic, we were compelled to teach online. While they can help intermediate and advanced students further their learning, I do not recommend it for beginners. Even in a live class, a student may make mistakes, but the teacher can quickly point them out and correct them. This process of refinement and correction may not be as effective online as it is in a live class. Regarding social media platforms, there are more cases of misuse than benefits. Why seek applause for a half-baked performance? A worthy performance will earn applause on its own. Of course, it's important to accept and adapt to society's innovations over time. However, the most crucial thing is to stay true to one's roots, preserve the sanctity of the art form, and not get lost in frivolous glamour. Social media should be used sparingly, like pickle in a meal.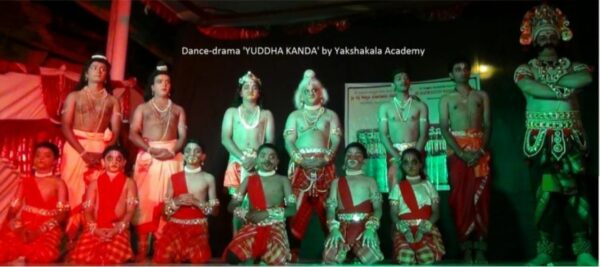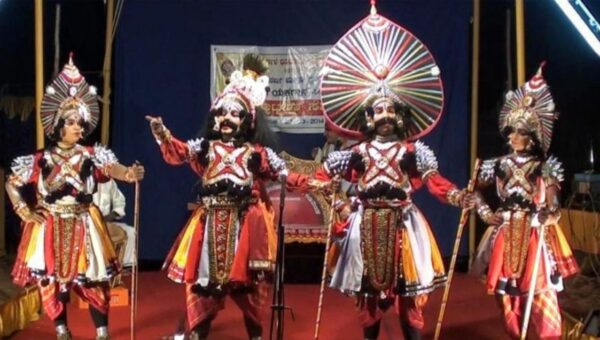 A message you would like to share with our readers…
In my years of experience, I have come to realize that hard work is the key to success in any field. It's the foundation on which we build our skills, our craft, and ultimately our reputation. As the saying goes, "Rome wasn't built in a day," and neither was any successful artist. It takes years of dedication and practice to reach the top, starting from the very bottom rungs of the ladder. However, in this journey, one should not limit themselves to just their specific art form. It's always beneficial to learn about allied fields, which can broaden one's horizons and provide a unique perspective. As a Yakshagana artist, I too have tried my hand at other styles, albeit with limited success. However, this endeavor has taught me the value of exploring and trying new things. It's important not to confine oneself to a narrow view, but to broaden one's artistic vision. In today's world, it's common to see people chasing after fame and money, often at the expense of their craft. But one must remember that true success comes from perfecting their art form and staying true to their roots. If we work diligently and passionately towards our craft, it will inevitably lead to recognition and more opportunities and earnings. It's a long and tiring process, but the rewards of hard work are always worth it. In conclusion, my message to aspiring artists is simple: focus on your craft, learn from the best, and never give up on your dreams.
 *********