A passionate dancer recollects his journey
– Ranjani Govind
In the backdrop of the rare 'male dance fest' steered by Bharatanatya expert Sathyanarayana Raju's dance institution, 'Samskruthi' on July 8 & 9,  we catch up with the dancer for an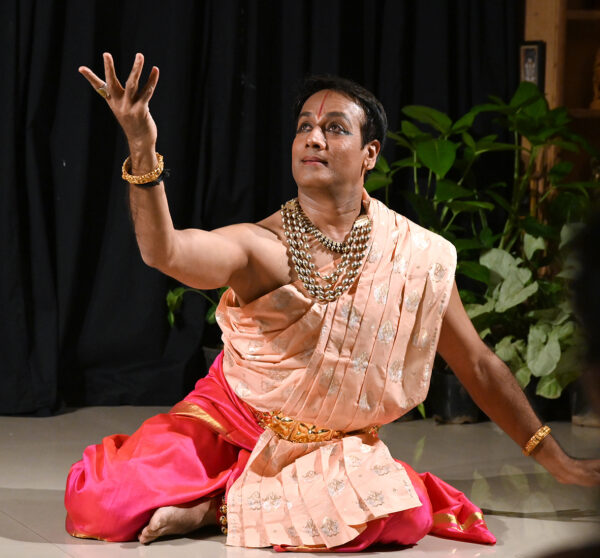 extended chat on his life and career and future projects. 'Rasaabhinaya Festival 2022' made news, not just because it was an infrequently heard-of, all-male classical dance fest that focused only on Abhinaya, but more because the dancer wanted something special this year. Fondly recollecting his early days, enrolling for dance four decades ago, Sathyanarayana Raju says it feels special to see the present inclusive times when we are able to have so many people vying to witness male dancers take to the stage.  The dancer himself was able to look beyond the barriers of gender bias that he initially faced with dignity and composure. The grace with which he emerged a professional dancer speaks about the dimensions of his advanced training he received from gurus Narmada and Maya Rao. This fantastic soloist of merit built himself gradually to prove his detractors wrong and worked hard to even receive the Karnataka Kalashree (2016-17) instituted by the Karnataka Sangeetha Nrithya Academy, amongst others.
Over the years he has moved high on the popularity charts as his unique productions are being admired for their scholarly value, reflecting facets of the rich tradition of Bharatanatya. Awards, travelling, honours or popularity has hardly affected the down-to-earth dancer who is most accessible, and gracious for an interview request.  We sit for a chat as Sathyanarayana Raju – referred to more as Sathya in the dance circles – recollects his journey at his aesthetically done up house in JP Nagar in Bangalore.
How and when did he get attracted to dance?  "Siri Siri Muvva' was released when I was in the fifth standard. It had some great dancing by actress Jayapradha. What a magnetic pull it was, believe me, I was totally mesmerized. There was no looking back, I just wanted to dance," a beaming Sathya says, whose childhood dream was realized once he stepped on to the stage.
Young Sathya first took to Bharatanatya with guru Subhadra Prabhu in the early 1980s. Hurt with haunting memories of people who made fun and teased him for "taking up an art form specialized by girls" he started on a mission to be part of the male-brigade in dance and demonstrate aspects relevant to appreciating the intrinsic features.
Artistic identity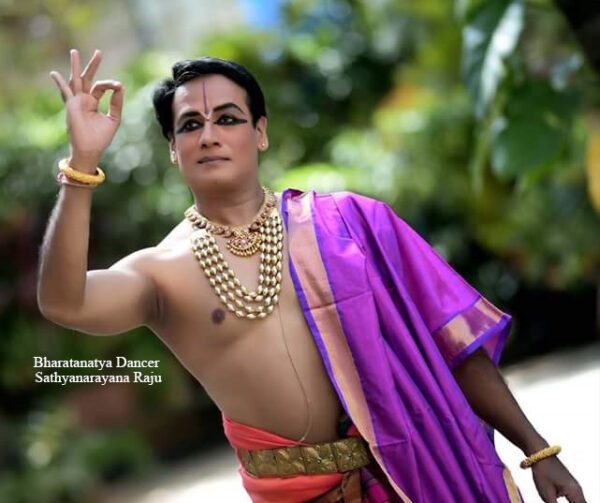 Whenever he gets male-dancers into his programming he says it is to prove that any art-form cannot be slapped with gender limitations, as each human being has the right to have one's own artistic identity. What appeals to senses are intrinsic to each one's taste and psyche. Will anybody not gleefully see the Shiva-Tandava and visualize the Lord performing the energetic piece regally? It's all in people's acceptance and regard towards the art-form!" says Sathya.
"The initial days of my learning even had me wear a pant on a kacche panche (traditional dhoti) to avoid my father's outbursts when I set out for my dance classes. Mother was more open to my taking up dance, but unfortunately we lost her in an accident before I could take up higher level lessons from Guru Narmada who was a rage then amongst the dance fraternity.
Accent on Abhinaya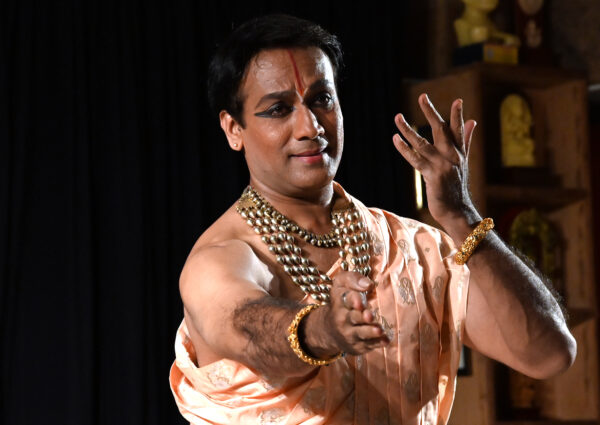 Sniggering at people whose snide remarks and hurtful comments had only strengthened the young aspirant to take a firmer step in dance professionally, Sathya feels this year seemed extra-special to him as the pandemic had gotten artistes go silent for so long. "As the performance platforms have opened up to welcoming people I thought we should have some special male dancers take to presenting something unusual. The five dancers in the recently held 'Rasaabhinaya Festival 2022' are celebrities in their own right. I wanted a different experience to come along which would be apparent. When I asked the dancers if they would be open to taking up only abhinaya, where 'expressions' get the spotlight, they were more than willing!  I thought dance through the art of expressions, where they could lead audiences towards the experience (bhava) of a sentiment (rasa) could be something novel."
Seshadri Iyengar, Kiran Subramanyam and P Praveen Kumar presented Bharatanatya; and Murali Mohan Kalvakalva and Mysore B Nagaraj showcased Kathak. So instead of having heavy footwork with nattuvanga or excessive nritta (rhythmic dance movements) abhinaya eked out stories, and the overall effect was enhanced with singers and minimum instruments.
 Abhinaya offers another world of expression to dancers. "I remember I had taken up the piece, "Krishna Nee Begane Baro" in one of my programmes and I chose to emote the stories of Krishna and Balarama (instead of Krishna & Radha or Krishna & Yashoda) to make it unusual. The brothers playing together, teasing each other for their complexion and weakness for butter gets them into playful taunts. Such ideas make thematic sessions get more novel," says Sathya.
Generally, bhava, raga and tala are expressed in dance with movements, footwork and gestures. Dating back to 3000 years, Bharatanatya has sculptural evidences that trace its history to temple performances. It then moved to theatres over time. Over the years the style has yet retained its characteristic devotional component, idioms that bring out human emotions and stylized storytelling. "Although the repertoire includes nritta, natya and nritya to sum up the overall art form, the framework lends itself to both traditional themes as well as modern day presentations. Initially Bharatanatya may have started off as being a female soloist's prerogative, but over the years male soloists gleefully joined the bandwagon, not to forget contemporary ensembles that have widened its evolution repertoire," explains Sathya.
Emerging dancer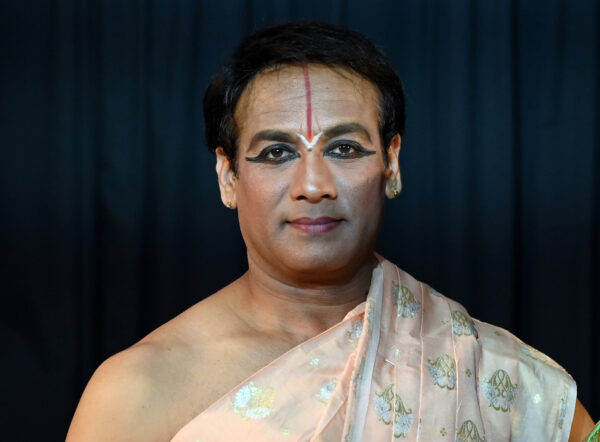 So how much did Sathya's gurus – Narmada and Maya Rao – help him in following the winds of transformation? "Narmada was a unique teacher, loving her individualized attention she showered on each of her students. She would make each 'feel' the overall worldly experience we are going through at her school "Shakuntala Nrityalaya' and strategically make us accept our encounters with grace. If you can believe, she would be amused to hear my father's angry flare-ups regarding dance, and soon laugh it off and make me accept truth in the bargain! 'Don't have your worries enclosed and built-up. If one believes in what one does, nothing is going to perturb' she often said," says Sathya who saw himself grow as a classical dancer in Narmada's classes, with more courage to "accept his choice."
Maya Didi's classes were added chapters of excellence.  What opened up more for Sathya in guru Maya's classes was the good number of male dancers there to make him feel at home. As early as the 1980s saw Maya Rao's dance school brimming with 35 male students! All of them had once visited the veteran, senior dancer Dhananjayan in Chennai, and he was pleasantly shocked!
All performances lapped up!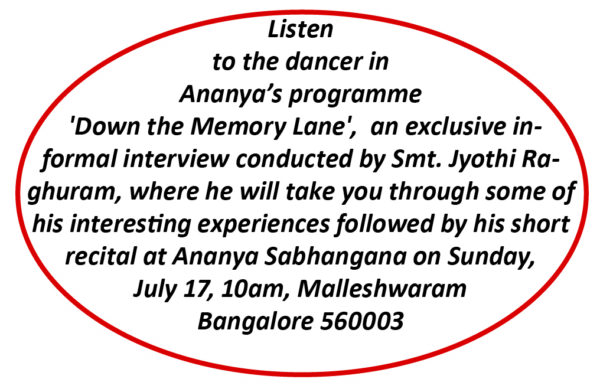 In the 1980s, the concept of boys taking to dance was just about catching up. So Sathya and his fellow dancers looked into every opportunity to take up all performances that came by. More so as the financial support one received was meager," rues Sathya.  "Feeling helpless, I can't forget the day when I had sat by myself in a park to cry to my heart's content!"
But with all these see-saw of emotions lodged in him, Sathya felt gratified to see his father accept his dancer-son making a name. 'My son has gone to America, for performing!' his pride was evident often," recollects Sathya.
 Time for acceptance…
Over the years there has been an innate acceptance by people for male dancers. The generational gap has narrowed down and opportunities have organically opened up. "The present generation (of professional dancers) also knows how to handle themselves and get across to people for their own progress. It's a different way of life with social media now, in contrast to the no-guidance-situation then!" he feels.  Ironically though, today's organizers still feel the need to bring in the female-glamour on stage along with male dancers and that has to be overcome! After all, the male community of dancers has also branched out to being solo-artistes, and we are offering thematic productions researched by us," he says.
Creative productions…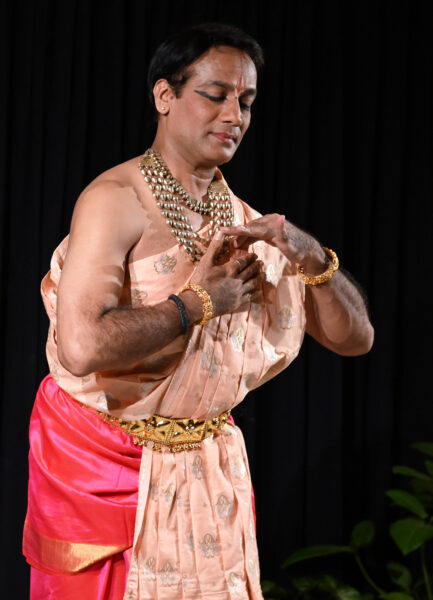 Take a glimpse at some of Sathya's imaginative offerings – His refined aesthetics in his solo 'Ramakatha' was a runaway success where he alternates his roles with élan — from a loving Kousalya to a devious Manthara, from the devoted Shabari to the battered Dasharatha and back to the unruffled Rama!
Sathya's experimentation also had him collaborate with dancer and actress Lakshmi Gopalaswamy in "The Wodeyars," tracing the vision and munificence of the Mysuru Kings who laid the foundation for arts-education and infrastructure in what later came to be called as Karnataka. Conceptualised by the duo with grace and robust stage presence, the attempt had them present the 600-year-old regime of the Mysore dynasty which was a flourishing centre for fine arts in the South.
While Sathya's dance school 'Samskruthi-the temple of art' has grown to accommodate a huge set of present-day classical enthusiasts, he extends his schooling overseas too. "I conduct regular Easter workshops at Switzerland and most of my students are foreigners only. It's not an easy exercise, as apart from the kinetic energy brought about in dance moves that are elucidated, the Indian mythological-cultural episodes associated with each item are explained. So the workshops become highly interactive and exhaustive too. "I have to take them through a specialized trail to cover traditional Bharatanatya and folk to explain the nuances" – says Sathya.
 *********