Kala Samvaada – An Interview with Guru Smt. Minal Prabhu
-Gayathri Guruprasad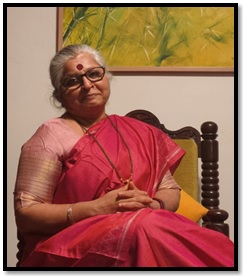 Kala Samvaada is an exclusive conversation with senior artistes who inspire the youngsters in the field. 
This article brings to you a conversation with Guru Smt. Minal Prabhu, a renowned artiste and dance guru.
Guru Smt. Minal Prabhu began her dance journey at Kalakshetra. She is also trained in Carnatic vocal music,
which moulded her into a complete and multifaceted artiste and one of the leading Gurus in Bangalore.
Besides her training in Kalakshetra, she has been trained in Abhinaya under the Abhinaya exponent
Late Smt. Kalanidhi Narayanan. With her passion for Dance and her quest for excellence, she founded
the Mudrika Foundation for Indian Performing Arts aiming to impart the Kalakshetra style of Bharatanatyam to
dedicated and motivated students. She is a Guru who has set a path for herself to impart classical dance.
Guru Smt. Minal Prabhu has had the opportunity to tour the South Asian Countries and Europe to propagate this Indian art-form.
Ma'am, what was the driving factor, which made you choose dancing and teaching as your career?
I should say that my destiny had taken over even before I was born. My father, who watched Lalitha Padmini Ragini dancing in Chennai, before he was even married, decided that if he had a daughter, she is going to learn dance. I started training in Bharatanatyam when I was 4 years old. My father looked out for good teachers to teach me at Udupi. My parents insisted and took us to all the music concerts and dance programs. We were fortunate to go to concerts of great stature like "Chembai" MS and others. We would go as a family to Mangalore for these music and dance programs, stay overnight and return the next day. When I was about 7 years old, we had the opportunity to watch Yamini Krishnamurthy perform. We were so impressed with her performance and my father found out that she was a student of Kalakshetra, Madras. When he found that I could pursue dance along with my studies he packed me off to Kalakshetra at the age of 8. For my father, dance and music were more important than my education. So, I spent ten years, from the age of 8 to 18 years at Kalakshetra Foundation, imbibing every detail of the Kalakshetra Bani of Bharatanatyam. I should definitely say that my parents interest and enthusiasm towards this art form drove me to take up dance. But later on it was my own love for it that made me surrender completely to the artform and dance means everything to me in life.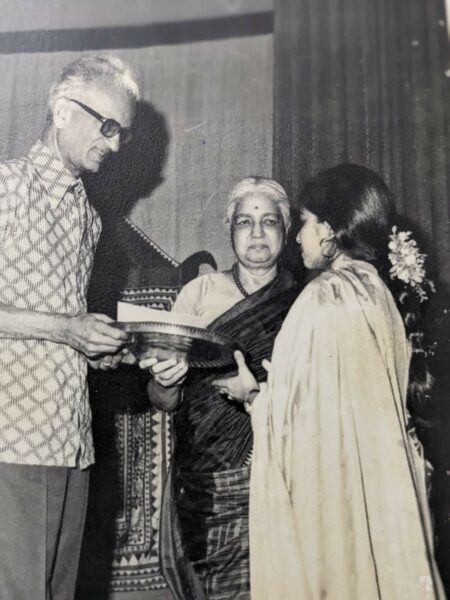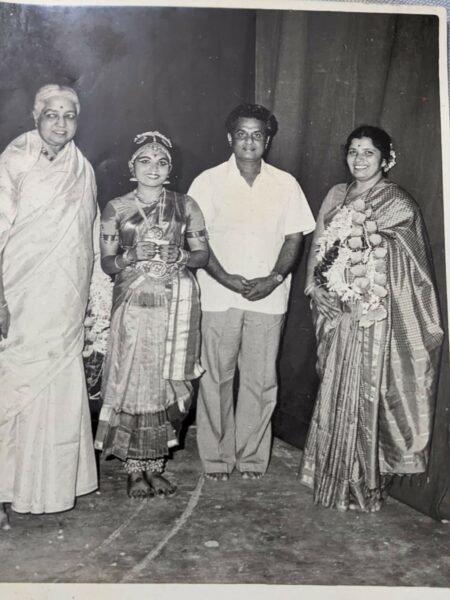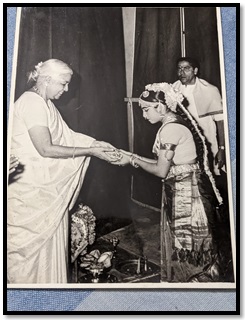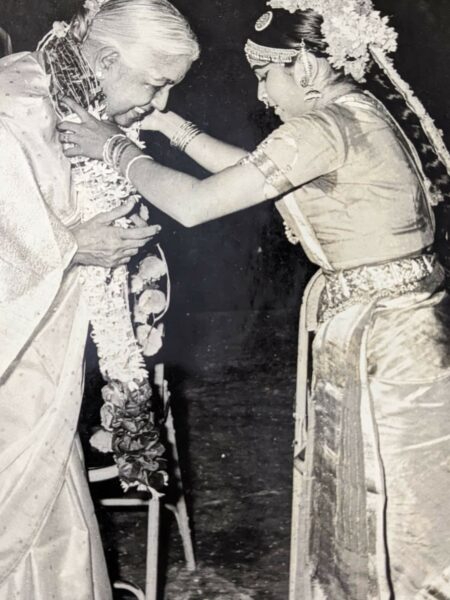 As the artistic director of Mudrika Foundation, could you please share a few experiences during your journey as a teacher and Guru. 
In 1975, I graduated from Kalakshetra and performed my Rangapravesha in 1976. Then, I started teaching Bharatanatyam at Corpus Christi School and also taught Kindergarten children. Though I enjoyed teaching there, I was aware of the fact that I needed to focus on performing. When I was offered a position to teach at Mukunda Kripa at Udupi, I took it up as I could stay with my family, teach, and perform. While teaching there I realised that students were taking dancing just as an extracurricular activity and what was most important in my life was the last priority in their lives. This left me devastated. I left my job and started my own classes to take in only children who were interested in the Artform. My mother told me it is my challenge to make students prioritise dance in their lives. In October 1976, I had started imparting the Kalakshtra bani to students at Udupi and in 1989, I had decided that I did not want to perform so that I could dedicate all my time to teaching. I don't regret giving up on performing, because I am satisfied that I have given everything to my students. I am very proud of all of them. It was in the year 2000, I named my institution Mudrika Foundation and registered the classes. It's been 47 long years, and I can now confidently say that my students give priority to dance.
Ma'am, what were some of the challenges you had faced?
My husband was in the Indian Navy. Every time we relocated due to his job, I had to set up my dance classes from scratch. This was quite challenging. I was also hesitant to take fees from children, so there were long hours of teaching with literally no income. But since I was doing something I loved, I did not mind it. As years passed by, I learnt to make it a profession from just passion. But touch wood I have never faced any bigger challenges. Be it my family, my parents, my siblings, my husband, and my daughter, they have always been very supportive at all stages of my dance journey. God has been great, and I have always been content. But when we talk of the daily challenges, it is about how to make the small children and beginners in dance more interested in the artform. The routine of dancing the same adavus may be boring sometimes. So I started involving their creativity in choreographing small korvais within a certain number of aavarthanams, making them do the adauvs in diffent Jaatis and making them involve their thoughts, which made it more interesting for them.
A big talk after watching your students perform is always about your choreography and intelligent pattern changes. Could you tell us about how you work on them and the thought process behind it?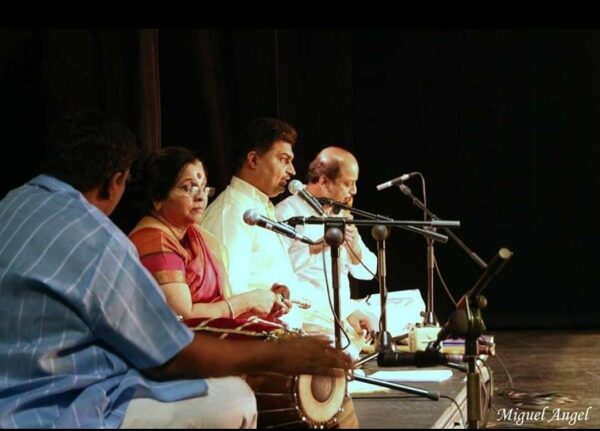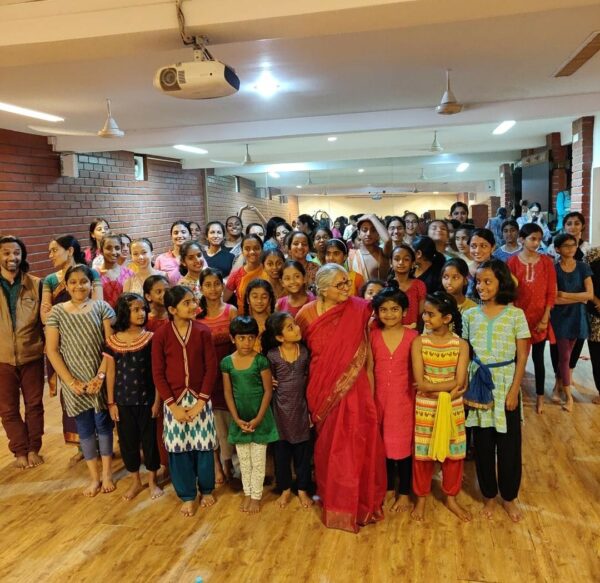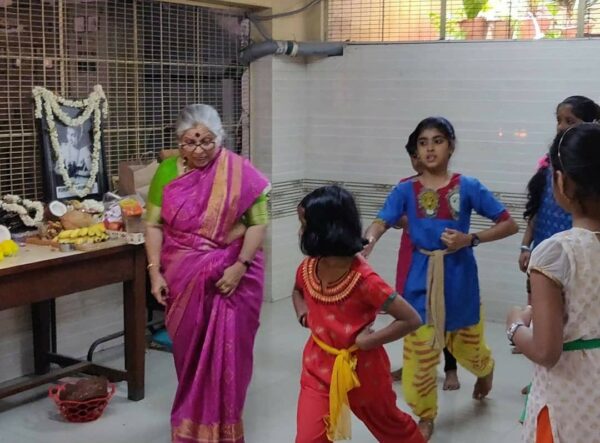 I grew up watching Rukmini Devi' s incredible choreography which was and is my inspiration. Besides this, I had an opportunity to watch Mamta Shankar's troupe perform in Singapore. This must have been 17 years back. Their choreography was such that they cleverly changed patterns within seconds. I was very influenced to try such patterns. Another influencing factor was from a Doordarshan TV show called Ninad, where Vocalists and Musicians used to explain sudden Swara pattern changes. For example, going up steadily until "N" and using an unexpected Swara after that. I immediately wanted to incorporate the surprise factor in my choreography which I think has grown to a notable extent. Classical Art is not something that is rigid and keeps you tied down. It is very aesthetic. I definitely agree that it is bound by certain rules, but you can bend the rules without breaking them. I always feel that a good choreographer must be like a good lawyer. A lawyer knows all the rules so that he can bend it and get his way out legally. Likewise, there is a system to everything, which one needs to be bound to. But there is plenty of scope for creativity within the set system. I would say that the artform is not restricted. We are restricted in our thoughts. So when it comes to the thought process behind my choreography, I love to explore the depth of the art-form by working with challenging rhythmic patterns and complex pattern changes. I do not like to repeat my steps. I always prefer to have something new and exciting at every point. Although few of my students find it hard, I try to make them get accustomed to it. Only then I feel there is continuous learning and development that leads to more creative art and a learning for me as well.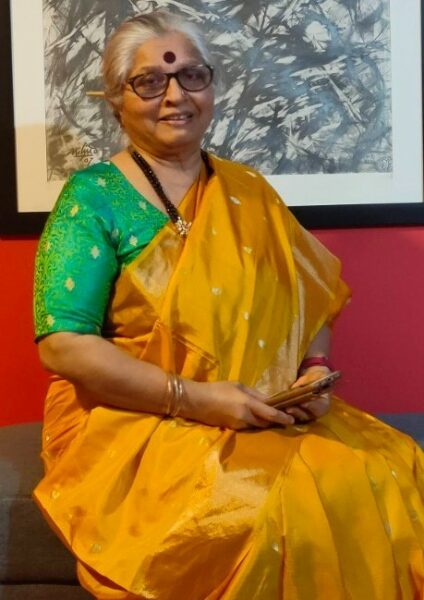 You have created so many productions. Which is the production that is very close to your heart?
I cannot say which is close, because I never do anything which I don't feel like doing. But if I must point out, once in Singapore, I was asked to do something on freedom using former prime minister Vajpayee' s poetry. Though the poetry was beautiful I did not do it as the freedom of a country did not mean complete freedom to me. They were willing to accept my idea of freedom which was attaining Moksha. So I wrote a production called "Moksha Mudra". Here, we took a contemporary aspect of "Earth and its movements" and with the way the Earth moved into different seasons was the Mukthi of the Earth. In each season we took a woman and her Mukthi. This production started on the lines of "Samudra Vasane Devi" sloka which says Goddess Lakshmi is Mother Earth. Then moves into Summer and explains the heat of the season and the mango trees. Here we depicted the story of Amrapali of how she turned from a Vaishya to a Buddist monk which was her mukthi and journey. In the Rainy season, we depict the way the rain water joins the river and the way the river merges with the Sea just as the Jeevathma merges with the Paramathma. The story of Radha and Krisna was depicted. During autumn, we showed how the leaves fell and withered, just like Seetha who was a princess and queen, but later life took a turn and she lived in the forest, reared her children and went back to earth. Then during winter, we take warmth from heat. So we depicted the story of Rani Jansi, where her heir was denied the throne, and how furious she gets. Her sadness culminates in the heat of anger. Which is when she fights and dies for the freedom of the country. The production concluded with the story of Amrita who was a Bishnoi woman who was keen on protecting nature but was killed while protecting trees. This was definitely one of my favourite productions. It had many contemporary and kalari bits which were choreographed by my student. This along with the classical portions added a different kind of aesthetics. Apart from this, I had choreographed a production, "Seetha Swagatham" for one of my senior students Gayatri Sriram which is also very special to me. Here, we depicted Seetha as a Swadhinapatrika Nayika and how she remembers the past from reality with many reflections. It was interesting to work on such productions with eminent musicians. Another production that is very close to my heart is Panchatantra which was also very well received. It had animal movements from Chau.
When we observe the Nritta of your students, we can observe a lot of perfection. How do you train them on the Nritta aspects?
I would definitely take a bow at Kalakshetra Foundation. I have learnt everything from there. Since I was very young when I was learning at Kalakshetra, I was very shy to express myself, so I was very strong at nritta, tala and all such aspects. I love Nritta. In fact, I have done a production called "Celebrating Nritta", because for me nritta is to be felt and celebrated. So I try to impart all that I have learnt and explored to my students. But of course, it only comes with diligent practice that I always try to drive them to do.
You have had the opportunity to learn Abhinaya under Late Smt. Kalanidhi Narayanan. What were a few of the subtleties you had imbibed from this training.
In 1984, I started learning Abhinaya under Kalanidhi Narayanan Mami. I owe most of my Abhinaya to Mami. The first item she taught me was on Lord Shree Krishna, where we admire his beauty and describe how handsome he is. For which, I was explaining through my dance movements, that he is the handsome Lord who bears a Myil Pizhi (Peacock Feather) on his head. I was doing it with my eyes following my hands. Then Mami said, "He is so handsome, why would you look at your hand? ". She trained me to bring out subtle nuances with my eyes. The art of using satvika abhinaya to its full potential was taught to me by her. I always follow Mami's tradition while I teach abhinaya. I make the students sit down, feel the emotions in them, express their views and then train on necessary areas.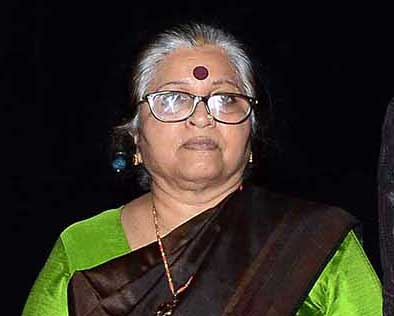 Ma'am, from your experiences, what message would you like to pass on to the young dancers and Gurus of these days as a key takeaway? 
I have always led my life the way it has come to me and I have always surrendered to God and the art form completely & worshiped it. If I must tell something from my experiences, I would definitely say that nothing comes very easy. You must work very hard and put in all your efforts and not look out for the results. Your goal should be to be true to the Artform. Art is great and we are insignificant in comparison. So surrender to it. Wanting to be a good human being comes above everything else for me.
 It was wonderful to know about you and your experiences ma'am. Thank you very much for your valuable time. 
**********