Kala SamvAda – An Interview with Dr. Anuradha Jonnalagadda 
-Srividya Angara Sinha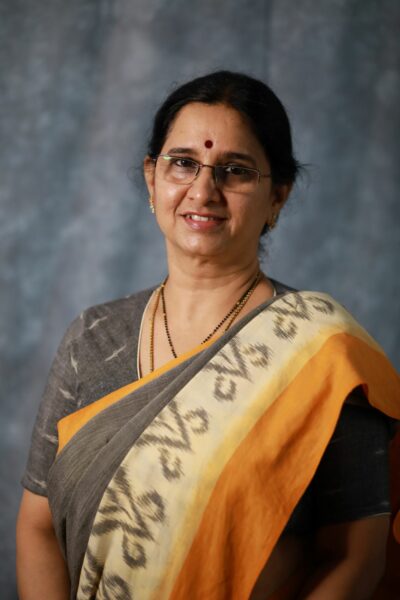 Dancer, scholar, author, professor – if donning multiple hats were an art form, Prof. Anuradha Jonnalagadda has perfected it to a fine finish. The current Head of the Department of Dance at the prestigious University of Hyderabad, Dr. Anuradha is one of the leading exponents of Kuchipudi; her brilliance as a choreographer and performer going in unerring tandem with her indubitable grip on the science and theory of classical Indian dance. She is a recipient of the Visishta Puraskar, and Ugadi Puraskar conferred by the Govt. of Andhra Pradesh for excellence in the field of Kuchipudi, the Singarmani from the Sur Singaar Samsad, Mumbai, and the Aditya Vikram Birla Kala Kiran Puraskaar by Sangeet Kala Kendra, Mumbai to name a few. Prof. Anuradha has also authored five books related to dance, and has multiple lectures, lecture-demonstrations, national and international seminars to her credit.
Ananya Kalasinchana converses with the erudite and ever-graceful Prof. Anuradha Jonnalagadda as she recounts her journey straddling multiple roles over the years. 
You're completing 30 years next January in the Dept. of Dance at UoH. Congratulations ma'am! If you were to look back, what is the one thing that has changed the most, and the one thing that hasn't with respect to the students?

Their commitment is something that remains the same. It's more sometimes. The hard truth is that this course is not lucrative. So, it's basically the passion you've for the dance form, the desire to do something in the field that pushes you to come here and commit to spending two years full-time. The students who are enrolling for Masters are usually at the age of 21-22, by which time you already have around 15 years of learning/performance behind you. To take a break from that rhythm of performance and enroll for an academic course speaks volumes about the motivation involved. That of course makes our jobs as teachers much easier!
What I've observed with Kuchipudi especially is that earlier those who belonged to one or two distinct schools of training used to join, but now we see many who come from multiple schools of teaching. Also, amongst the ones who are coming back are those who have been in the field for some time, have practiced extensively, and those who were once part of other, more financially viable fields. So, we see a lot of variety now. That I would say is the aspect that has changed the most.
When students come in with multiple Kuchipudi styles, how do you consolidate their various discrete techniques to suit the Masters course in HCU?
We recognize the individuality of every student, helping them get a clearer picture of the best versions of themselves. In aspects of grammar and body language, every carriage is undeniably unique. There is a continuous effort to make the existing stronger, without overriding what is already muscle memory. And, make no mistake, we don't own any of the dance students who come to us. That this is the way we function is a word that has gotten around. Earlier, the gurus used to be cautious in sending their students because they've spent all that time honing their disciples and understandably there's a hesitance in allowing them to rebrand. But it's never a rebranding, the Masters course only adds to their personality as dancers.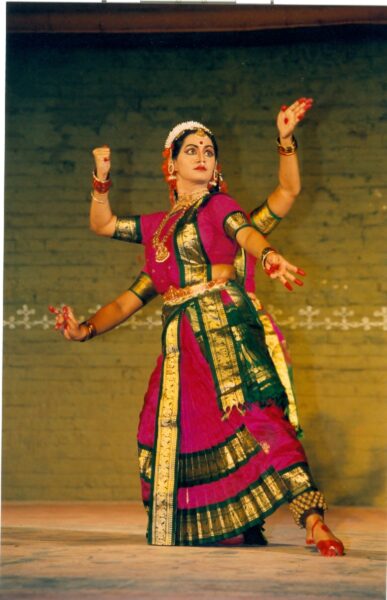 You were a very active performer, one of the prime disciples of Dr. Shobha Naidu. At what point did academics beckon?
Though I was a performer and a popular one at that time, academics played a very important role in our family. My father always used to say that I should be academically sound, and not just a dancing puppet. Padma Bhushan Dr. Padma Subramaniam completed her PhD in the late 70s. It was an unheard-of feat during the time, to obtain a doctorate in Dance, and was published widely. Newsmagazines like the Illustrated Weekly would carry interviews of greats like Padma garu and Kalanidhi mami (Padma Bhushan Smt. Kalanidhi Narayanan). My father used to assiduously collect all these for me and paste them in a scrap book, all when I was probably in my 8th year! He would point to these articles and tell me that I too should look to laying a good foundation in academics. So, the environment that I was in really moulded me into what I am today. I do like performing a lot, but I wanted the sound background of academics to back me up as well, I suppose that was primary driver for my being here (in academics).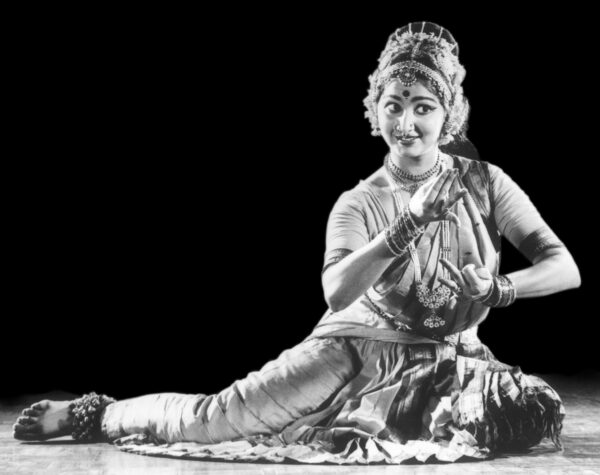 Please tell us about your gurus, ma'am.
My first guru was Vedantam Jagannadha Sarma garu, son of the legendary Guru Vedantam Lakshmi Narayana Sastri garu. I learnt basics under him for a year. Then we got transferred to Guntur, and I joined Smt. Subbalaksmi garu. She was a student of Guru Adyar K Lakshman. Under her training, I entered many dance competitions, including those at state level securing first place every time. Once I reached a level though, she suggested that I be put under senior Kuchipudi guru Sri Chinta Radhakrishnamurthy garu. She told my parents that she had taught me all that she could, and that I now needed advanced training. Tell me, which teacher today would speak like that?
Guru Sri Chinta Radhakrishnamurthy garu saw a spark in me and told my parents that he would give me private lessons instead of group classes to hasten the dance learnings. Under his guidance, I learnt the entire Bhama Kalapam, Bhavayami Raghuramam (a 45-min item) and such, which are major pieces in the Kuchipudi repertoire. Once we moved back to Hyderabad, I joined Kuchipudi Art Academy, which was established by Guru Vempati Chinna Satyam garu as a sister institution to the Madras Kuchipudi Art Academy, with Dr. Shobha Naidu garu as principal. I continued till 1990, for almost ten years. In the course of Masters and PhD also, I had the good fortune of interacting with Vempati master garu extensively. So, the process of learning was always a continuous one.
At what point of time did the University of Hyderabad happen?
(Smiles) I did my degree in History, Political Science and English Literature in Osmania University. I thought I'd take Archaeology as an extension to History. I was keen on joining the famous archaeologist Prof. Radhakrishna Sarma garu of Osmania University and then do something related to dance alongside. That was the idea. In 1988, I completed my degree. I gave my entrance for both Archaeology and Literature. During this time, Dr. Bhadriraju Krishnamurthy garu, the then Vice-Chancellor of Hyderabad Central University (UoH as it used to be called then), and one of the top linguists of the time had started the Department of Dance. He had a searing passion for the arts and it was his visionary thought that saw Performing Arts, Fine Arts and Communication as interconnected fields, thus establishing the Sarojini Naidu School of Arts here. When I came to know of the dance department here, I joined.
One of our professors and coordinator was the legendary dance scholar Prof. PSR Appa Rao garu. By the end of my 4th semester, I was awarded JRF and that compelled the university to introduce a PhD program. After five years of PhD at UoH, I was taken in as Lecturer, five years thence Reader and later as Professor. The journey continued. I suppose things just fell into place at the time for me.
You were one of the youngest Deans in the history of the University, all of 34 when you took it up! Tell us about that.
See, Deanship or Headship is a role you take up for three years, after which the next senior Professor will succeed you. My Deanship was an accident, I tell you! (Laughs) Prof. Nataraja Ramakrishna garu (Padmashri awardee, Andhra Natyam revivalist) retired in 2000-2001 I think. Soon the post of professor fell vacant, and was accordingly advertised. By then, I was a Reader (Associate Professor in today's parlance) with five years of experience and published papers to my credit as well. Naturally I applied, and went through a grueling interview with the board comprising Dr. Sunil Kothari, Dr. Kanak Rele, Sri G Venu and the like. In 2003, I was appointed Professor. It just so happened that during the same time the other Professors from the allied schools of Communication and Fine Arts had also retired, leaving me the only Professor around to take up the role of Dean of SN School!
To top things, I was carrying my second child during the time. During that time the VC's office had neither a lift nor even an attached bathroom! Our Deans' meeting inevitably saw the other Deans who were much more senior in age turn profusely apologetic for they never envisioned a young pregnant woman to be amongst them! After my child was born though, I prioritized and resigned from the Deanship. And another Professor from the Communication school became the Dean.
As Head of the Department, what changes in curriculum and general policy have you brought into effect?
You don't necessarily need to be in a particular position to bring in changes. I joined in 1993, and in '95 we introduced curriculum changes. The Dissertation you've in the fourth semester, the Research Methodology course were introduced then. The consolidation of the entire curriculum has been a continuous exercise actually. Around 2006-2007, we tried to introduce Contemporary Dance as one of the Specialization courses in the Department, alongside Bharatanatyam and Kuchipudi. We had appointed a Reader also at the time, but he couldn't continue for too long. Seminars and workshops were always a part of the curriculum, as were productions. It is only recently with the pandemic and the dwindling financial support that full-scale productions have been impacted.
Whether you are Head or not, the University has a system wherein you're supposed to be doing certain things academically like bringing in new students through seminars, and basically creating that awareness. We had a Kalapa festival, a colloquium for three days, and the university students were completely involved. The Nataraja Ramakrishnan lecture was one great initiative where distinguished names would come to deliver talks. Dr. Kapila Vatsyayan was the first luminary who gave this lecture. Dr. Padma Subramaniam ji was another, dance scholar Dr. Mandakranth Bose, Bharatanatyam gurus Dr. VP Dhananjayan, and more recently Dr. Chitra Visweswaran were some of the scholars who had graced the lecture.
Between Performer and Professor, which role are you partial towards?
Now, it is Professor.
What are the career options for a person who has chosen performing arts not only as a passion, but also as a means to a livelihood?
In one word, you're entrepreneurial. There are so many opportunities on the horizon. Dancers themselves have realized that there is much they can do collaborating with artistes from interdisciplinary fields, a classic example of creating doors for opportunities to knock on. Dance as part of therapy is a new thriving area to focus on. And if you're creative, Corporate bodies are giving space for workshops and modules. But you've to think out of the box.
Dance writing and scholarship is a field that needs bodies too. Writing concrete, well-researched and well understood pieces on dance – there's a great lacuna there. The same with critiquing. Where are the dance writers? Do you see any informed critics like Subbudu or even Sunil Kothari today? More than critiquing, we report these days with a few fancy terms thrown in!
The approach towards research has changed too. When it was in a juvenile state, we were recording what was already there, with supporting evidence and documentation. Now, performance itself is becoming research. And of course, as pure theoreticians there is a dearth of scholars who can write and further dance scholarship. So yes, the options are many. All it takes is a willing mind.
In corporate worlds, we hear of glass ceilings. In the dance academia, did you encounter any as well?
At least in this university, there's no stopping you if you want to, or are doing good work. We as women actually place a lot of restrictions on ourselves. Because of the various demanding roles that we are in, we constantly prioritize. But I've never faced any restriction in my work with dance. A lot of stimulating challenge is thrown our way though, I assure you that.
With attention spans dwindling, where do you see the aspect of Sattva going in the future?
I would say that this is a very temporary phase. See, if you notice there are cycles. Sometimes it's Angika-based dance that gains accolades. But eventually we always reroute to our place of Saatvika. Look at the younger generation of dancers – they do think and create, and not simply rinse and repeat. I'm very optimistic about future dancers and their ability to find and portray Satvikabhinaya.
Please share a few words of advice for our readers, especially the ones who have taken up dance on a more serious level.
The audiences today are very much informed. And they've access to content that is highly refined. So, as dancers and content creators in our own way, we have to scale up and match that level of professionalism. You cannot do something just for the sake of it, or think you can get away with mediocrity. Especially for Kuchipudi dancers, the perception is that we have compromised somewhere. Why is that happening? What needs to be done? These are questions that should keep churning in the mind and be answered effectively through thought and both individual and collective action, so that the next generation of dancers can and want to take the mantle forward. As Kuchipudi artistes, it is our responsibility to step up and bring audiences to the auditoriums!
**********