Veena Recital by Vid. Smt Yogavandana
-Ashwini Satish
Vid. Yoga Vandana J., one of the reputed veena players of our state performed for  Ananya on 18-09-2022.  She was accompanied by Nikshith Puttur  on Mridanga and  Vid. Sukanya Ramgopal on ghata. This was fifth concert in the series  " Veena Parampara" . The theme chosen by Vid. Yoga Vandana for the concert was ' The compositions on lord Venkatesha'.
She started with a varna in pantuvarali. Then she rendered Venkatesha  brovarada , a rare krithi in raga Varunapriya by Mysore Vasudevacharya,  followed by Venkata Shaila vihara , a beautiful krithi in Hamirkalyani  were placed very well.  After ' anudinamu' in begade she presented  ' Srinivasa Tiru venkata ' in Hamsanandi , a popular krithi by Papanasam Sivan.  The main item of the recital was  in raga Madhyamavati , ' Venkatesha nannu' a krithi by sadguru Thyagaraja. Traditional way of playing , clarity in gamakas , interpretation of ragas with proper  bhava , selection of  a set of rare as well as popular krithis  made the concert successful.
She was very well accompanied by Nikshith Puttur , a talented young artist on Mridanga and  Vid. Sukanya Ramgopal , a reputed artist of our state on ghata. The two percussionists played a wonderful Tani which enhanced the beauty of the concert.
Yogavandana ended the concert with a tillana in khamach and Sri ' 'venkatagireeshamalokaye ' in suruti by Dikshitar.  Vid. Geetha Ramanand thanked the artists on behalf of Ananya.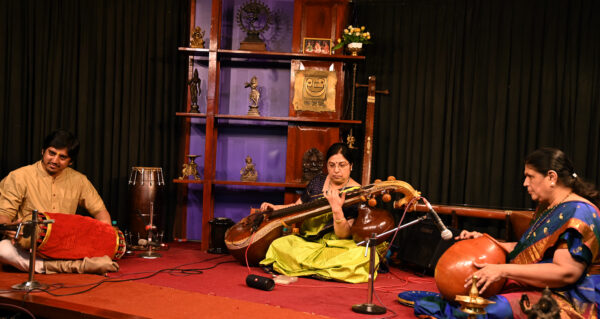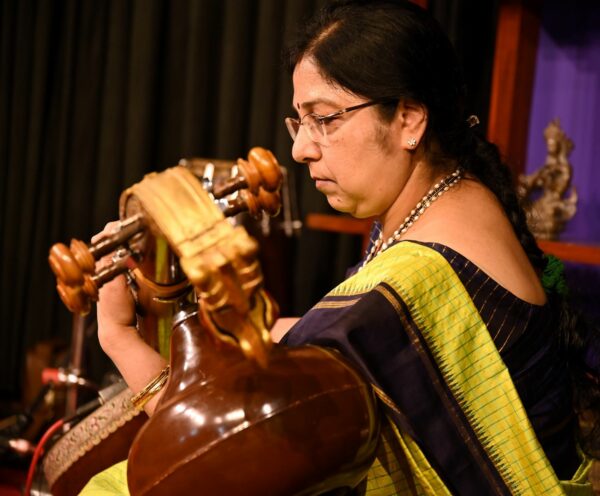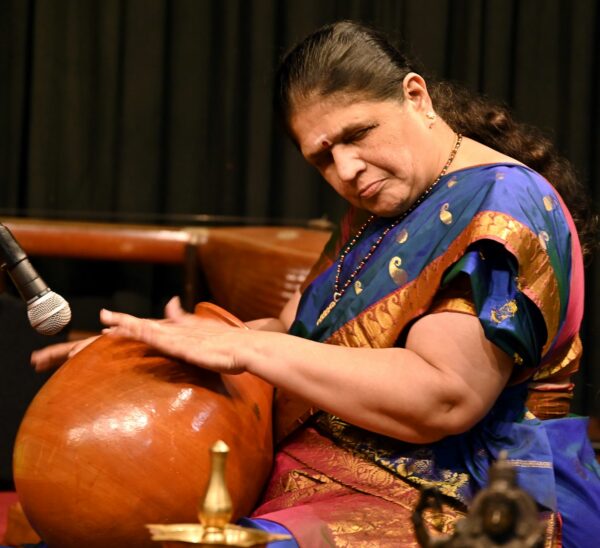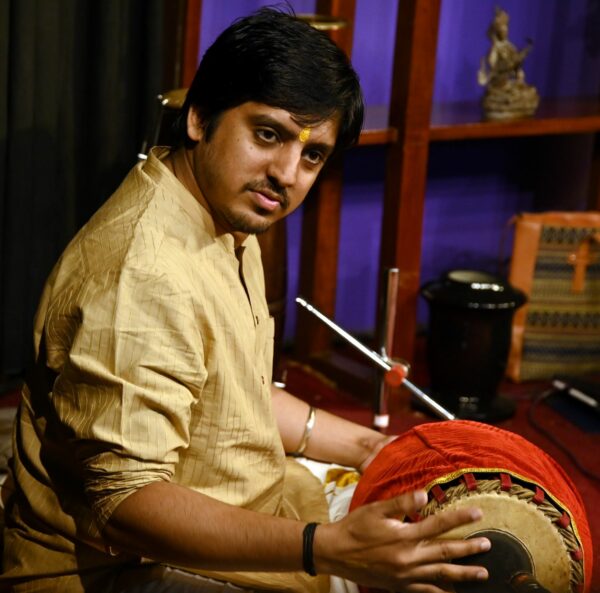 *******
Captivating Vocal Recital
Dr. Akshatha Varun
An upcoming young vocalist from Mysore, Vid. Medha Vinod Anoor, presented a concert at  Ananya Sabhangana on 24-09-2022. She was accompanied by Vid. Keshav Mohankumar on violin and Vid. Sunil Subramanya on Mridanga
She began her concert with Viriboni varnam in kedaragowla raga set to Mishrachapu thala. Next up was Pranamamyaham with a glimpse of gowla raga. She then presented a brief alapana in the raga devagandhari and sang sharade veena vadana. Pantuvarali alapana followed by 'idu bhagya idu bhagya' devaranama, nerval at Mellane madhavana manavolisabeku followed by a crisp swarakalpana was apt, flowy and filled with raga rasa. Brahmanda valaye in maand was rendered beautifully. The main peice of the concert, RTP in Naganandini composed by Vid. Anoor Anantha Krishna Sharma 'sachchidananda chidananda Ananda shashishekharam layachathuram swraamayAya' set to Mishra tripura thala was amazing. Detailed raga alapana, brisk tanam, Pallavi rendition, neraval and swarakalpana was ecstatic. She then wrapped up the concert with a melodious devaranama Kandena Udupi Krishna na followed by mangalam.
Keshav Mohankumar on the violin gave excellent support. He captivated the audience with his playing techniques. The nuances of the raga were brought out wonderfully with short span of time that a violinist gets in the concert. Vid. Sunil Subramanya on the Mridangam accompanied very well. His Tani avarthanam for the pallavi was enthralling. He is an artist par excellence. Great team work by all the artists and a wonderful concert indeed.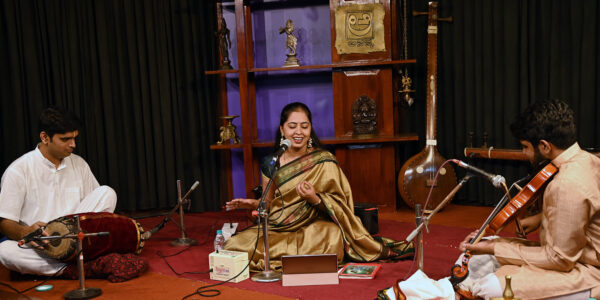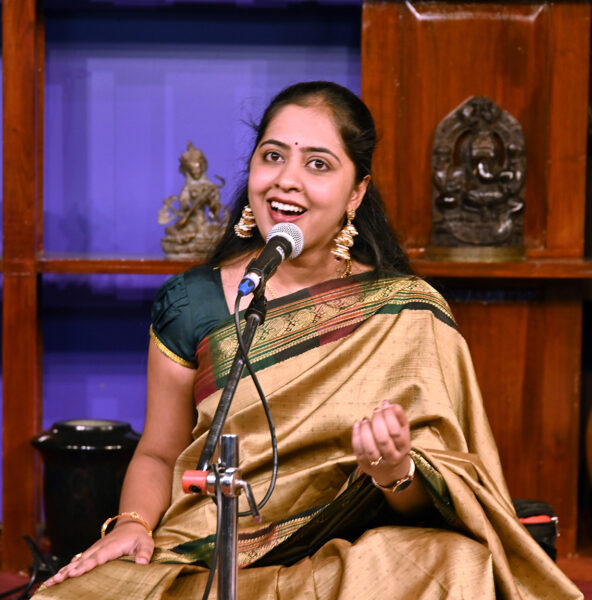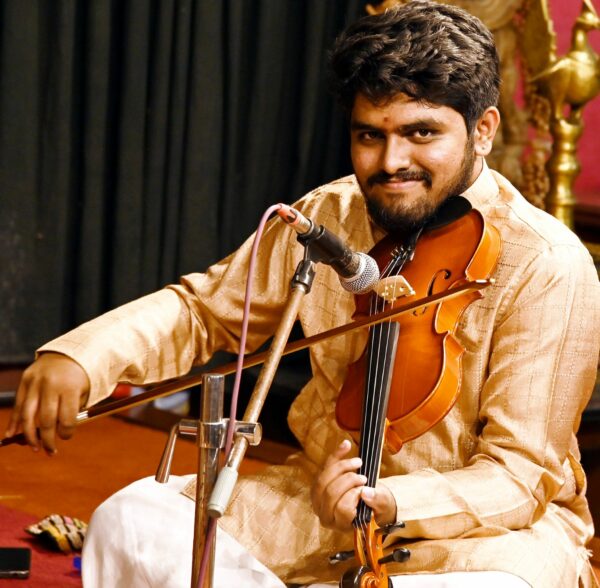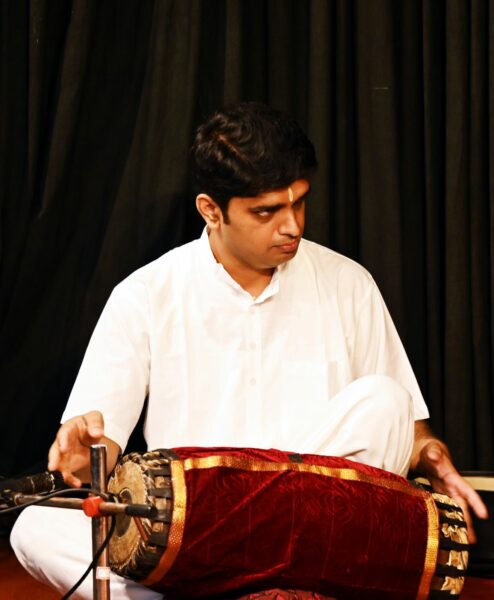 *********
Enthralling performances at Ananya Nruthyollasa -75
– Kavya Kasinathan 
The 75th Ananya Nruthyollasa program was held on September 25th at Seva Sadan. This special series featured charismatic performances by four dedicated practitioners of Bharatanatyam.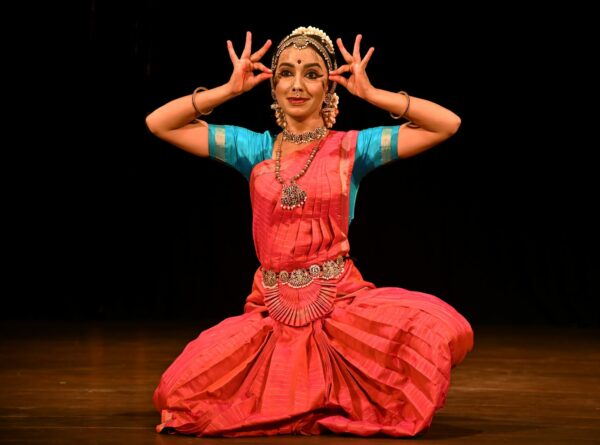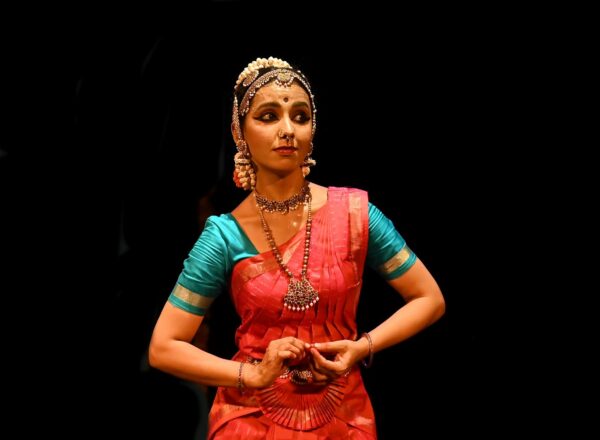 The program began with a proficient performance by Smt. Vidyalakshmi, disciple of Guru Praveen Kumar. She enthralled the rasikas with her neat presentation of four beautiful Kannada compositions. Her precision in execution of the crisp rhythmic jathis and the captivating devotional Abhinaya in "Jaya Janaki Ramana" provided a befitting start to the evening's performance. The audience were also treated to a magnificent portrayal of Lord Shiva's joyous dance and an expressive dialogue of a Nayika intoxicated by the beauty of her beloved. The description of the Navarasas in the Shiva Keerthana and the similies and metaphors in the Abhinaya composition highlighted the choreographic excellence of Guru Praveen Kumar. She concluded her performance with a traditional Thillana set to Raga Sumanesha Ranjani and Adi Thala.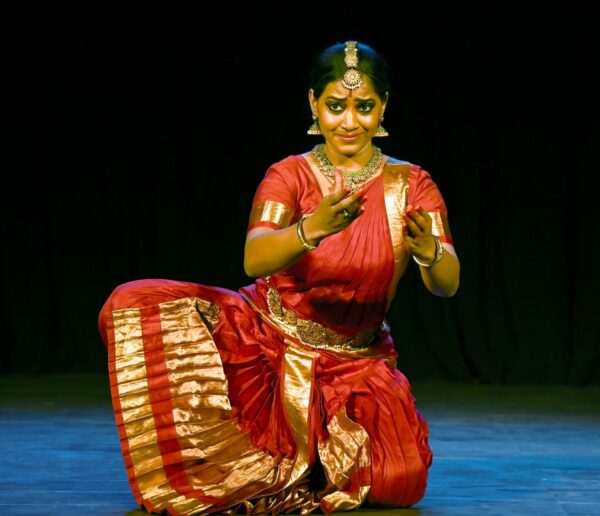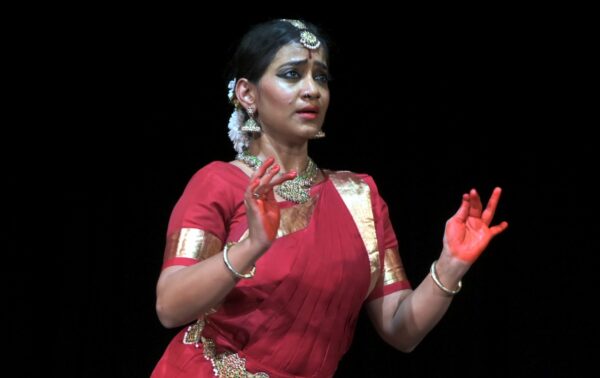 This was followed by a vibrant performance by Smt. Keerthana Ravi who presented two choreographic works of Guru Rama Vaidyanathan. Beginning with a challenging Swati Tirunal composition in Ashtaragamalika, she painted the intense emotions of the lovelorn Nayika with skillful competence. Surrendering to the omnipresent Pannagendra Sayana, she depicted her desire to unite with him in joyful bliss. The sensous Sringara Bhakthi of the Nayika filled the aura of the auditorium throughout her presentation. The vibrant adavus of the jathis and the flawless execution of innovative poses depicting Vishnu relaxing on his snake added to the artistic flavour of the performance. She concluded her performance with a sprightly Javali composed by the Tanjavur Quartet. She depicted a sakhi addressing Brihadeeshwara, telling him about the sad plight of the Nayika who affected by the arrows of Cupid, cries all day thinking of her beloved Brihadeeshwara who seems to have forgotten her. Her presentation reflected her  vigorous energy and stage presence.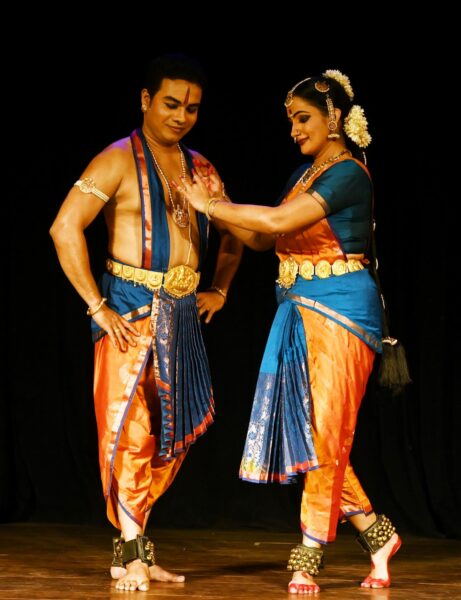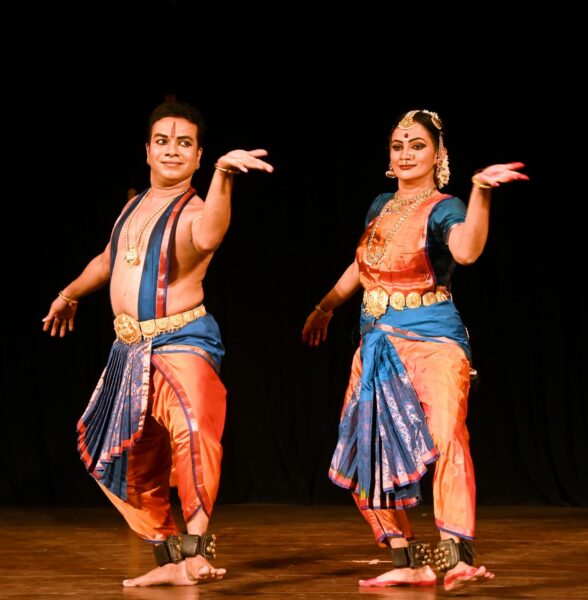 The concluding recital featured a  seasoned presentation by the couple duo – Sri Deepak Kumar and Smt. Preetikala from Puttur. They began their presentation with a dynamic portrayal of the popular Daru Varnam – "Maathe Malayadwaja Pandya Samjathe", a composition of Sri Muthiah Bhagavatar in raga Kamach set to Adi thala. They interlaced the well-known Meenakshi Sundareshwara Kalyanam and Chamundeshari sancharis in the Varnam along with a deft incorporation of the description of the Mysore Court of Nalavadi Sri Krishna Rajendra Wodeyar. The elements of Hasya introduced in the conversation of Goddess Parvathi with her dear sons Ganesha and Muruga captured the hearts of each rasika present. The refreshing duet choreography with skillful portrayal of mirror effects and movements added more joy to the presentation. The Varnam also showcased rhythmic vibrancy with each Thattumettu being delivered with umpteen amount of mathematical precision. The evening's program concluded with their presentation of Sri Bhanu Dasa's Bhajan in praise of Panduranga. The creative Krishna-Gopika poses and their devotional performance provided a surreal conclusion to the evening, leaving each Rasika soaked in the bliss of witnessing enchanting performances.
*******
Melodious recital
Dr. Akshatha Varun
Malleshwaram Sangeetha Sabha and Ananya GML Cultural Academy presented a refreshing carnatic vocal recital by Vid. Yogakirtana on 26-09-2022 at Ananya Sabhngana. She was accompanied by Vid. Janardhan on the Violin, Vid. B R Srinivas on the Mridangam and Vid. G Lakshminarayana on the morsing
Vid. Yoga Kirtana began her recital with O Jagadamba in Anandabhairavi, followed by Hiranmayim Lakshmim Sada in Lalitha. A brief rendition of Kaapi raga alapana was followed by Mivalla guna dosha memi. Master piece of Shyama Shastry 'Bangaru Kamakshi' with a detailed Varaali alapana and swarakalpana were presented with grandeur. A brisk Samaganalole in hindolam was followed by an elaborate Bilahari alapana. The portrayal of the main piece, Dorakunaituvanti seva immediately evoked devotion. Neraval at 'Rama brahma tanayudau' was sheer nectar to the ears. It was followed by a melodious swarakalpana. Sulabha poojeya maadi, a devaranama in a rarely heard raga Gangeyabhushani was sung in a scintillating manner.
Vid. Janardhan contributed ably to the performance with his violin. His display of talent was well recieved by the audience. Vid. B R Srinivas on the Mridangam and Vid. Lakshminarayana on the morsing contributed substantially to the success of the concert. The tani avartham was indeed captivating. In all, it was a confluence of various melodies which blended to make it a memorable evening.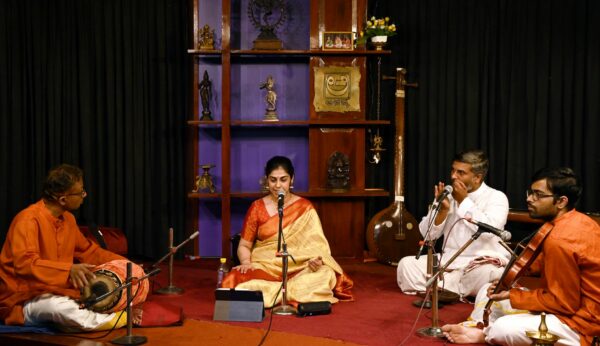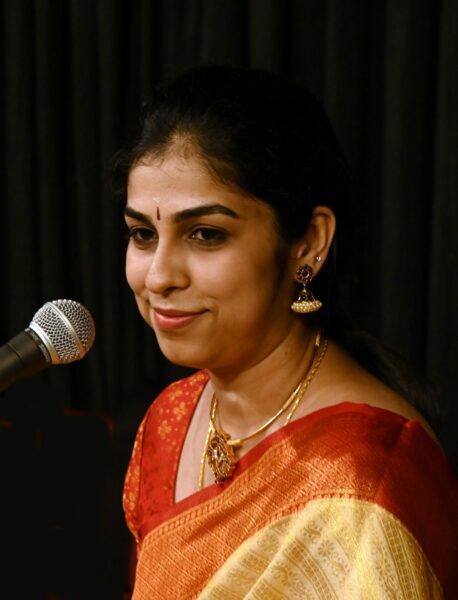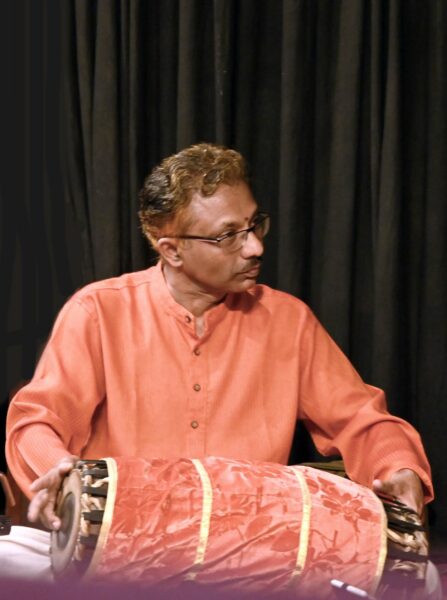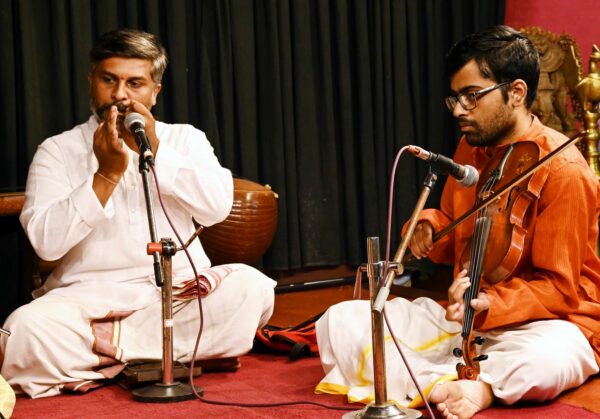 ********