A chaste carnatic concert
– Pavan Rangachar
Vid. Ravi Kiran presented a chaste carnatic concert for Ananya on Saturday July 15. He was accompanied by Vid. H M Smitha on violin, vid. Anoor Ananthakrishna Sharma on mridanga and vid. B S Arun Kumar on morsing.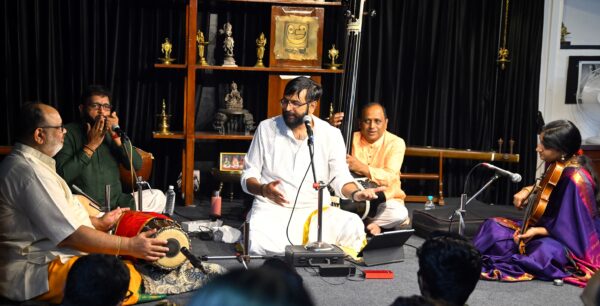 He began the concert with 'thyagaraja palayashumam' in rAga gauLa with neraval and kalpana swara. The next song lOkAvana chatura in bEgaDa was presented with rAga AlApana and swara. After a brisk 'vachama gOcharamE' , he presented the magnum opus Bhairavi swarajati with elaborate rAga AlApana and embellished it with neraval and swara for the line 'bhakta jana'. The concert came to a close with Sadashiva Brahmendrar's 'sarvam brahmamayam' and mangala. Vid. Ravi Kiran's concert was true to tradition and it was well highlighted by able accompanists vid. H M Smitha in her raga expanses, and vid. Anoor Ananthakrishna Sharma and vid. B S Arun Kumar in the laya aspects including a not-so-oftenly-heard mishra chApu tani Avartana.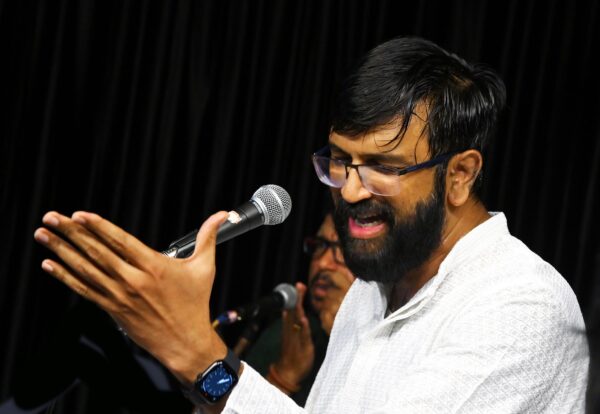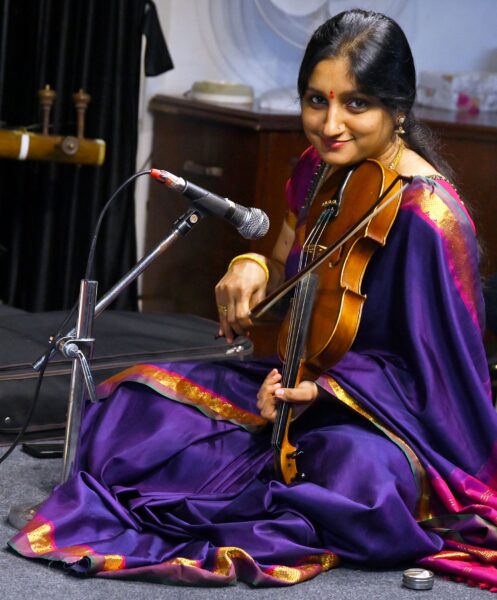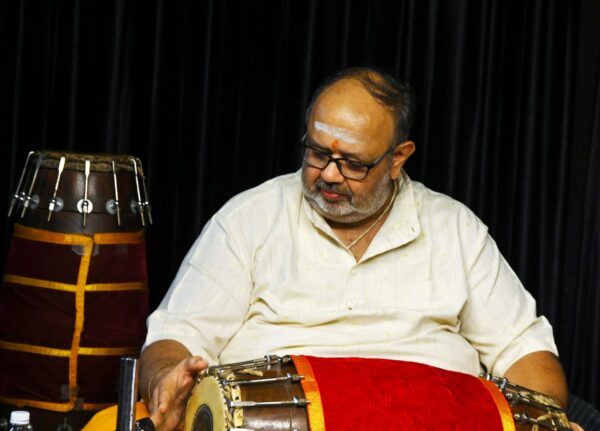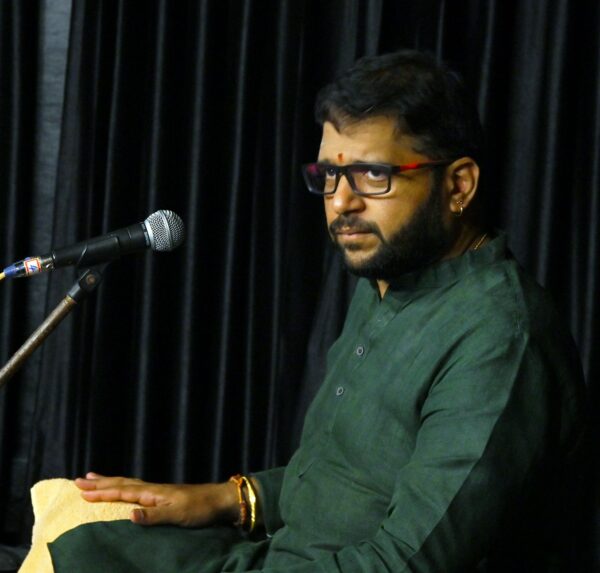 *********
Geetha Nruthya – July 2023
– Kavya Kasinathan
There is a famous saying that goes – "Geetham Vadhayam Nrityam Sangeethamuchyate". A combination of song, instruments and dance gives us the complete form Sangeetham.
Geetha Nruthya is an effort to bring together a performance with live music so as to give a holistic experience of 'Sangeetham' to the viewers. Ananya had organised Geetha Nruthya on July 21st and July 22nd which hosted captivating Bharatanatyam performances by four professional artists and each of the performances stood as a testimony of the above statement.
Day 1 commenced with a lively and proficient performance by Vid. Geetha Sireesha. She presented three compositions that highlighted her artistry and choreography. She began with a Devi Krithi composed by Sri Padmacharan describing the deep love and reverence Goddess Parvati had for her Lord Shiva. She then presented the popular Varnam "Roopamu Joochi" in Raga Thodi. With befitting similes and metaphors inculcated in the interpretation of the Sahitya, she depicted a Nayika who is longing for union with her beloved. Wasn't she just like a small riverlet yearning to unite with the sea, she questioned. The jathis brimmed with vibrancies, agile movements and rhythmic calculations that sent across waves of thrills to the audience and every jathi ended with thunderous applause and energetic appreciation from the rasikas. She concluded her recital with an expressive "Yaaro Ivar Yaaro". The magnetic voice of Vid. Abhishek N Sridhar, the sparkling Nattuvangam by Vid. T. Sharath, vivacious Mridangam support by Vid. Srihari Rangaswamy and divine flute support by Vid. Mahesh Swamy added an intoxicating flavour to the entire presentation.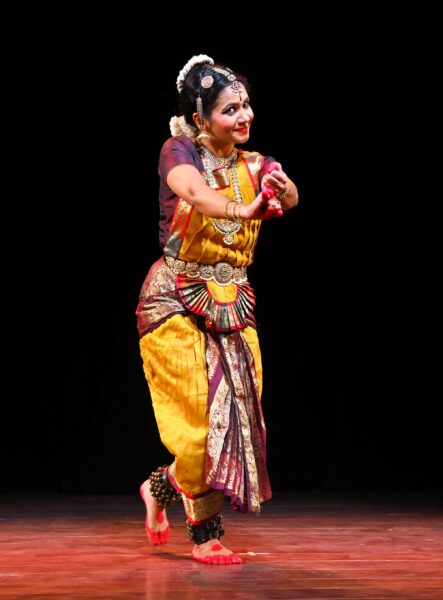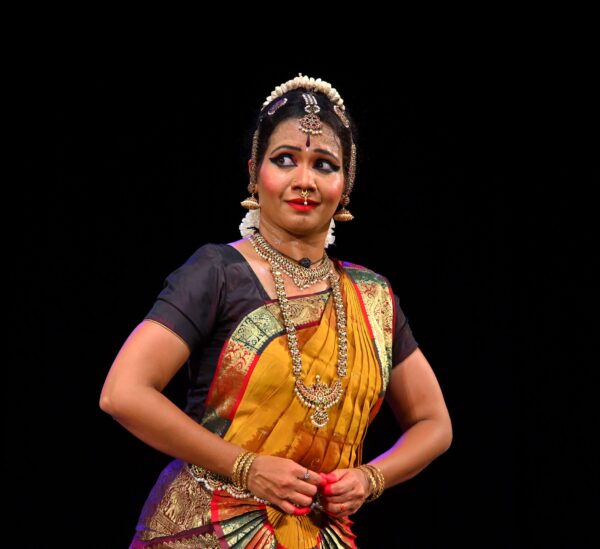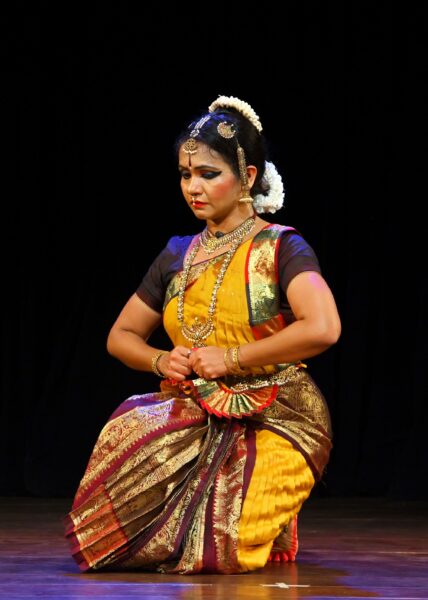 The concluding performance of day one was a nuanced and stellar presentation by sought after dancer and choreographer, Vid. Parshwanath Upadhye. Beginning with the devotional "Sri Chamundeshwari" in Raga Bilahari, he set the tone for his performance that continued with "Vanajakshi". The constant positive and energetic vibes that he radiated through the performance caught the rasikas in rapt attention throughout and everyone was soaking in the bliss of his performance and moved in tandem with his unique thought process. His presentation of "Choodare" had the audience roaring and rolling with laughter. His presentation was thought provoking in several ways and the wonderful musical ensemble – Vid. Aditya PV on Nattuvangam, Vid.Rohit Bhat on vocals, Vid. Harsha Samaga on Mridangam, Vid. Mahesh Swamy on flute and Vid. Mathur Srinidhi on violin added vibrancy to his effervescent performance.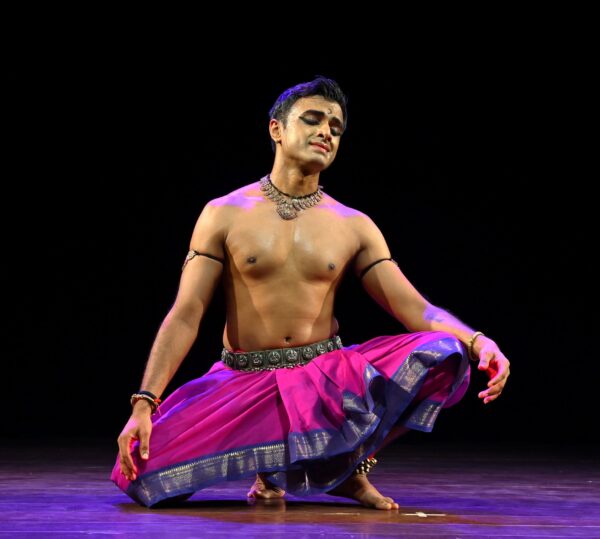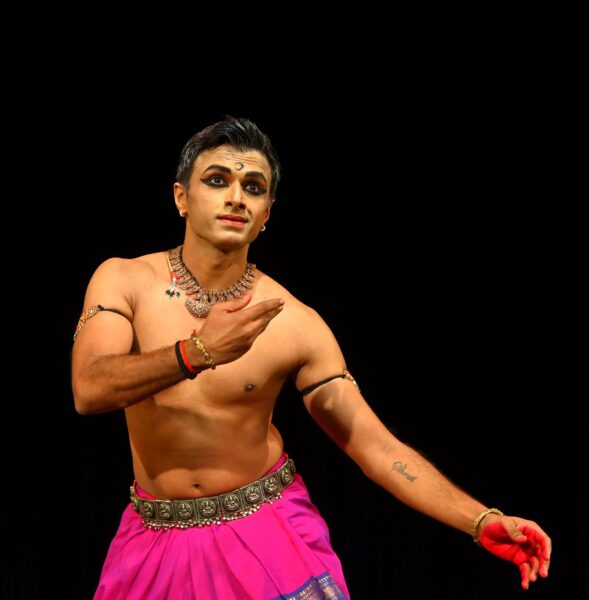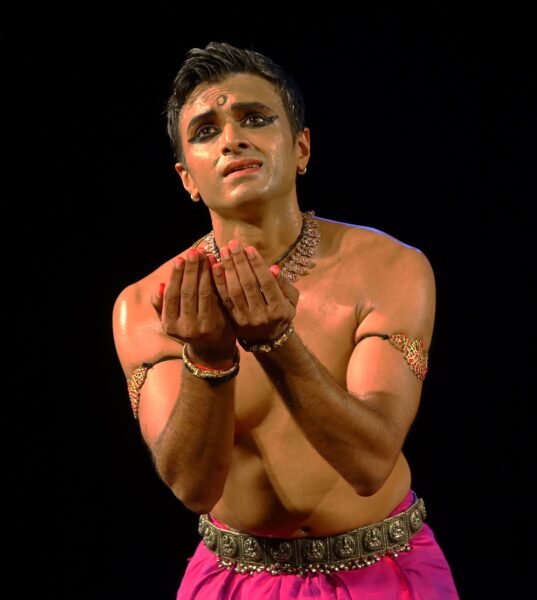 Day 2 of Geetha Abhinaya began with a neat and riveting performance by Vid. Unnath Jain who was accompanied by Vid. Pavan Kumar on Nattuvangam, Vid. Rohit Bhat on vocals, Vid. Vikram Bharadwaj playing the Mridangam vibrantly and Vid. Samrudh Srinivas enhancing the life of the presentation with the flute. He began on a high spirited note with a Nataraja Prabhanda written by Venkata Kavi in Kamavardhini set to Khanda Matya Thala. Continuing with the popular Varnam composed by Dr. Balamurali Krishna, he brought to life his novel imagination of how the Almighty Goddess created the universe and blesses everyone as a Mother. "Amma Ananda Dayini" was explored with a different and intriguing approach. He concluded his presentation with a Purandara Dasa Devaranama on Rama. Weaving into the Devaranama Vatsalya and Bhakti, he brought out the mother-child relationship between Kausalya and Bala Rama and depicted the evergreen Bhakti of Shabari and the sequence of Shabari Moksha giving a befitting end to his recital.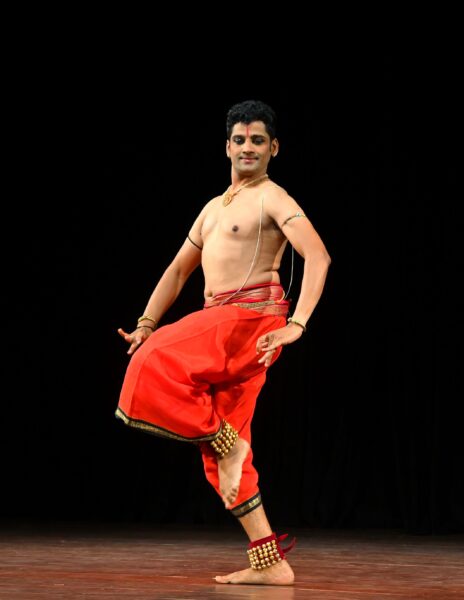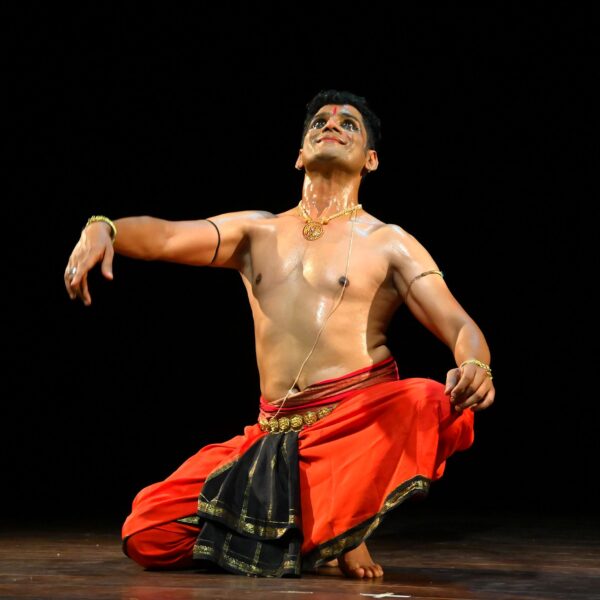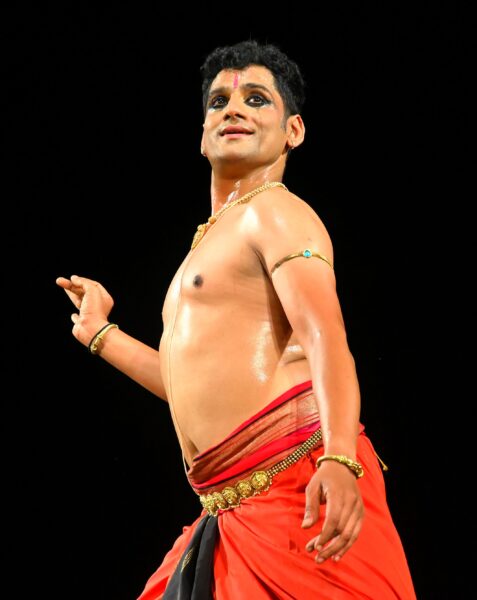 The concluding recital was a deft and immersive performance by Vid. Aishwarya Nityananda. Describing and depicting the majestic dance of Nataraja, she began with a composition of Sri Harihara "Aadidhan Aadidhan Aha Shankara". She then presented a Varnam that brought out the love of a Mugdha Nayika and her anxious wait for her Lord. The brief portrayal of Rukmini Kalyana in the Varnam was noteworthy and her aesthetic and artistic presentation of the Varnam did full justice to the musical and captivating composition of Smt. Dwaraki Krishnaswamy. Concluding her performance with the heartwrenching Ashtapadi "Natha Hare" she depicted the Sakhi who was describing to Krishna the pitiable state of Radha who seems to have lost her senses waiting to be united with Krishna. The lament and cry of Radha was brought to life with the expressive eyes of Aishwarya and the bhava of her presentation was further enhanced by the supportive Nattuvangam by Guru Pulikeshi Kasthuri, soulful vocals of Vid. Rohit Bhat, lively playing of  Mridangam by Vid. Srihari Rangaswamy and enchanting flute support by Vid. Shashank Jodidar.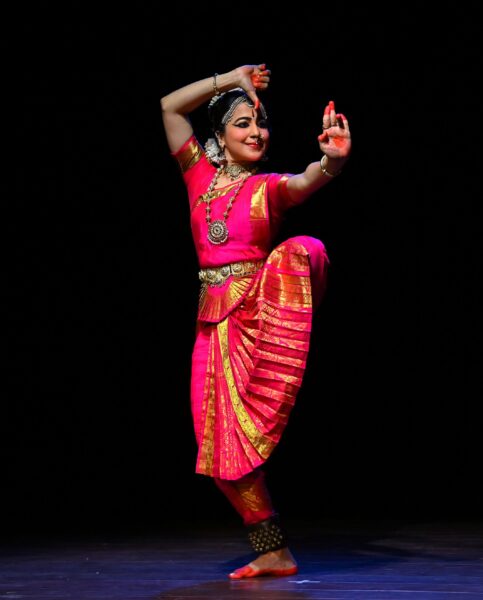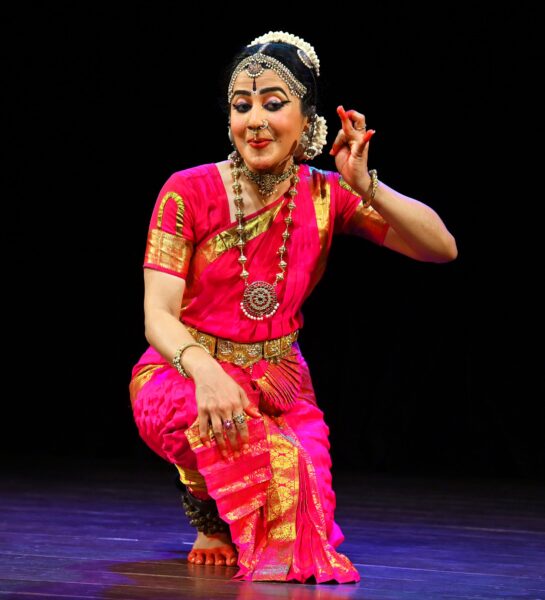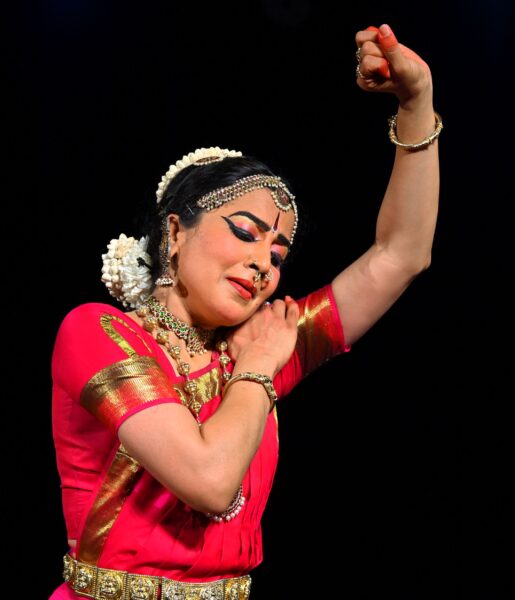 The two day festival was an overwhelming and wholesome visual treat to rasikas who are looking forward to more such Geetha Nruthya presentations.
 ******