A Special Vocal concert with Raga Tana and Pallavi
– Pavan Rangachar
Vid. Varada Kulkarni gave a Carnatic vocal recital for Ananya. She was accompanied by Vid. Vishwajit Mattur on violin, Vid. Phanindra bhaskara on mridanga and Vid. Abhijit on ghata.
She began the concert with sAranga varNa 'inta mODi' followed by 'vinAyaka vighna nAshaka' , kriti of Muthuswamy Dikshitar in vEgavAhini set to rUpaka tALa with brief kalpana swara. She then presented
'shri kamalAmbikAyAh' in bhairavi / mishra jhampe and 'manasu swAdhIa' in shankarAbharaNa / mishrachApu for which an elaborate rAga AlApana, neraval, swara prastAra and tani Avartana were presented. After a brisk 'nenarunchinAnu', an avadhAna pallavi in rAga dharmavati was presented as the main piece, set in khanDa naDe chatushra tripuTa.
The concert came to a close with a dEvaranAma and customary mangaLa . The highlight of the concert, the RTP which was composed by senior vidwan H S Sudhindra and Vid. Kalavathy Avadhoot , was rendered very well with good laya grip demonstrated by all artists.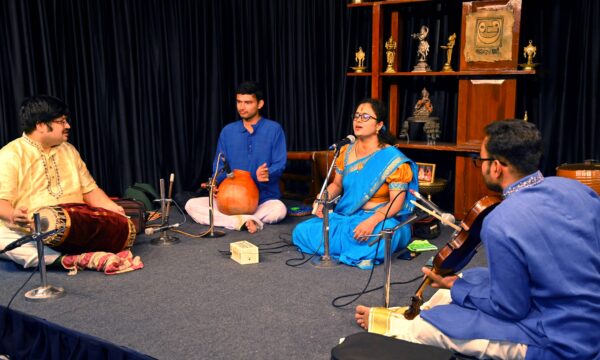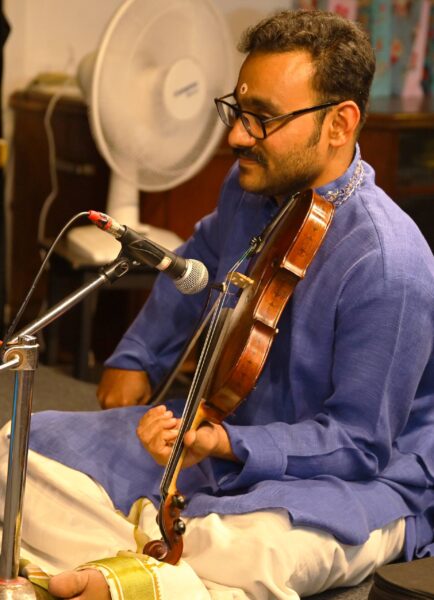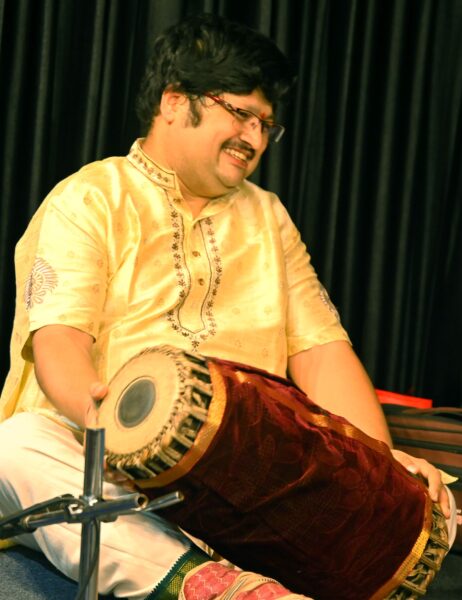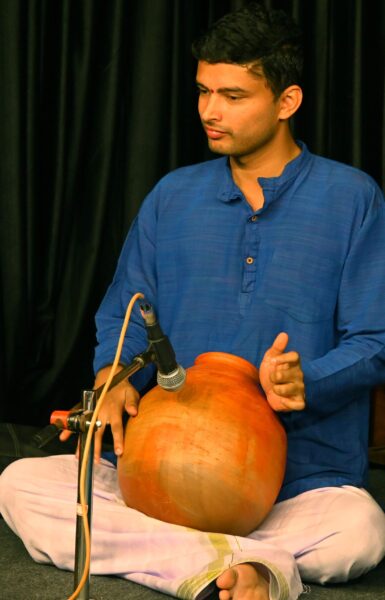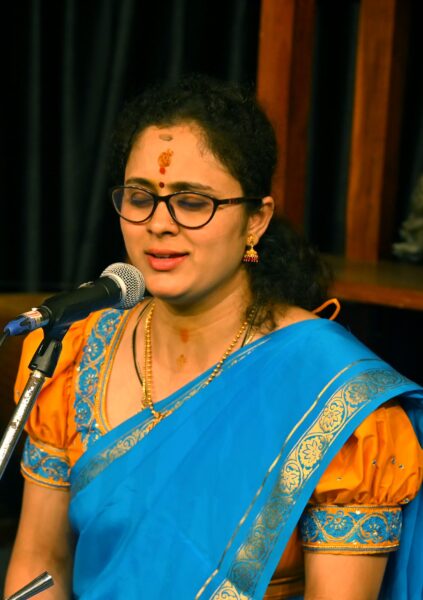 *****
A memorable Veena concert
     – Anirudha Bharadwaj
As part of monthly concert series, Ananya had organized Vidushi Pushpa Kashinath's Veena Concert at Ananya Sabhangana on 24th June 2023. She was accompanied by Vidwan Anirudh Bhat on the Mridanga and Vidwan Omkar G Rao on the Ghata.
The concert began with a captivating rendition of the Kamakshi – Shyama Shastri's Swarajati in Raga Bhairavi. It was followed by Mysore Jayachamarajendra Wodeyar's Krithi Sri Jalandhara comprising a short Alapana in Gambheeranata and Swara Kalpana. Next in the repertoire was Muttuswamy Dikshitar's Krithi in Sri Raga – Srivaralakshmi preluded by a soulful Raga Alapana. Tyagaraja's composition in Raga Jayantasri – Marugelara was rendered next with a very brief Alapana and Swara. A detailed exploration of Varali Raga flowed next with the rendition of Tyagaraja's Krithi Eti Janmamidhi with Neraval and Swara. Shyama Shastry's Krithi in Ananda Bhairavi – O Jagadamba was beautifully presented with sensible percussion accompaniment for the chosen kala pramana. Raga Kambhoji was next taken up for elaboration; Vidushi Pushpa Kashinath picked Mari Mari Vacchuna, a Krithi by Mysore Vasudevacharya, and presented it with Neraval and Swara Kalpana followed by Tani Avartana by Vidwans Anirudh Bhat and Omkar Rao. As a concluding item, Parakumadade, a Krithi by Purandara Dasa, was presented in Raga Sumanesharanjani. Notable musicians Vidwan TS Chandrashekhar and Vidushi MR Manjula were present in the audience. The entire concert was a scholarly presentation, a neat selection of compositions, and a good balance of Manodharma with no unnecessary frills; overall it was a memorable concert.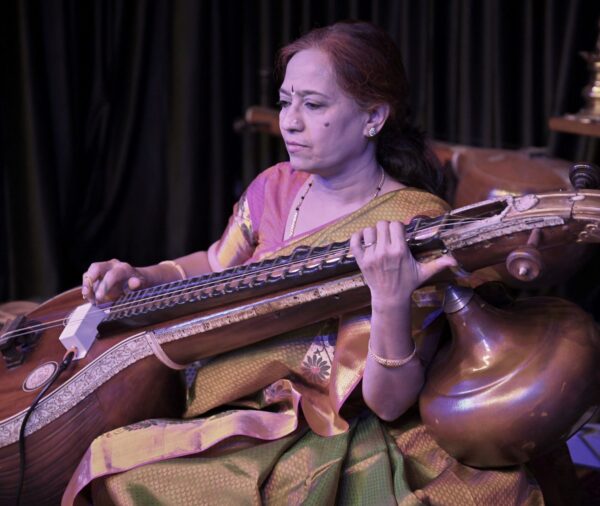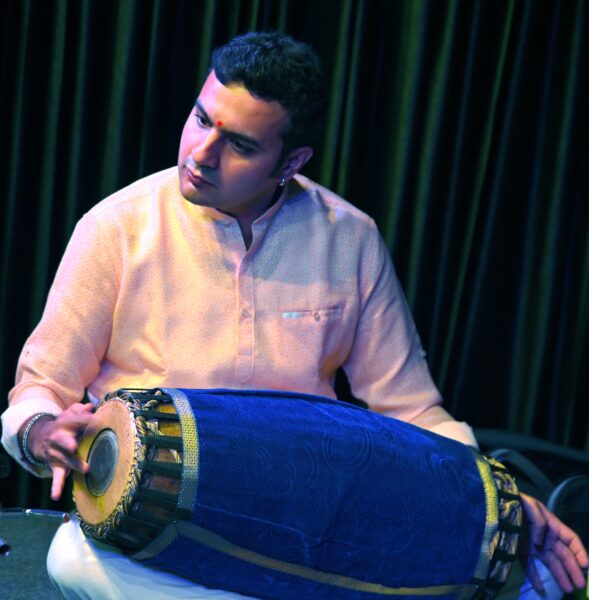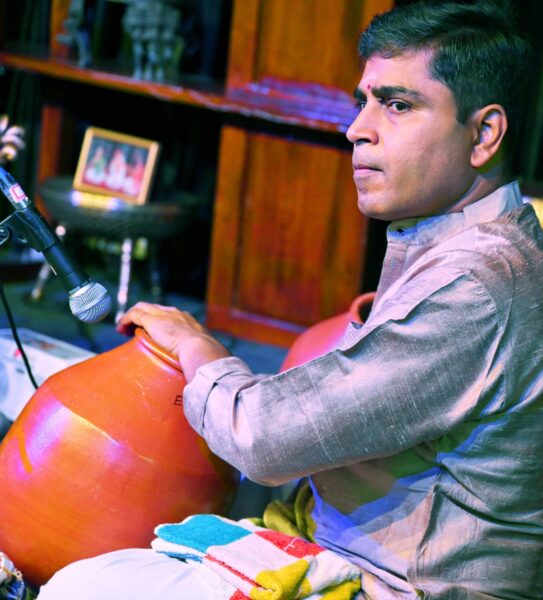 *********
Aesthetically delightful presentations at Ananya Nrutyollasa – 81
– Kavya Kasinathan 
On a rainy Sunday, June 25th 2023, Seva Sadan was overflowing with eager rasikas who had gathered to watch the performances of Vid. Kavya Ganesh, Vid. Abhinaya Rohan and Vid. Chaitra Rao.
The evening's performance began on a vibrant note with Vid. Kavya Ganesh presenting a Varnam composed by Sri Poochi Srinivasa Iyengar – "Dani Korikenu". A disciple of Vid. Rama Vaidyanathan, she showcased her artistry through the masterful execution of rhythmic intricacies and portrayal of deep emotions of the pinning Nayika. She depicted a Sakhi who pleads with Srinivasa to go to her friend who is withering away in his thoughts. The metaphorical exploration of the similarities between a lotus and life was brilliantly woven into the Varnam which also showcased several rejuvenating ideas.  Kavya's precision in the execution of jathis that played with cross rhythms along with her deer-like leaps, graceful walk and controlled Abhinaya inspired a sense of awe in the rasikas.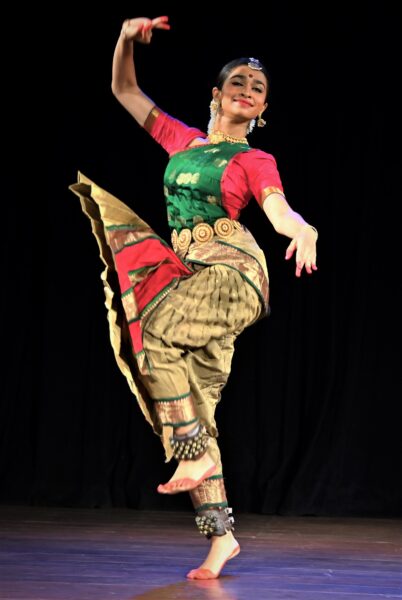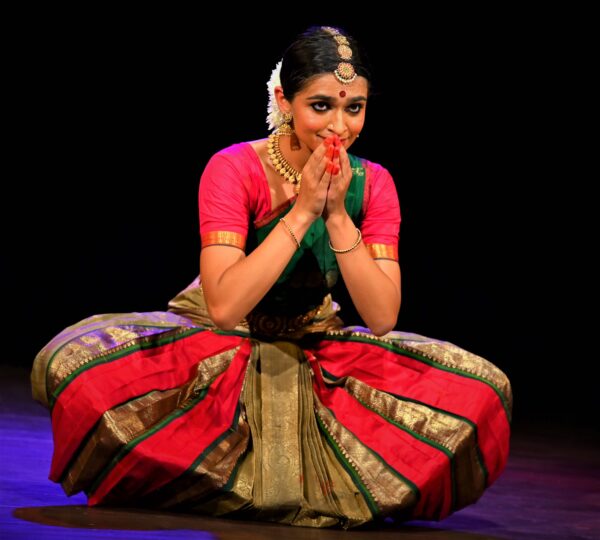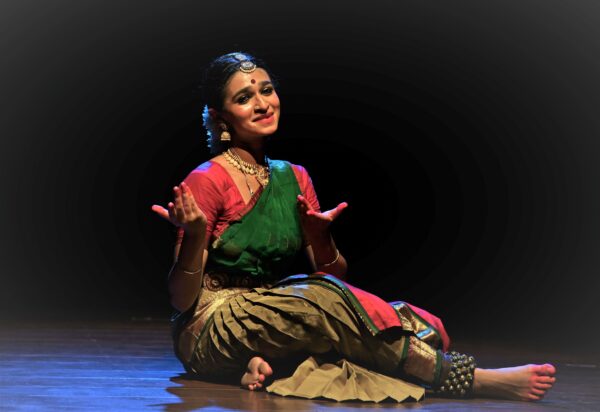 This was followed by a graceful Odissi presentation by Vid. Abhinaya Rohan, who is currently training at Nrityagram. She presented three choreographic works of Guru Kelucharan Mohapatra. Beginning with a devotional invocatory piece, she continued with a Pallavi in raga Arabhi. The symmetric and sculpturesque movements and postures coupled with rhythmic patterns in different Gathis evoked a sense of visual pleasure and joy. She concluded her presentation with the Jayadeva composition describing the ten Avatars of Lord Maha Vishnu – "Jaya Jagadeesha Hare". The most enchanting movement of her entire performance was her graceful and subtle movements of the torso, which gives Odissi it's unique flavour. Her presentation was soaked in devotion right from the beginning till the end and connected well with the rasikas present.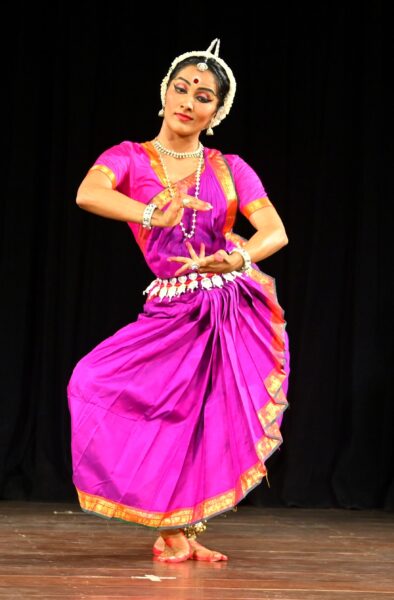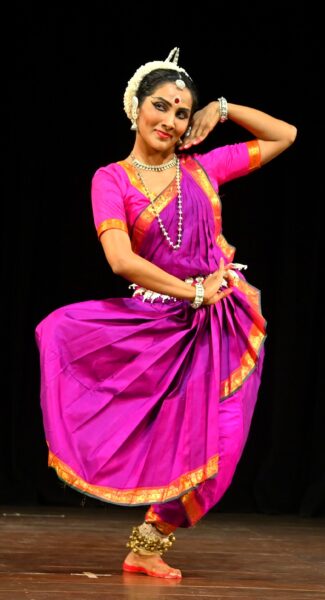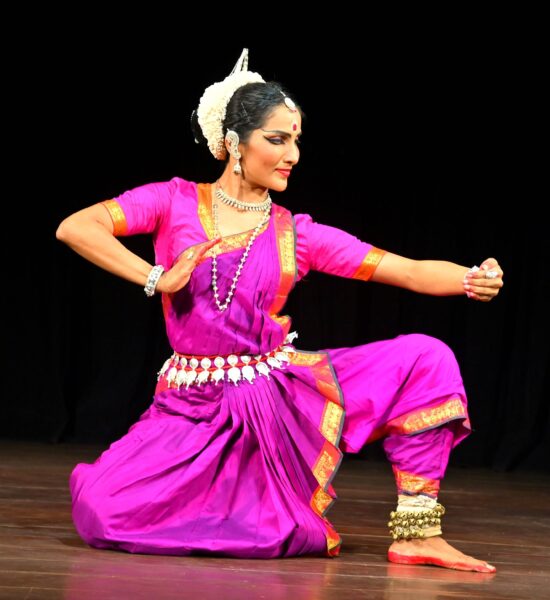 The final performance was by a seasoned artist, Dr. Chaitra Rao. Currently training under Acharya Indira Kadambi, she presented a proficient and captivating performance. She began with the popular Thodayamangalam – Jaya Janaki Ramana. The composition brought out sincere devotion which was also reflected in her neat presentation of the crisp jathis. She then presented an Ashtapadi choreographed by Acharya Indira Kadambi, depicting a dejected yet angered Radha who reproaches Krishna for his philandering ways. The pain and hurt that Radha suffered was vividly expressed through her communicative eyes. The ending of the Ashtapadi which was executed in silence, eerily reverberated Radha's annoyance and melancholy. She concluded her performance with a lively Thillana in Simhendramadhyamam in praise of Lord Muruga, a choreographic work of Guru CV Chandrashekhar. The unique Arathi and mathematically exciting rhythmic patterns of the Thillana gave an enthralling finish to the entire presentation.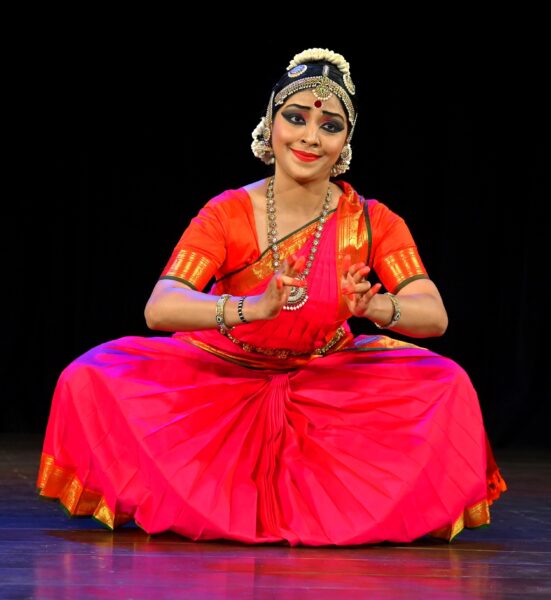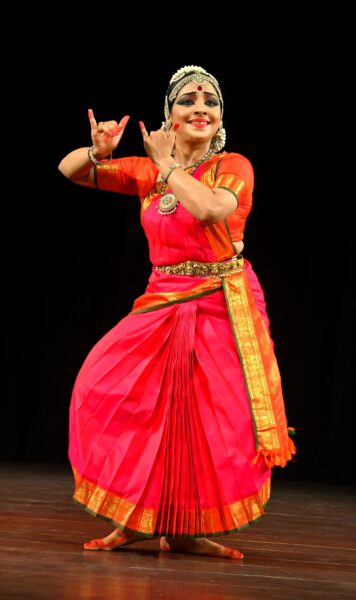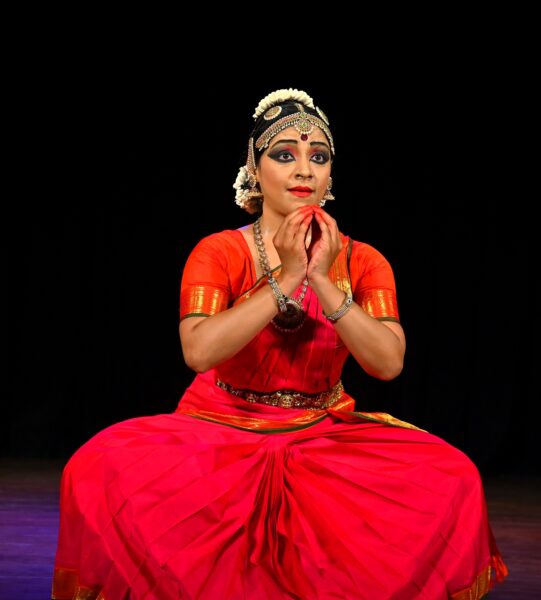 Ananya Nrutyollasa 81 successfully  showcased three delightful presentations, all unique and stellar in their own right.
******