A well-presented Carnatic Flute Recital
-Aniruddha Bharadwaj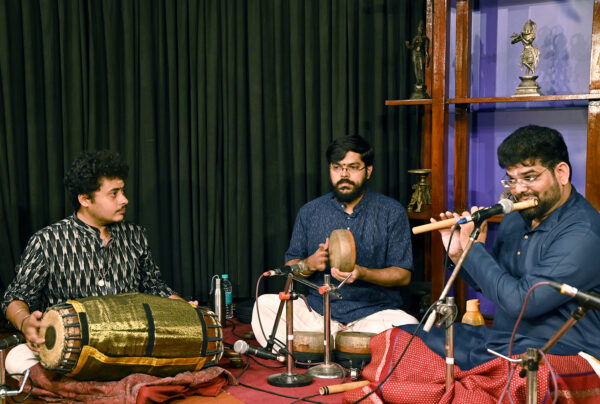 Ananya, in association with the Dept. of Kannada and Culture, had organized Vid. Deepak Hebbar's Carnatic Flute Recital on 11th June 2022 at Ananya Sabhangana, Malleshwaram. Vid. Deepak was accompanied by Vid. Sumanth Manjunath on the Violin, Vid. Nagendraprasad on the Mridanga and Vid. Anil Parashara on the Khanjira.
The concert began with the Varna in Raga Natakuranji set to Adi Tala. After a short Alapane in Raga Hamsadhwani, the Kriti 'Varavallabha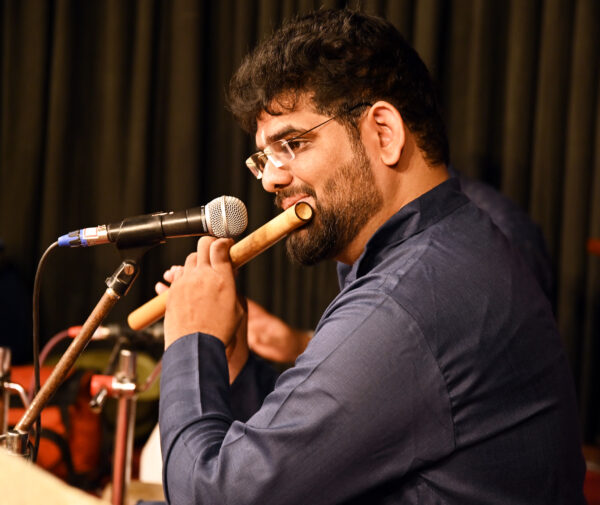 Ramana' was presented which was followed by crisp Swara Kalpane. A not-so-popular Kriti by Saint Tyagaraja 'Pariyachakama', in Raga Vanaspati was presented. It was followed by a detailed Raga elaboration of Sarasangi and Swati Tirunal's composition 'Jayajaya Padmanabha'. The Swara Kalpana involved intricate patterns and aesthetic twists.
Two kritis were presented back to back in Ragas Devagandhari and Kamalamanohari: 'Vina raadha na' by Saint Tyagaraja and Muttuswamy Dikshitar's 'Kanjadalayatakshi'. Swati Tirunal's one of the majestic compositions 'Pankaja lochana' was chosen as the main Kriti presentation with a detailed raga alapane, swara kalpane, and tani avartana in Mishra Chapu tala. The concert was concluded by 'Karedare barabarade' a composition by Kamaleshadasa in Raga Janasammodini and Purandaradasa's composition 'Bhagyada Lakshmi baramma'
All the artists Vids. Deepak, Sumanth, Nagendraprasad, and Anil brought out together a well-presented concert. We hope to see a better turnout for all our future concerts.
*******
Veena Parampara-3rd concert of the series
-Pavan Rangachar
As part of the Veena concert series organised by Ananya, Vid. D Balakrishna performed on June 12 at Ananya Sabhangana. He was accompanied by Vid. A S N Swamy on the mridanga and Vid. Raghavendra Prakash on ghaTa.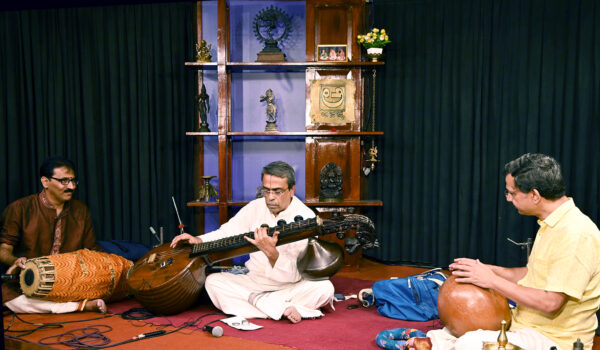 The thematic concert based on compositions of Veena vaggeyakaras, began with the Varna of Veena Kuppaiyer followed by Vinayaka ninnu in Hamsadhwani.
Following an evocative alapana of Vachaspati, he rendered Emani delupudura, composition of Vina Sheshanna.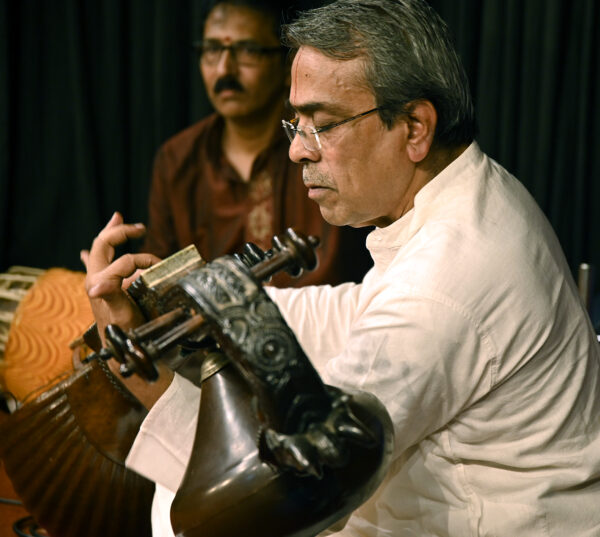 The next renditions were Veena Venkatagiriyappa's lalithAmbE in raga bhuvanagandhari and Veena sheshanna's rAma ninnu in Anandabhairavi.
The grand composition of KoniyADina was taken for elaboration as the main piece of the concert and dealt with very well , be it the raga alapana of Kambodhi, ghana raga tAna or kalpana swara.
The concert concluded with a mellifluous Sindhubhairavi composition of Veena Doreswamy Iyengar, Sita kalyana in kapi, kolalanuduva in raga malgunji, and the popular thillana of Veena Sheshanna in janjhuti. Vid. A S N Swamy and Vid. Raghavendra Prakash provided high quality accompaniment which enriched the concert experience.
*****
Remembering Guru Bhanumathi
-Shalini Srikanth
Photo Credit: Sri V B Suresh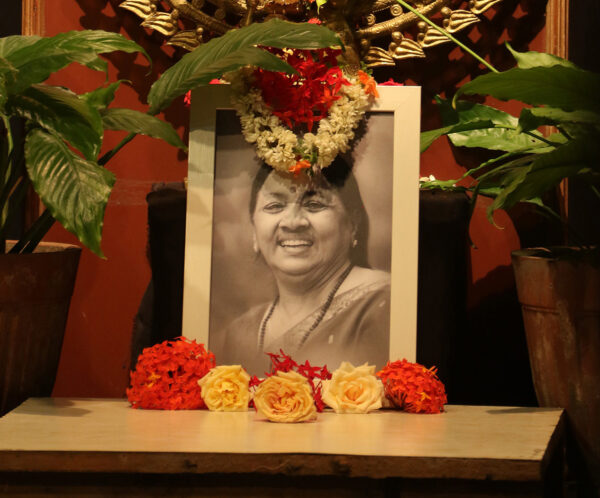 As the title suggests the event, was dedicated to the dance Guru who bid goodbye to this world too soon. Guru Bhanumathi is one such teacher who will always be remembered for her love and affection towards her students and to the art fraternity.
The morning event, held on 19-06-22 at Sevasadan, hosted by Ananya started with senior Guru Lalitha Srinivasan addressing a full house audience who had come to witness the guru's experiences and memories with Bhanu aunty.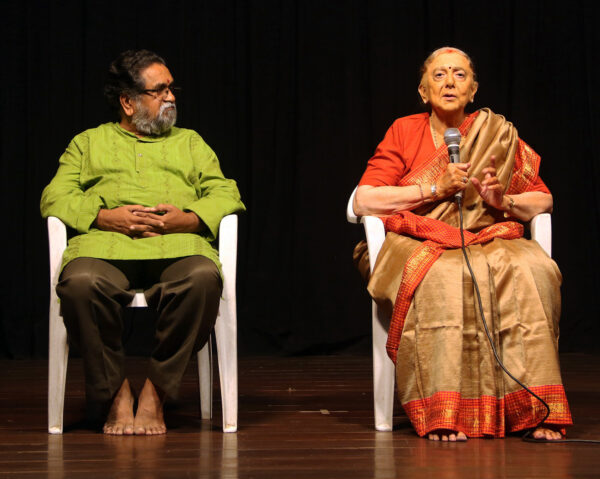 Later Vidwan Sri H.S Venugopal, a veteran flautist and a musician from Bangalore shared instances of his journey with the late Guru about his gratitude towards the teacher for her knowledge exchange in music and dance, his learnings from the stage shows and numerous performances with the guru together as artists took the audience on an emotional roller coaster. His expression of happiness and high respect towards the guru justified that Guru Bhanumati, dearly known as bhanu aunty, was an abode of love and support to one and all.
The event continued with a group performance by the disciples of Bhanumati aunty at Nrityakalamandiram, presently known as Bhanumati Nrithyakalamandiram  under the able guidance of  Guru Sheela Chandrashekhar presented the famous padavarna,  Bhuvana sundarana kare tare, a composition of Vidushi Dwarki Krishnaswamy, choreographed by Bhanumathi aunty showcasing her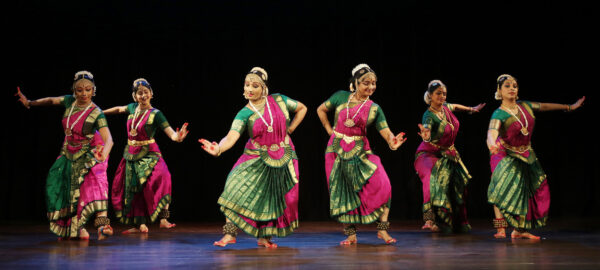 strength in group choreography and amazing synchronisation with intricate details in presenting abhinaya. The second half of varnam had crisp movements and the colourful rasleela bringing the Varnam to a beautiful climax.
After the group performance, the audience witnessed some of the rare and classic choreographies of Bhanu aunty performed by Bangalore's famous dancer and guru Dr Soundarya Srivatsa.  She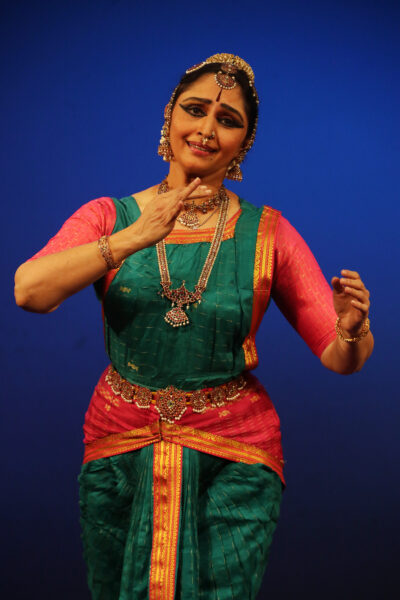 went on to perform a few handpicked compositions choreographed by Guru Bhanumati. To name a few were the famous Thillai Shabdam,the very famous Jagadodharana, the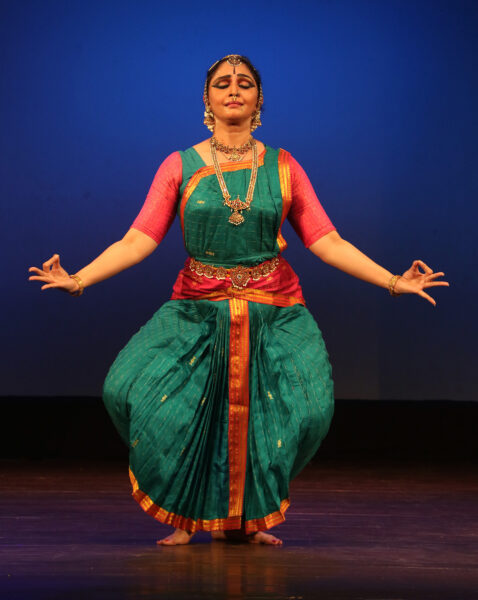 differently seen Marathi Bhajan keeping a kubje as the spotlight in her choreography. Bhanu aunty's creative thinking of intertwining the famous Mahadeva Shiva Shambo with the very common Natesha Kauthuvam and presenting it as a special piece was a visual treat. Soundarya Srivatsa concluded her recital with a famous poem by Rashtrakavi Kuvempu Mucchu Mare illade, philosophically depicting it as, where eyes are the primary senses for knowledge – which can flow from the divine eyes to enlighten things, and also mythologically Surya is depicted as Shiva's right eye who also is the paramatma, the almighty who is within and without as the poet is requesting…
She concluded the item with her perspective of Bhanu aunty's role as a guru, a teacher, a mentor and a guide in her life.
Overall the morning event remembering Guru Bhanumati brought tears of joy and memories of happiness each one shared with the guru in their life at different stages reminded all of us the void she has left with her bideu……
********
Ananya Nruthyollasa -72
– Geeta Sirisha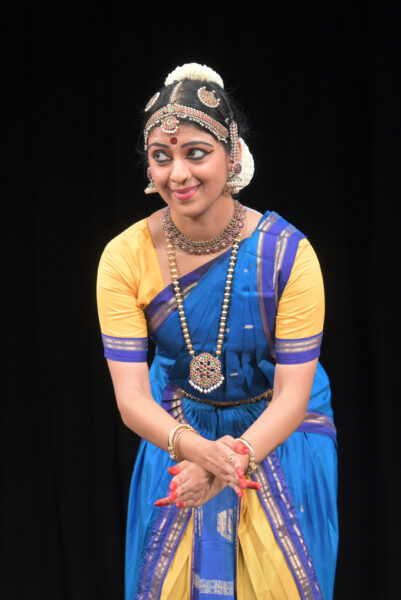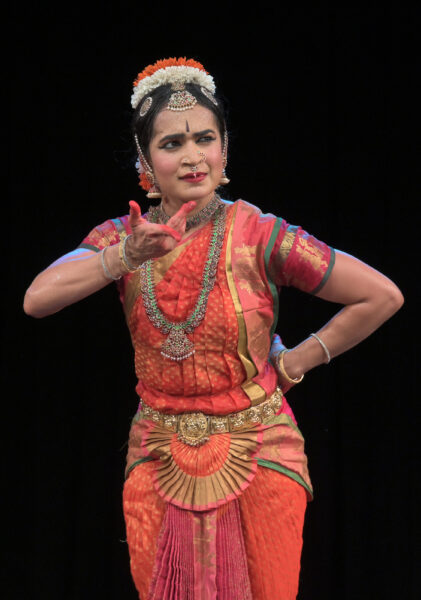 Every last Sunday of the month, Seva Sadan is filled with art-lovers who have dropped in to enjoy their Sunday evening amidst beautiful  dance performances organized by Ananya. Yesterday was no different with Ananya having its monthly series Ananya Nruthyollasa – 72, which saw four talented artistes take stage.
Vid. Amrutha Naresh began the evening with the famous Shivapanchakshari stotram (Choreography: Sri. Sheejith Krishna) followed it up with a popular ashtapadi "Sakhi he" and concluded the recital with a thillana (Choreography: Sri. Sheejith Krishna). Cool and composed, the dancer breezed her way through the performance carrying the viewers along.
Prathibha Kini was the second performer for Ananya Nruthyollasa – 72. Vibrant and energetic, she began with the very popular "Amma Anandadayini" varnam. She stole the show with her pinpoint depiction of the housewife in another very popular javali, "Arivennayya un antarangam."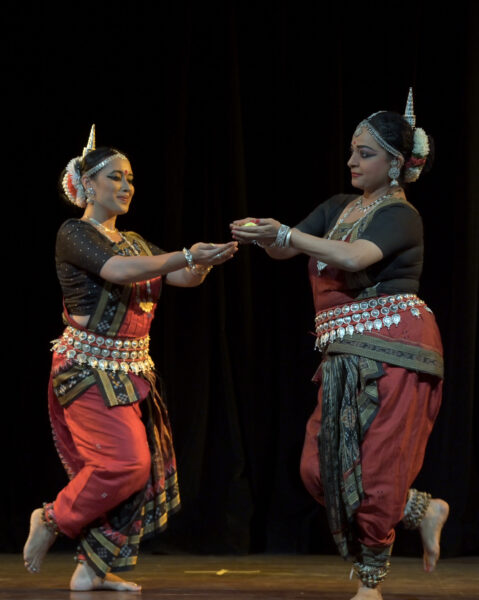 The last performance of Ananya Nruthyollasa -72 was a duet odissi recital by Radhika Makaram and Vandana Supriya. The duo chose all kannada dasara padams for their presentation, neatly woven to suit the traditional odissi repertoire, which was so refreshing. The entire performance was simple, clean and neat – easily understandable even by a lay-man.
******