Empowering rural community children through the medium of dance –
The vision of Bhagavata Mela exponent and Guru, Melattur  Late Sri S Natarajan!
-Priyamvadha Murali
"Karmanyevadhikaraste Ma Phaleshu Kadachana,
Ma Karmaphalaheturbhurma Te Sangostvakarmani"
 Disperse your Dharma with detachment and not expecting the fruit of your action.
" Sarva dharmaan parityajaya maam ekam sharanam vraja
Aham Tvaam sarva paapebhyo mokshyishyaami maa shucahaa! ".. Srimad  Bhagavat Gita.
Surrender your actions unto the Supreme for a blissful liberation!
The above versus from the epic were the ideologies Melattur Late Sri S Natarajan adhered to through his lifetime!  Guru Melattur late Sri S Natarajan needs no introduction to the art world and art fraternity. He was synonymous to the great Bhagavata Mela tradition of Melattur in Tamil Nadu. A Seventy seven years of blissful  life dedicated  to a higher cause and with unswerving bhakthi towards lord  Rudra Parameshwara  and Nrusimha, his life was steeped in miracles until his end!  He chose the path of absolute Satchidanandham through his art and his journey was always in pursuit to seek the divine union with the Paramatma !  He rose like a Phoenix from the ashes everytime his health challenged his presence on stage. He danced like a teen for 10 hours nonstop inspite of a major heart procedure weeks before Bhagavata Mela Natakams. To him, Sharanagathi through his art was  the call of the day. Asanchala  Bhakthi and Surrender was a predominant force in his life as seen by this writer closely even during his last few days!
A born dancer, astounding actor excelling in portrayal of female roles, he left many legends and artists in awe of his mastery over abhinaya.  Dr Balakrishnan and Dr Padma Subrahmanyam awarded him the title of Bhagavata Laasya Nipuna through Nrityodaya Chennai ,   for his 50 years contribution as Leelavathy in the master Play Prahladha Charitram of Bhagavata Mela Natakams. With a perennially pleasing demeanour, he worked relentlessly as an administrator, organizer, choreographer, until his last days to preserve and propagate the ancient 500 year old temple dance theatre tradition of Bhagavata Mela to what it is today.  Blessed by Kanchi Paramacharya at a very young age, he was duly acknowledged with the titles of Samparadaya Natya Shikamani,  Kalaimamani, Pratiba Puraskar,  Natya Kalanidhi,  Sangeet  Natak Academy award, Natya Kala Mani and  life time achievement award from Tag centre, Chennai,  among many other honours.
An electrical engineer by profession employed at DEWA, he  completed   35 years of illustrious service In the middle East  and one of the very few to be awarded as an outstanding outgoing Indian citizen in the UAE.  He was also awarded the Vishwa Kala Bharathy from Bharat Kalachar  Chennai. His contributions in the UAE was such. Many knew him as innovative engineer in Dubai and a great artist in India. But not many knew that he was also an  immaculate dance guru who ensured every budding dancer in the UAE,he trained, to be true ambassadors of Indian culture and traditions. He was the pioneering guru who staged Sita Kalyanam , live , something impossible way back in 1980s in Dubai. Over 100 students of his performed, he introduced prospective orchestra ensemble and also had costumes , jewellery and fresh flowers transported with special arrangement  through Air India for the historic  event. Such was the respect he commanded. Today,  his student lineage is spread around the world and all are dancers making a difference to the art they imbibed from such a Guru.
His dance lessons were always infused with a holistic incline towards life, values, customs and traditions. Dance to him was a means to attain spiritual bliss and not an end for one's identity. His home was the temple and his art was the deity. The arena was sanctified with every intense internalized choreograpghic work of his… a confluence of jeevatma and paramatma! His teachings transcended barriers of any limitations that came by way of one's learning process. He enabled corrections of physical disability through dance. Conditions like Cerebral palsy or Rickets, he made them dance. Melattur Sri S Natarajan was a visionary Guru. The village that is home to the great dance drama tradition of Bhagavata Mela had young children from this culturally rich hamlet unaware of its roots. He  wished to transform and enrich the  lives of young children of his village community and beyond, through the bliss arising out of the art form he practiced and experienced. He retired back  to his village along with his wife  Smt Anuradha Natarajan to impart life's values through dance and all for free as a noble service.
Thus was born Bhagavata Mela Vidyalaya in 2014,in Melattur, Thanjavur dt,Tamil Nadu.
"The younger generation are  future torch bearers of our rich culture and tradition."—he said.  From barely six students, today vidyalaya has a student strength of over 60 students enrolled in this nobel project. They hail from diverse socio economic background with children from families of barbers,tailors, shepherds,drivers for whom dance could be a dream. They learn not just dance but life's values, skills, correcting physical challenges thereby empowering the indigenous talents. He set a path to identify local talents who form the root of our culture. His artistry and service was also acknowledged  by the dance fraternity in Karnataka too. One of the highest  recognition came from Keremane Idagunji Yakshagana mandali ,Honnavar where Guru Keremane Shivanandha Hegde and team honored Sri S Natarajan with the Keremane Shivarama Hegde Rashtriya Puraskar in 2017.   Kensri School, Bangalore awarded him the Lifetime achievement  award for his contribution to enriching the student community.  Kuchipudi Exponent Guru Veena Murthy, director,  Raja Rajeshwari Kala Niketan, Bangalore,  has also on many occasions invited and featured Sri S Natarajan as part of her prestigious dance events.
Online  Vidyalaya
After the passing away of this great legendary guru in October 2020, owing to pandemic,Vidyalaya's mission continued  through online classes directed by his daughter disciple Smt Priyamvadha Murali who is also a senior disciple of Padmasri Smt Chitra Visweswaran. 35 years of experience in assisting her father's magnum work, she supports and continues  the work of Vidyalaya through her dance school, Laasya  Mela Laya in Bangalore. The classes in Melattur under the guidance from Priyamvadha Murali, are managed by R Gopalakrishnan,an young aspiring Bhagavata Mela Vidyalaya disciple and a second year Engineering student. Bhagavata Mela Vidyalaya YouTube channel was launched in memory of the founder guru in October 2020, which featured legends,artists and students worldwide paying tribute to this great artist in varied forms. Today disciples of vidyalaya are on global platform representing our values and tradition through dance in prestigious  festivals across the globe, winning accolades! They not only worked hard with grit and determination to comprehend and execute  this art but also learnt to be self sufficient in  technicalities and aesthetics that go with it. Be it camera, angles lighting, costume or make up , they handle it themselves as a befitting tribute to their guru. There is a great sense of civic consciousness and harmony as you see them work!
Milestones of Vidyalaya.. in the path set by its founder Guru Late Sri S Natarajan..
Bhagavata Mela Vidyalaya became one of the few villages in Thanjavur district to bring back art to its roots which is well recorded in the annals of cultural forums of India. Late Sri G Ulaganathan, Senior Critic from Bangalore was one of the first critic to notice and dedicate the first article in press media  through the much revered magazine Narthaki, about the services Of Vidhyalaya in 2016. He brought together artists from Bangalore who helped Vidhyalaya with providing  dance costumes. Association of Bharathanatyam artists of India( Abhai, Chennai) also contributed for the above cause. The Philatelic Bureau, India Post ,Thiruchirapalli division, India issued a souvenir  stamp honoring the disciples of  Bhagavata Mela Vidyalaya and Laasya Mela Laya for contributing the art to the village community in June, 2022. They had earlier honored Sri Natarajan and his grandson Druva Murali in 2017, for carrying on the legacy of Bhagavata Mela tradition into the fourth generation. Vidyalaya and Laasya Mela Laya was part of the Florida congress session online, on dance research at Miami,USA in November 2021,organised by World dance council as part of UNESCO, representing the cause–art for the betterment of community! Delhi Kalai Ilakiya Sangam and Melbourne Tamil Sangam awarded both the schools with  the Orange World record for maximum participation online in propagating and practicing the art form inspite of being in lockdown. Local communities and world  Tamil organizations have given due awards to both these  schools functioning with a mission. The Avvai Arakattalai at holy Thiruvaiyaru and Melbourne Tamil Sangam  acknowledged these disciples with the title Natya Kalai  Chudar at the Pan Indian conference on Tamil language ,art and Lifestyle values, June 5th 2022. Vidhyalaya's services was also featured in Doordarshan Chennai Kendra recently. Many legends apart from humbly offering their tribute,  continue to acknowledge Vidhyalaya's contributions to the betterment of the village community in the Bhagavata Mela Vidhyalaya YouTube channel. Inspirational address by His Highness Sri Bhabaji Rajah Bhonsle of Thanjavur,  Vidhushi S Janaki , Editor in chief Sruti Magazine,  Padmabhushan Dr Raja Reddy have all become a priceless treasure for the disciples of Vidyalaya. Dr Padma Subrahmanyam,  Padmasri Smt Chitra Visweswaran, Padmasri Dr Vijayalakshmi Navaneethakrishnan and Dr Navaneethakrishnan, Sangeet  Natak Academy Awardee Smt Anitha Sharma  Assam, Vidwan Lalgudi Shri Krishnan, Vidwan Maharajapuram  Ramachandran,  Dr T V Meenalochani, the 12 th Lineage of Saint Annamacharya, Bangalore based  Ghatam exponent Smt Sukanya Ram Gopal, Guru Veena Murthy Vijay, Vidhushi Ramaa Bharadwaj,  Vidhushi Tripti Bhupen, Research Scholar Smt Vidya Rao and  Karnataka Kalashree Sri Sathyanarayana Raju are one of the many such artists to name a few who have shared valuable lessons through their art for the cause of Vidyalaya  as aspired by Sri Natarajan.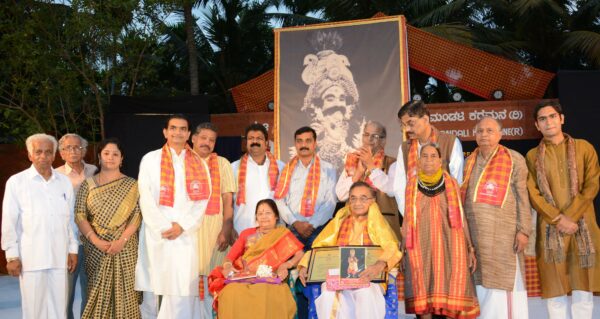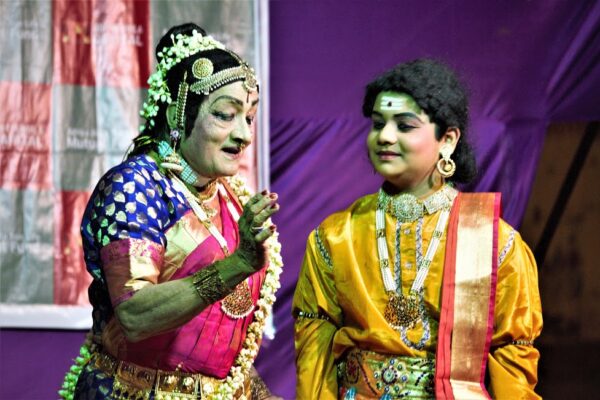 "Don't grieve if am gone… celebrate my end with a Natya Sangeetha Aradhana… let my work and values live through every artist and every aspiring dancer"… Sri S Natarajan!
Thus, Bhagavata Mela Vidhyalaya, Melattur and Laasya Mela Laya  Bangalore , for the second year in continuum brought together legends and artists from great Guru Shishya Lineage, disciples  and grand disciples of Sri S Natarajan, worldwide, paying tribute to the legendary Guru. Artists featured this year from Bangalore included Sangeetha Shiromani  Chitra Bilvam on Vocal, Vidwan Vittal Rangan on Violin (disciple of Padmasri Guru A Kanyakumari)  Saujanya Shyam, (Disciple of Karnataka Kala Shree late B. Bhanumathy and Nritya Nipune Sheela Chandrashekar), Yakshagana  exponent Guru Keremane Shivandha Hedge,  Kathakali exponent Prabal Gupta, Sahana and Srinidhi Narendran from  Sitalakshmi Gurukulam ,  and Karnataka Kala Shree Guru Padmaja Venkatesh Suresh, Aatmalaya dance academy. Dr Padmaja Venkatesh travelled to melattur, interacted with the disciples and shared some of  her treasured compositions and Choreographies for the cause of Vidyalaya. Manipuri by SNA yuva puraskar awardee Sinam Basu  singh and Konjengbam Monika Devi,  Abhang Natyarpanam by SNA yuva puraskar and Kerala Sangeet Natak Academy awardee Uma Nambudripad Sathyanarayanan, Kuchipudi Dance ballet by Guru Kalaratna KV Sathyanarayana and the unique Silambattam from Thanjavur  were part of the featured tribute this year, through varied art forms of our nation. As credited by Smt Jayabharati, Principal of VGN matriculation  school, Melattur, children who had no identity of their own are now cultural treasures of Melattur Village. Moving ahead with its mission and realizing one of the many objectives set by Guru Sri S Natarajan, Vidyalaya takes the art form to the benefit of 100 and more children from neighbouring villages in and around Melattur and Thiruvaiyaru from this auspicious Vijayadasami.
A legendary Guru is always eternal… His works are timeless.. His Vision is always a leading and guiding light to the line of disciples he leaves behind… We Disperse our  Karmas dutifully and surrender to the Paramatma! He is the manifestation of the Guru and Supreme! He takes care… Maa Shucahaa! ..No fear!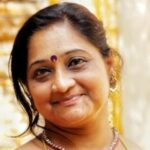 Priyamvadha Murali, Bangalore is the daughter, disciple of Guru Melattur Late Sri S Natarajan and senior disciple of Padmasri Smt Chitra Visweswaran.
************