An Interview with Navyashree K N
–Shashank Kiron Nair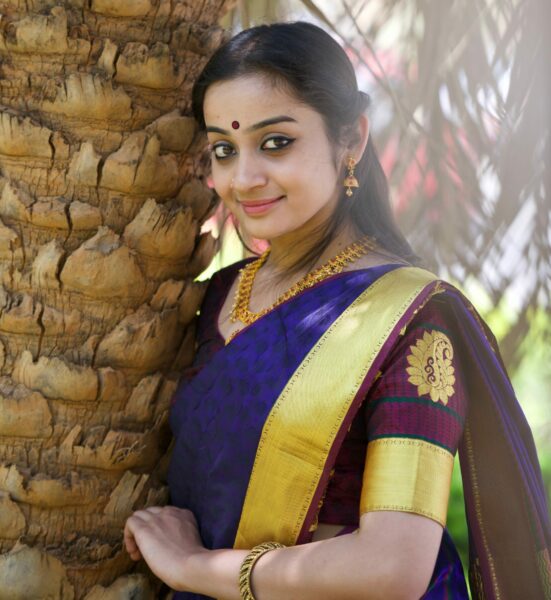 Hailing from a traditional and culturally inspired family, Navyashree KN is currently one of the senior disciples of eminent Bharathanatyam Guru Sri. P Praveen Kumar. Being a soloist and an active dancer of the Chithkala ensemble, she has performed extensively all over India acquiring several awards and recognition in the process. Navyashree with an ever-growing love for dance has chosen to pursue her artform professionally. She passionately imparts training to young talents through her institute Bharathadyuthi Arts Center. Kalasinchana talks to this young establishing dancer about her journey with the art …..
Your initial learning experience….
As a child, I used to keenly watch the dance programs that were aired on Doordarshan. My parents noticed my strong attraction towards the art quite early and enrolled me in dance training under Guru Seeta Guruprasad. A few years later I shifted to learning under Praveen sir. By this time, having gained a better understanding of the art form, I developed a flair for grasping the depths of Bharatanatyam and pursuing it seriously. Joining sir's class was not a drastic change for me since I had watched and observed Narmada auntie's students. I was immediately able to resonate with sir's approach to dance.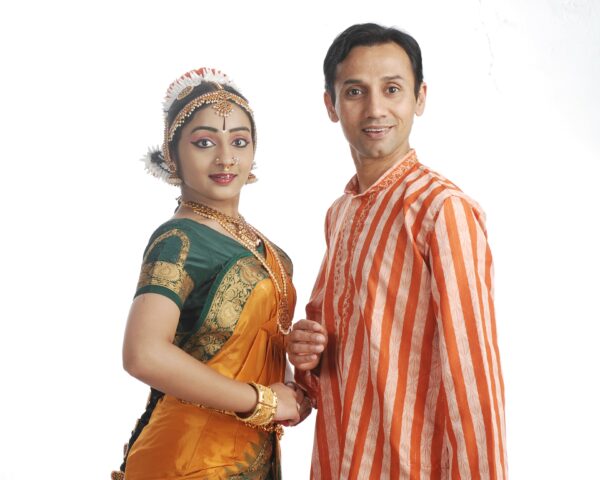 A quality that you admire in your Guru.
There are so many qualities that I admire in Praveen sir. His commitment is something that I look up to. He has a set routine for his practice which he follows without fail. He has immense respect for time. When he specifies a time to his students, regardless of all his other commitments he will be in class prepared to take the class.
Could you describe your guru's teaching methodology and your experience learning from him as a soloist and as a member of the ensemble…
Sir's approach to teaching is very individualistic. He is strongly against cloning dancers and capitalizes on each dancer's strengths even when we are in a group. He gives us corrections specific to what suits each dancer bringing out our individuality by giving us the freedom to explore for ourselves. Even when it comes to group and ensemble work Praveen sir ensures to project each dancer's uniqueness without compromising the overall aesthetic of the group choreography.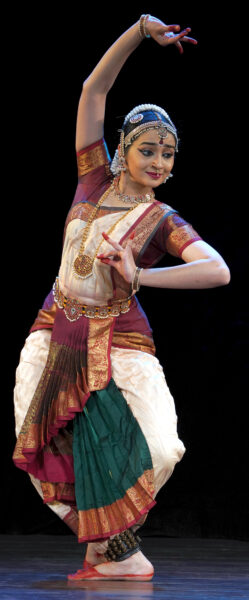 You have been a part of "Thari – The Loom" by Padmashree Malvika Sarukkai ,"Manini" by Guru Sri Kiran Subramanyam and "Sambhavami Yuge Yuge" by Vid. Sangeeta Iswaran. How was your experience working with them? Your major takeaways…..
I was selected to join the team of "Thari" through an audition. It was an enriching experience to work with a legend like Malavika Sarrukai. The practice sessions would span from 9 am to 5 pm and I could dance with complete involvement without letting a single thought that wasn't dance into my mind. It's not often that we get to do that since we're almost always juggling multiple tasks. Working with Kiran sir was yet another unique experience. His pure genius concerning the calculations in his jathis and choreography of Nritta was awe-inspiring. Working in Manini allowed me to understand his perspective in terms of Abhinaya as well. I had watched "Manini" earlier but it was wonderful to experience it as a performer. While working on "Sambhavami Yuge Yuge"  I stayed with Sangeeta Akka. I played the role of Prahalada's mother while she was still pregnant with him. It was something very different from what I had worked on before. Being in your own dance class and working under your guru's guidance is like being at home. It is a very comfortable environment. It is when we venture out of this comfort zone that we are exposed to the alternate realities of the field. We are introduced to various approaches to the art and several styles and we get a glimpse of the thought process of other artists. I felt that this helped in widening my view of dance.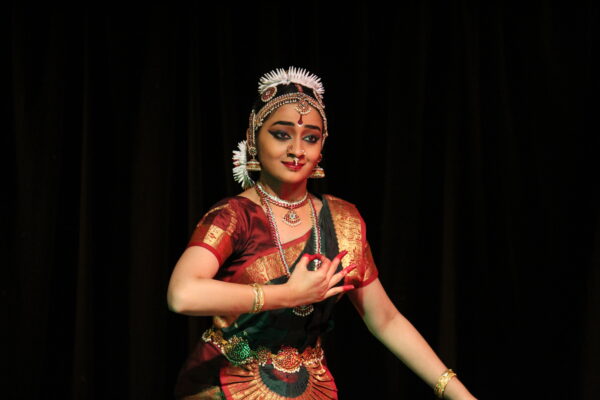 What does your routine comprise of? How do you practice?
I am not someone who believes in a stringent practice schedule. I had tried that and it took a great toll on my health. It was just before the onset of the pandemic that I took up dance full time. Till then I was engaged in obtaining my post-graduate degrees in Psychology and Bharatanatyam. Now my daily routine usually starts with a session of yoga under the guidance of vid. Navya Sudhindra in the morning and then I practice a little bit by myself. This is followed by some time spent researching and reading to support my work. In case I was unable to attend my yoga class in the morning I attended the evening session. Usually, I spend my evenings teaching either online or offline classes. This isn't a set routine, I like to listen to my body and do as much as I'm able to each day. I follow the same principle when it comes to my practice sessions as well. Giving myself the freedom to practice helps me keep my health intact. I prefer not to stress myself by setting an agenda for practice and struggling to complete it.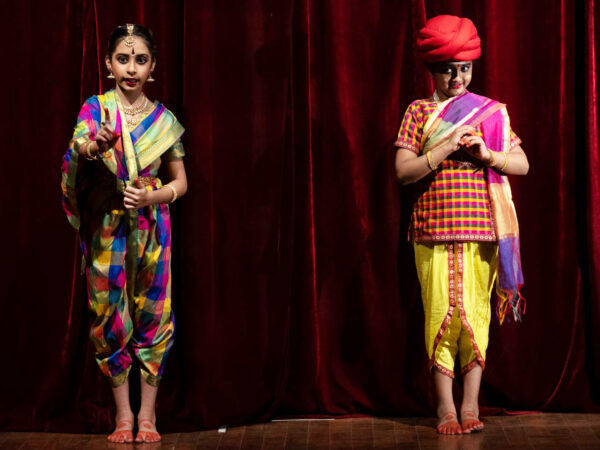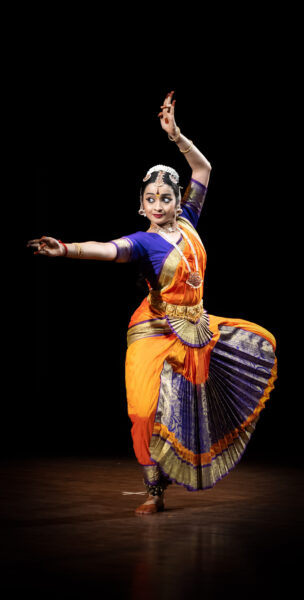 Could you tell us more about your recent production – Ganapati. What was your inspiration and aim for it?
Ganapati is my favorite God. It has always been so. Therefore I decided that I would dedicate my first production to him. This dance drama was my first theme-based choreographic work and I'm happy that I can share it with my students at Bharathadhyuti. My aim with this work was to simply put across the stories of Ganapathi to the audience in the right way. I included some rare stories of Ganapathi like the one explaining how Mushika came to be Ganapati's Vahana.
How did you go about creating the music for the production?
While working out the music for Ganapati, I was hoping to find compositions in either Kannada or Sanskrit. I was sure that wanted to use the entire piece and not just bits and pieces so that I do justice to the work of the great Vageyakaras.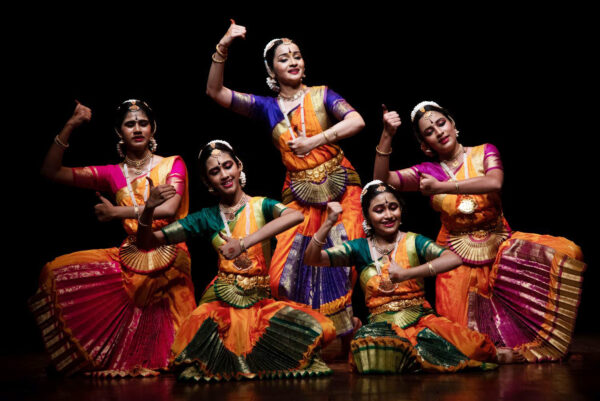 What were your thoughts behind the beautiful costumes you chose?
Ganapati is called "Kanakambaradhara" so I chose to have orange as the main color for the costumes. Drawing inspiration from the vibrant contrasts of the clothes on the Ganapati idols I chose to go with bright colours to contrast with the orange.
The Thani Avarthanam at the end of the production was a real treat for the audience. Could you take us through the process of its creation?
The Thani was added as a finale element to the penultimate piece "Ananda Narthana Ganapathi". I to show 5 dancers as Ganapati himself enjoying himself while dancing. I also wanted to explore the concept of Manodharma in dance. We set a pattern of 4 Avarthas of Chaturashra ending with a Mukhtayam. Each dancer choreographed their bits on spot to fit into the set tala pattern. The Thani Avarthanam, especially the concluding Gathi Bedha Mukhtayam was composed by my Konnakol Guru Sri Somashekar Jois. The variations in the Gathis created interesting intricacies that allowed for beautiful choreography.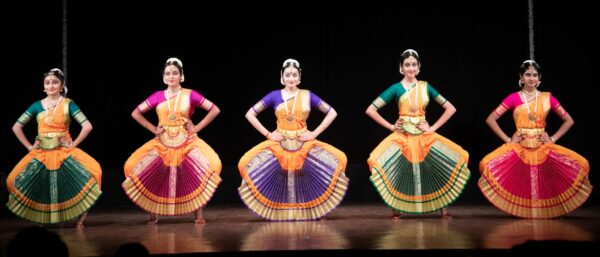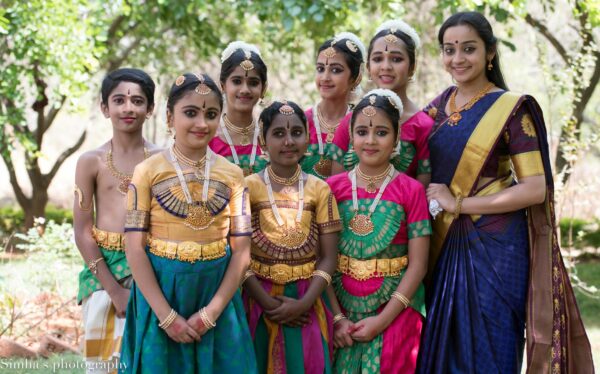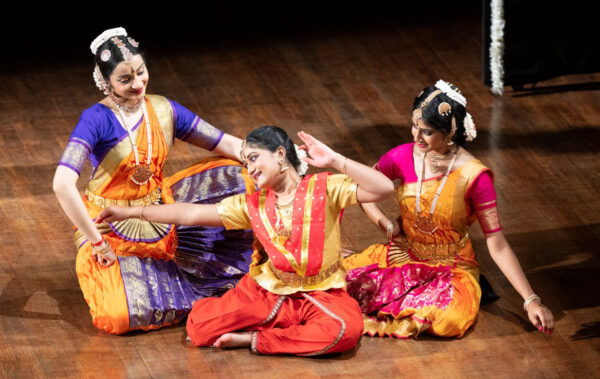 The pandemic has caused a lot of chaos in recent years. How did you use this time you had for yourself? What were the challenges you faced and how has this shaped you as a better artist?
My recent work "Ganapathi" took shape during the pandemic. That's when the ideation and a lot of the research work for the choreography happened. Bharathadhyuti turned five years old during the second wave so we conduct an online program to celebrate the fifth anniversary. We choreographed and presented a piece on Dashavathara. Through this process, many parents of my students noticed the kind of work that goes into putting up a show. Their understanding helped me. We were able to lay the foundation for "Ganapati". I used the online classes to teach my students the shlokas and theoretical aspects of Bharatanatyam. It was during these shloka classes that I noticed the two little ones with a skill for oration who then became the Sutradharas in "Ganapati". My biggest challenge was the health issues I faced during the pandemic. Yoga has greatly helped me to overcome those problems. My current daily routine was shaped during this time.  
*******