In the making of Charumathi
-Srividya Angara Sinha
The staging of a dance production is a complex and multi-layered process, from ideation, to execution. What one sees on stage is a final version that the dancer presents, or perhaps the first of many final versions – for every staging brings forth a freshness in nuance. But what does it take to bring a thought out into the open, clothing it in a movement vocabulary learnt over the years? What triggers the idea, and how is it fleshed out? Is there a timeline to it and what are the struggles involved? All this and more gets covered in KALASINCHANA's IN THE MAKING OF where dancers speak about their newest works, the artistic processes, and their journey through the agony and ecstasy of it all. This month highlights CHARUMATHI – A Sārthika Production by young Bharatanatyam dancers Sandhya Muralidharan and Pritika Krishnakumar from Bengaluru.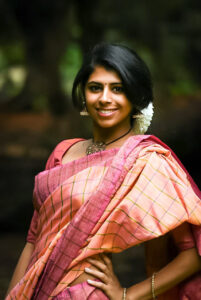 Sandhya Muralidharan is a professional Bharatanatyam dancer with over 21 years of training. She has performed in many prestigious forums as a soloist. Sandhya started her journey in Bharathanatyam at the tender age of 7 under Smt. Jayanthi Thiagarajan. She later went on to train with Vidushi Smt. Mamatha Karanth. Under her guidance, Sandhya wrote her Junior & Senior grade exams conducted by the Karnataka Government & performed her Arangetram at the age of 17. In 2016, Sandhya started to train under Guru Rukmini Viajaykumar to further fine tune her skills, she learnt not just Bharathanatyam but also various other aspects such as strength training & yoga under her guidance. She later went on to become a core company dancer at the Raadha Kalpa Dance Company, she has performed in productions such as " The Dark Lord" and "Nayani". Sandhya also had the opportunity to learn the 108 Karanas from Vithya Arasu in 2020. Sandhya and her colleague Pritika Krishnakumar staged their first bharatanatyam production "SĀRTHIKA" in February 2020 which was very well received.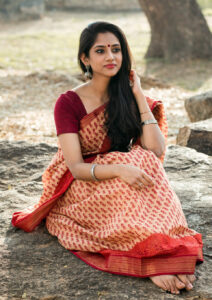 Pritika Krishnakumar started her training in Bharatanatyam at the age of 7 under the tutelage of Guru Dr. Jayashree Rajagopalan, foremost disciple of Guru Dr. Padma Subramanyam. She also trained in Odissi under Guru Jhelum Paranjpe. Both dancers are currently students of Guru Rukmini Vijaykumar, Bengaluru-based Bharatanatyam dancer and Artistic Director of Radha Kalpa Dance Company. As core dancers, they have performed in productions such as " The Dark Lord" and "Nayani". Sandhya and Prithika teamed up for the first time in February 2020, when they presented 'Sārthika- a companion on a journey', a duet dance production that received good response. Charumathi is the duo's second collaboration and premieres on 19th and 20th of March 2022 at Seva Sadan, Bengaluru. The performance is also available to view online.
Tell us about Charumathi, both the character and the production.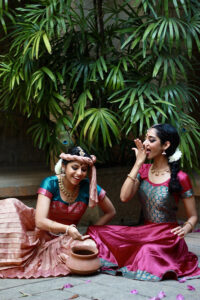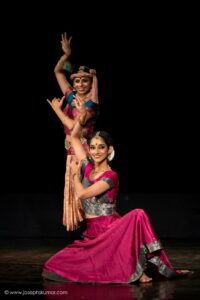 Charumathi was born to Lord Krishna and His consort, Rukmini. Very little is known about her. All we have is her name mentioned in the Srimad Bhagavatam. Through this production, we took the liberty to give Charumathi form and personality. We look at what the daughter of Krishna would be like and how she would fit in with the myriad women in his life.
How long have you been working on this from inception to execution?
We started discussing ideas for creating new work back in May 2021. We wanted to explore all the women in Krishna's life and the relationship they shared with Him, but we realised there was nothing that connects any of these various women together. That's when Pritika asked, "Wonder what kind of a father Krishna would've been if he had a daughter?". From there on, there was no looking back. Within a span of two hours, we had our entire script ready.
With little reference material, what were the challenges you faced while putting together a script for this?
Since there was no material about Charumathi anywhere, it was in fact easy for us to build her character based on what we assumed she'd have been like. The information and content we already had on Krishna and the other women in His life helped build Charumathi as a person.
Is this your first thematic production? How has the process of putting this together affected or changed the both of you?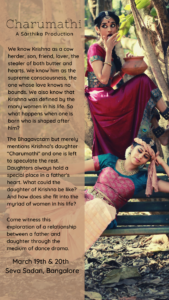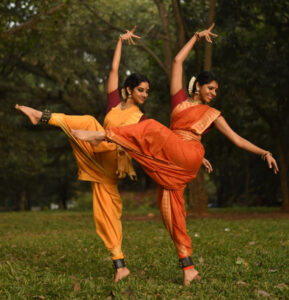 Yes, this is our first thematic dance production. Patience is definitely one of the most important things we learnt through this entire process. We had well established characters to present, with the exception of Charumathi; yet it was a struggle on some days to come up with the right kind of choreography that fit the storyline. Creating and presenting an hour-long show like this involves a lot of people and takes time. It was definitely difficult for us to keep mum for over eight months and wait until everything was fully ready to be advertised or even be presented on social media.
Do share your experiences while creating the music, choreography and other aspects of production design.
Due to the covid situation, making of the script, identifying who we could work with and sharing our script with scholars and music composers happened over zoom. Shri Devarajan Swamy composed the lyrics for this and singer-composer Shri Rohit Bhat created the music. We were thrilled to be involved in the process of composition – both of lyric and music. The entire process was new, exciting and enlightening for us. For the light design, we are working with Shri Niranjan Gokhale. We had a lot of ideas on lighting for this production and Niranjan really gave us great insights, and helped us decide what would work best for Charumathi.
What are the future plans for Charumathi? And what are your biggest takeaways from this journey with her character?
We hope to share our work with as many people as possible in the coming year. Charumathi finally turned out to be this free-spirited, inquisitive young girl who we see as synonymous with the current generation of girls and women. She would never miss a chance to prank the prankster Himself!
*********