Menority – Guru Prasanna Kasthuri
– Shashank K Nair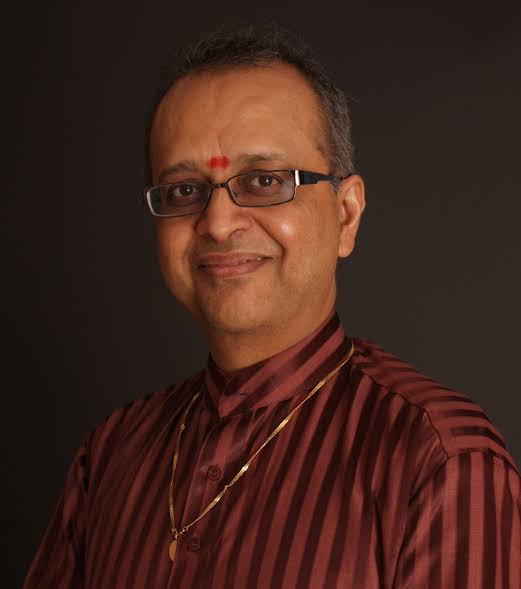 Guru Prasanna Kasthuri, an artistic all rounder, is a practitioner and teacher of Bharatanatyam and Kathak , a Carnatic vocalist, trained Mrudangists, music Composer,  lyricist, poet and writer. His is an embodiment of the title "Kalayogi." Besides, he is also a qualified software engineer and math enthusiast.
An artist by passion, profession and preference , Sri Prasanna has been serving the art for over the past four decades in India and the United States to the best of his ability.
Ananya Kalasinchana talks to this devoted artist about his journey with Natya and its allied art forms….
How did your journey in dance begin?
My dance journey began with escorting my little brother, Pulakeshi, to his dance class with Guru Mukund Rao. I would go along with him to his classes and give him corrections during his practice sessions at home. One day, my father noticed my involvement and asked what I was doing. On learning that I too had developed an interest in dance, my father enrolled me for dance classes along with my brother.
After a while, I shifted to Guru Lalitha Srinivasan and continued my learning journey with her for about six years. Besides dance, one of the most significant lessons I learned from her was a deep appreciation and love for Kanada and Sanskrit. While I was learning with her, I had the incredible opportunity to learn an entire Margam from the legendary Guru Venkata Lakshmamma. I toured with Lalitha aunty for performance to various places in India, including Rajasthan, Lucknow, and Delhi. I accompanied her performances on the Nattuvangam on several occasions though I had never received any formal training in Nattuvangam; hence, this exposure proved to be a tremendous learning experience for me.
One of the most remarkable experiences was witnessing her create the Nritya Nithya Festival, the first dance festival of Bangalore. Following this phase, I decided to take a short break to focus on my education, and this was around the year 1986. During this time, I performed the 24-hour-long dance marathon, presenting 7 Margam back to back.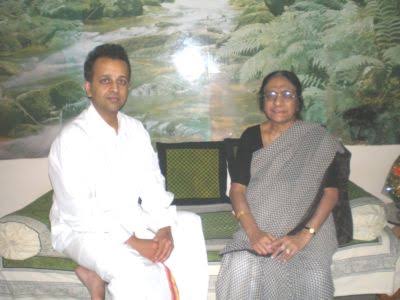 After my educational hiatus, I furthered my learning journey under the guidance of Narmada aunty in the Pandanallur style until about 1994. Training under her was a wonderful experience, and it allowed me to deepen my understanding of Bharatanatyam.
Meanwhile, I was learning Kathak from Guru Dr. Maya Rao at the Natya Institute of Kathak and Choreography. Though I was not a student of the choreography class, I got to be a part of many of her productions. This experience truly broadened my thought and approach to dance.
Throughout my dance career, I have had the honor of learning from various senior and legendary gurus, including Birju Maharaj, Mahalingam Pillai, Adyar Lakshmanan, Chitra Visweswaran, and Pandanallur Gopalakrishna. However, it is Lalitha aunty, Narmada aunty, and Maya Didi who have had the most prominent and lasting influences on my dance journey.
Do you remember the initial days as a performer? What are some memories and learning you still cherish?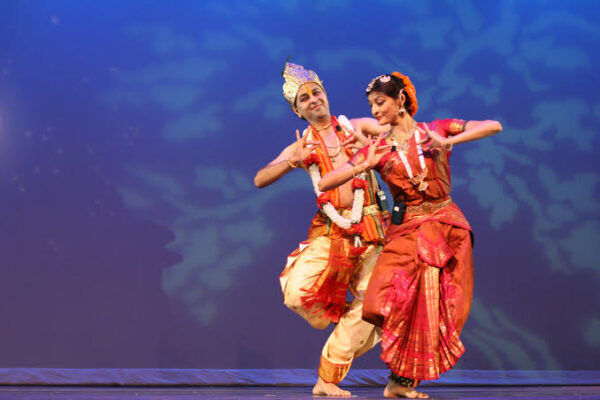 Fortunately, in my day, there were no televisions or cell phones. Cycling through the serene streets of Malleshwaram on my way to Lalitha aunty's class seems like such a blessing now that I look back at it.
Performance opportunities were not as common then as they are today, but the gurus of Bangalore were very supportive, and they gave us opportunities to perform for their annual events. I fondly remember a performance at the Basava Samithi Hall. It was the first performance for which I got a review, and I remember feeling like a star. At the Natya Institute, I got to take part in many of Maya Didi's productions, which were very different from what I had done so far in Bharatanatyam. Her approach was wider and used the movements of various styles to capture the essence of the emotion or story.
One of the greatest learnings that I have taken from Maya Didi is the way she treated her artists and was respectful to everyone in her team. I believe that is one of the qualities she has successfully instilled in her students, and that is what has helped them achieve the great heights they have today.
It was through Maya Didi that I got to visit England for the first time for a performance. She was very caring and cautious when it came to our safety and took all the paperwork to get it verified by a lawyer before we were sent on the tour. Small things like this stay with us for a really long time.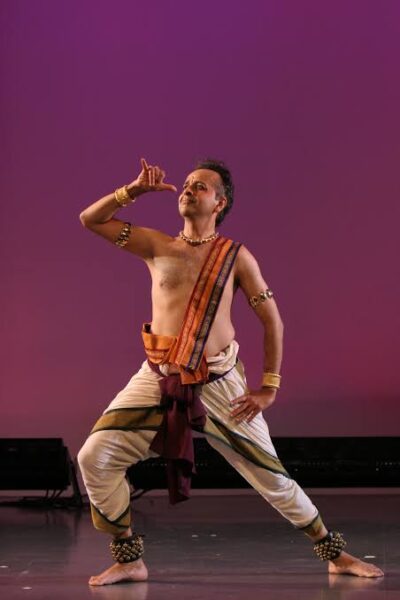 Could you tell us about your experience as a Male dancer, the opportunities you received, and also the challenges?
One of my most noted achievements was my 24-hour-long dance marathon in 1986. Many of the senior gurus advised me against it, out of care, but I still went ahead and completed it successfully. I believe this was my breakthrough as a performing artist.
"Kavya Kinkini," is a compilation of Kannada poetry derived from ancient texts and scriptures, which has been visualized through dance and performed by male dancers.
Fortunately or unfortunately, during the initial days of my performance, I did not approach a lot of people asking for opportunities. Maybe if I had done that, I would be in a very different place today. My parents, though being outsiders to the field, did everything in their power to support me in my journey with dance.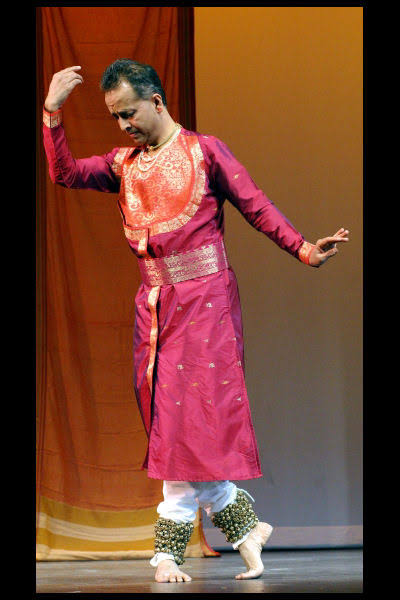 At that time, without the Internet and other media, we didn't know any organizers or how to contact them. Despite that, I've been fortunate and blessed with opportunities that have helped me grow and taken me to present my art across the world.
What lead you to take up Dance as a Career?
I migrated to Texas to do my masters in industrial engineering. But on the advice of a friend, I shifted majors to Information Technology. I think when I left here, I was hoping to migrate to the United States legally and hopefully open vistas to European countries. But once I landed there, I ended up staying there and settling.
After my education, I spent quite a few years working as a software engineer. But I did not leave my passion for art and continued by starting my own institute called Soorya Performing Arts after I received my green card. The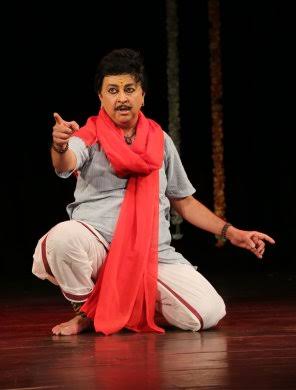 initial days were quite challenging because, as a software engineer, there were clashes between my artistic pursuits and my profession. Due to this, after an elaborate discussion with my loving wife Seema, I decided to quit my job and become a full-time dancer. My income suddenly dropped to a fraction of what I was earning earlier as a software engineer, but I was glad that I was able to follow my passion and serve the art. I like to think of myself as a frontier soldier expanding the domain of the art's borders all the way to the other side of the world.
Practicing art in the US is a challenge by itself. There, we must create our own opportunities. Though there is a humongous infrastructure for dance, it is not catered to Indian classical dance and is mostly for Western styles. Also, Indian classical dance is deeply rooted in Indian culture and traditions, and after a certain point, when you have to teach the children Abhinaya, it becomes quite a challenge because they don't completely understand or comprehend the stories or the emotions that we are trying to portray. Besides this, finding good musicians for accompanying programs is also a challenge. But I think it has also been a blessing in disguise for me. It has helped me become more self-sufficient. I have trained myself to compose music, write the lyrics, and script for pieces that I want to present. Along with my wife, who is a singer, we have been successfully handling all the programs of Soorya Performing Arts.
Could you tell us a little bit about your experience with teaching?
I have been teaching in the US for about 21 years now, since 2002. The classes go very similarly to how they do here in India. But, as I mentioned before, it is a little more of a challenge to make them understand the philosophical aspects, which is key to understanding and learning an Indian art form. Yet, I've been able to complete the arrangement of quite a few students. Usually, the performance has a good amount of nritta and nrithya, and I make it a point to incorporate a Natya bit. We take up a story or episode and present that as a solo piece with music written and composed for this piece specially.
Unfortunately, in the US, there is no platform for these upcoming dancers to present their art after their Arangetram, like we have in India. So most of them stop dancing after their 12th grade, which is quite sad. But now, there is a university-level platform called the Desi Dance Network where passionate youngsters come together and put up performances and competitions of Bollywood dance. So at least for that, I see a lot of students are still sticking to dance, which is quite heartening.
You have organized several programs and dance festivals both in India and abroad. Could you tell us about your experience in that field?
Like I mentioned, when I was learning with Lalitha aunty, I got to witness her create the 'Nitya Nritya' festival. When I was learning with Narmada aunty, I was also running the Shantala Arts Academy alongside. Together, we presented a lot of programs in rural areas. This initiative started even before the government began conducting such programs.
Through the Shantala Arts Trust, I have been organizing dance festivals for a really long time, and I have also been able to invite and honor senior gurus. We have had programs not just within Karnataka but national and international level dance festivals as well.
Once I moved to the US, I started the Surya Performing Arts Center, and under that banner, I have organized many dance festivals. And I'm very happy to say that I have been able to bring more than 2000 artists to the US.
As a member of this dance community, I believe it is my responsibility to give back to the art and to support my fellow artists by giving them good opportunities to present their art. I've been lucky to have supportive students and their parents who contribute and volunteer to organize these programs in the US. We have been able to run the dance festival successfully for the past 14 years.
One of the greatest blessings for organizing a festival like this in the US has been how transparent and communicative government bodies have been over there, like the Missouri Arts Council or the National Embassy of Arts. If you write to them, they immediately respond and support these art-related causes because they value the arts of the world and the diversity of the community. Unfortunately, I find that lacking here in India, and I think for the growth of our art forms, it is crucial that we bridge this gap.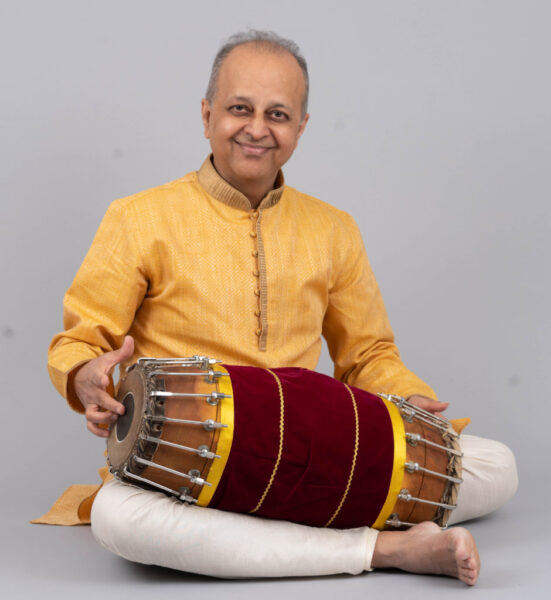 You are a master of many traits, a carnatic vocalist, mridangist, writer, poet and composer. Please tell us more about these interests of yours?
I started learning Carnatic Vocal music from Guru Shakuntala from 1977-80. I later continued under Guru Mattur Shankara Murthy and completed my KSEEB exams. Later I moved to train under legendary vocalist – Vidwan Chintalapalli Krishnamurthy to understand the depths of Aalapana and Swaras. I also undertook lessons with Guru Ambi Bhagavathar – a student of the doyen of music Chembai Vaidyanatha Bhagavatar and later, I trained under Dr. Nagamani Srinath. I had the great fortune of learning the nuances of Sruti from Hindustani musician Ustad Imrat Khan Saab.
Though I have given several concerts in many Sabhas in Bengaluru, I have used my knowledge to create music for dance works. I've written more than 20 poems and composed music for more than 15 dance dramas and set several Swarajatis, Varnam, Padams, Keertanam, and Tillanas.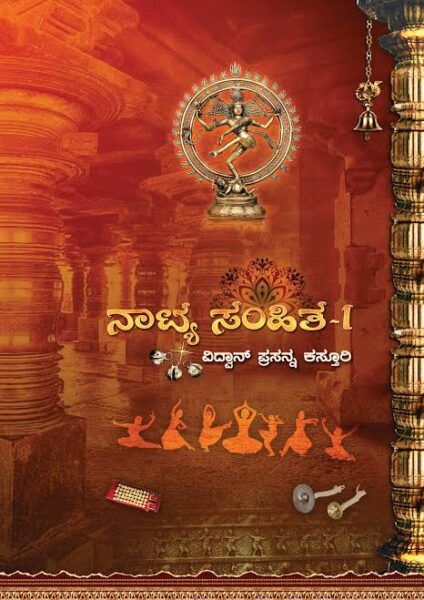 "Natya Samhita" is a book of compositions of dance-songs for Bharatanatyam, and it also includes a couple of dance dramas. The book was released at the Kannada Sahitya Ranga Conference at Dallas.
I learned Mrudangam under Guru B R Seshadri from 1985 – 90. After that, I focused more on dance, but my interest in Mrudangam was rekindled after working with Mrudangists such as Balu and Ramesh Ramalingappa in my dance projects. I've been following the tradition of the Umayalapuram Sivaraman technique since 2015. Though I'm not a professional Mrudangist, if the need arises, I'm sure I can play to accompany a dance performance without any issues.
Could you tell us about your upcoming production, "Samarpana"?
The seed for "Samarpana" was sown in my mind a few years ago. I wanted to tell the story of India, our struggles, and what we have gone through to be where we are today. I started seriously working on the production only in 2019, and during the research, I learned a lot of things that I did not know about earlier. I felt it was very important for me to bring that out on stage to the general public. Of course, it is not possible to include everything because then we would have an extremely long production. But I tried to choose and incorporate some notable incidents from every part of India and created "Samarpana," a production honoring the sacrifices of our ancestors and reminding us that "Freedom is not free; it's a responsibility."
This historical dance drama portrays India's freedom struggle against British colonization from the 16th century to its Independence in 1947. The performance highlights the harsh realities of British rule, which exploited India and caused immense suffering, shedding light on the quest for human freedom.
The scenes depict significant events, including the battles of Plassey, Jhansi, and the sacrifices of freedom fighters like Rani Chennamma, Velu Nachiyar, Sye Raa Narasimha Reddy, Bhagat Singh, Chandrashekar Azad, and many others.
India's determination, led by figures like Mahatma Gandhi and Subhash Chandra Bose, culminated in the successful struggle for independence on August 15th, 1947. The nation rejoices and celebrates its hard-earned self-rule.
The script and preliminary music composition for this production were created by myself. I have tried to incorporate the flavors of each region by incorporating the vernacular language and dance movement vocabulary that the episodes are set in.
"Samarpan" premiered in 2022 in the US with a cast of about 120 dancers. It was a mega show, with close to 1300 audiences watching it. We received wonderful feedback for that presentation. I'm glad that we are bringing this work to India and presenting it with Indian artists, who I believe resonate better with these stories of our ancestors.
Inviting everyone to come and watch "Samarpan" on the 11th and 12th of August at Chowdiah Memorial Hall.
 *********