Menority – Guru Sri Mysore B. Nagaraj
– Shashank K Nair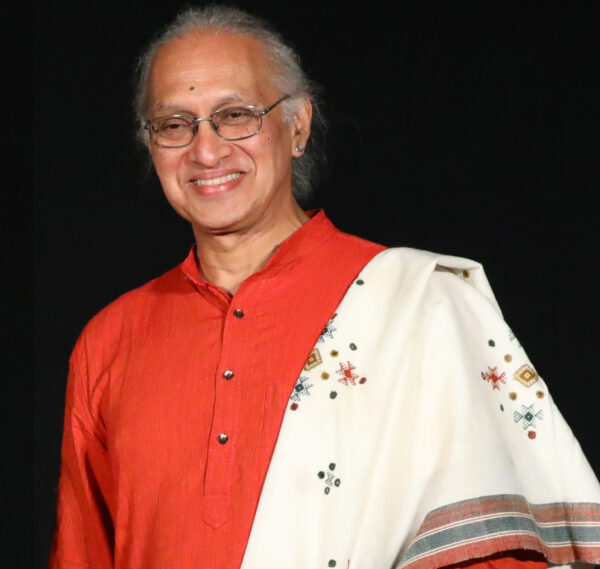 Guru Sri Mysore B Nagaraj, one of the senior-most classical dancers of Bangalore is academically an engineer, occupationally an event manager, and professionally an Kathak. His talent for establishing direct rapport with the connoisseurs through his narrative technique has earned him a place in the hearts of Rasikas. He has to his credit about twenty Home productions and has worked as an art director for motion pictures. An innovative blend of different dance forms in his choreographic works without giving up the authenticity of the art form has been recognized and admired. Guru Mysore B Nagaraj was conferred the 'Karnataka Kalashree' award 2020 for lifetime achievement, by Karnataka Sangeeta Nrutya Academy, Government of Karnataka. Kalasinchana talks to this multifaceted personality about his journey with the art, the ups and downs on the way…
You started your training in Kathak quite late. Could you tell us how your journey in dance began?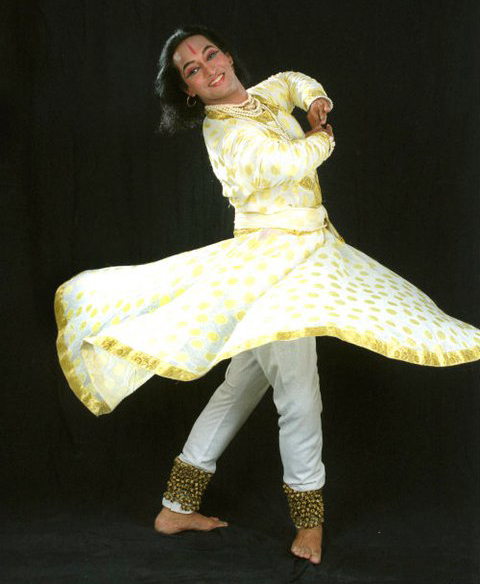 My first lesson in Kathak was actually in my early twenties under someone based in Mysore. I couldn't start earlier because my father was hell-bent against it. As a child, he even threatened to break my legs! I soon shifted to another teacher who started teaching me the basics of Kathak but again had to leave. After a little while, I was fortunate to meet Smt Tapoti Sinha and learn the basics of Kathak from her. With this knowledge, I had also given a few performances including one at Ravindra Kalakshetra. After that, I got married and got busy with my family's Motion Picture business. The business brought me to Bangalore where I got an opportunity to meet Guru Dr. Maya Rao, through a contact. A few years before this, I had heard of Dr. Maya Rao and traveled to Bangalore to meet her. I reached her institute at her home in Malleshwaram and went inside, but just as I placed my foot on the first step of the flight leading to the studio upstairs I heard the beats of the tabla and soon the air was filled with sounds of the Ghungurus in perfect rhythm. The vibrance and energy of this sound overwhelmed me. Unnerved , I fled the scene and returned home.
Years later I received this second chance to meet her and l took it.
You trained in Kathak under the guidance of legendary Dr. Maya Rao. Please do share a few memorable instances from your time at the Natya institute for Kathak and Choreography.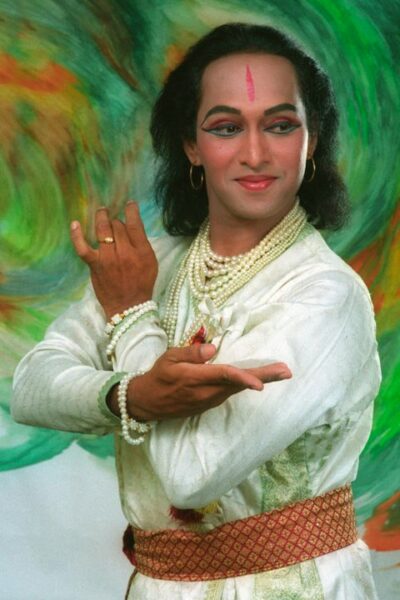 My very first interaction with Maya Didi was a very memorable one. She had a beautiful sense of humor. When I approached Maya didi to learn Kathak from her, she looked at me, thought for a moment, and said "I have seen you somewhere … were you not the boy who danced at Ravindra Kalakshetra wearing the costume made of horse ornaments?" Her joke immediately broke the ice. I told her that I bought the material at the Mysore market and stitched my costume not knowing that it was a horse ornament. At the institute, the junior classes were handled by Maya Didi's sister Chitra Venugopal. I attended both, the junior classes as well as the senior classes that were handled by Maya Didi. I used to travel back and forth from Mysore clinging to the handle of the bus every day after finishing my day job. One day when I came to Chitra Didi's class she refused to let me in as I had not paid the fees for that month. I stood outside, not knowing what to do. Maya didi saw me standing and asked me why I was not in class. On learning what had happened she immediately, without a moment's thought, opened her purse and handed me the money to pay my fees saying "give it back when you can, quickly go give this to her and attend your class".
This incident speaks so much about the kind of person she was.
What is your source of inspiration? Could you please tell us more about your artistic work and choreography process with reference to a few favourites from your several productions?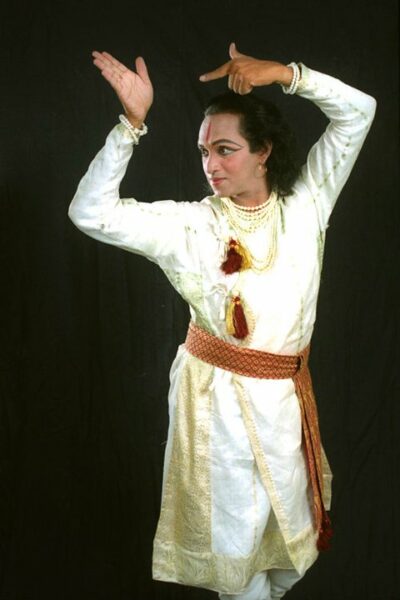 Dance is a form of worship and this body is an instrument of devotion. I strongly believe in this statement and try to pass it on to all my students as well. For me, dance is the means to attain what many would call spiritual bliss or a higher plane of consciousness, frankly a high on dance. This is what drives me. I believe the purpose of my art is to share this bliss with the audience through performance. All my choreographies, be it traditional dance numbers, dance dramas or thematic production are spiritually oriented. They all aim at finally attaining Rasothpathi in the mind of the audience. The idea for one of my thematic works 'Panchavaktram' came to me while I was choreographing a Bandish on lord Shiva which had the word 'Pancha Vaktram' meaning the one with five faces. This intrigued me and as I researched deeper into the topic l was able to paint a mental picture of each of the five forms of Shiva. All I had to do after that was to manifest this mental image on stage through the dance, costumes, and lighting. Each form represented one of the five elements and we used five different classical dances that embodied each element. The lighting was also designed appropriately. Once, we even tried to induce into the auditorium the smells that were associated with each Shiva as he was introduced on stage.
Together, they created an extravagant sensory experience that left an indelible mark on the audience. Another thematic production dealt with the theme of Tri-Shakthi. Gnyana Shakthi, Iccha Shakthi, and Kriya Shakthi – thought, desire and action. These energies are the driving forces for any venture in human existence and are present in each of us. The production talks about how these energies manifest as goddesses Saraswati, Lakshmi, and Kali. Elaborating on the esoteric meaning of this concept the production talks about how we need a good balance in human society for our growth and development.
You entered the dance field at the age that most other dancers retired. Could you please share a few experiences from your initial days as a professional dancer? Was your gender an advantage, disadvantage, or criteria at all concerning the professional opportunities you received?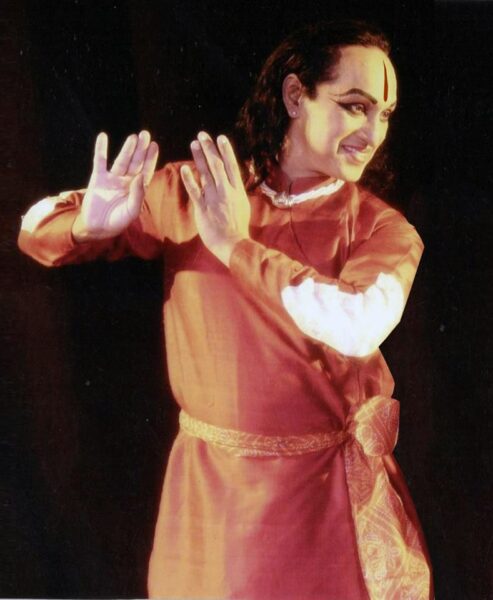 My answer to this question has two parts. Firstly, the "Age" factor. In terms of solo performances or regular recitals, my age was a big disadvantage. I have been denied many an opportunity because of it. But when it came to portraying characters in dance ballets and productions, the maturity that came with it seemed to be a great advantage. One instance I'd like to share here is from my tour of Norway as part of an exchange program. During my first performance there I noticed that I was not connecting to the audience through the stories from our epics and gestures that are easily recognizable in our culture like holding a flute to show Krishna. The following day, my host took me to an abandoned island that had nothing but a church at the top. She told me the story of how all the residents of the island except those who followed an old man to safety in the church, had died in a storm. For the next performance, I presented this story, and the audience connected immediately. I believe it was my age that gave me the understanding to do that. The performance was a great hit and since then, whenever I travel for a performance I make it a point to incorporate the story of that place into my presentation. Talking about gender. In northern India, men were the dancers of the courts even the darbars of Muslim kings. Women only danced in the temples. Whereas in southern India the women were the dancers be it in the courts or temples. Men were only Nattuvanars. For this reason, I believe that the acceptance of male dancers is much more significant in the north when compared to the south. This was true, especially when I was entering the field. Today I feel the situation has become much better. Male dancers are in demand everywhere.
Could you kindly tell us more about your work at Articulate Studio and Articulate Ability.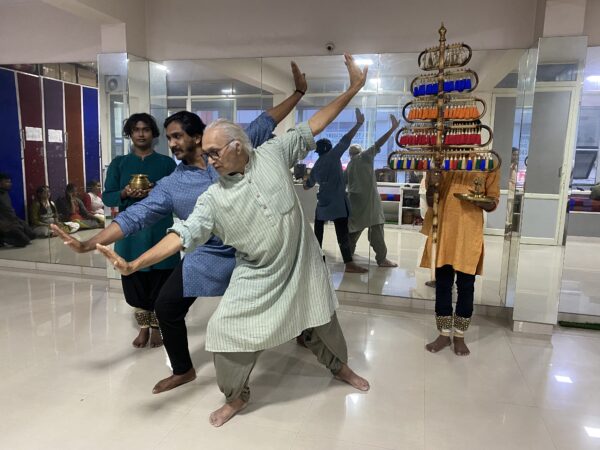 My aim as a teacher is not to prepare dancers but to create well-rounded artists. I strive to train my students with a holistic approach to the art rather than a specialized item-based one. My attempts are at creating solo performing artists but I leave it up to them to perform solo or not. Articulate Ability was started just by chance. I happened to watch a performance by a group of blind boys who had already been trained to a good level by another teacher but unfortunately had to back away from the performance. I, along with my colleague and friend Dr. Suparna Venkatesh took these boys under our wing providing them with the best we can, promoting them, and training them for performance and furthering their art. The ensemble traveled across North America performing not just at auditoriums where they moved the audience to tears but also at schools, hospitals, and rehabilitation centers to motivate the audience to overcome their challenges. This small endeavor has grown into an organization training about 30 visually challenged individuals in classical dance, empowering and providing them with an opportunity to take up dance as a vocation.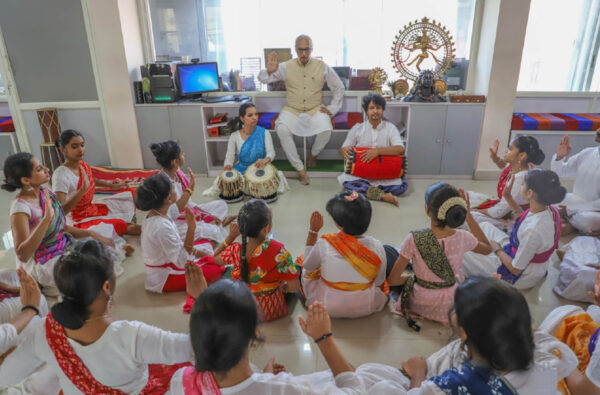 Apart from being an artist and teacher, you are also an organizer and art curator. Your festival is a valuable platform for so many artists.  Could you please share your perspective on event organization?
There are so many talented artists out there who don't have good platforms to present their art. These youngsters have shed sweat and blood for the art and deserve a chance to present it. My effort is to provide these upcoming dancers with opportunities to perform. Applications for the festival come in from across the country. Unfortunately, we are unable to compensate them but we provide them with an auditorium, publicity, audiences, videos, and photos for later use. It is quite sad that many of the applicants are surprised by the fact that they are not expected to pay for the slot even after they shell out so much money for their learning, costumes, travel, and accommodation. The Articulate festival started as a bi-monthly festival. Before the pandemic, it was conducted twice a month and every show was a full house. It was disheartening to note that apart from one or two exceptions, none of the dance Gurus in and around Mysore don't encourage their students to apply and perform at the festival or even come and watch the programs. One godsend was that the audiences had started to understand the problems of the artists. Many of them stepped forward and offered to support the artists in whatever way they could.
What message or advice would like to pass on to the readers of Ananya Kalasinchana especially the upcoming male dancers.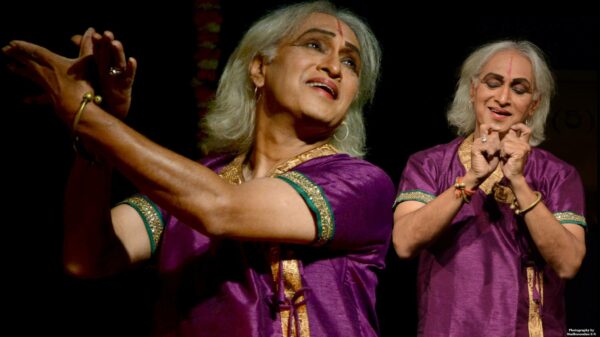 An occupation is something that keeps one occupied and earns a living. A profession is what one is proficient in. When it comes to dancing one should make sure to have an occupation to support their profession. Few are fortunate enough to make their profession their career. My advice to the male dancers out there would be to exercise restraint. As dancers, we all have a greater degree of grace and softness that will surely seep into daily life. But I feel one shouldn't project that. Exercise restraint in your mannerisms, gestures, and speech. Bear in mind that your actions reflect badly on male dancers and create a bad identity for the art itself. Maintain the dignity of someone practicing an ancient, divine art form. On stage, dance with dignity. Try to choose characters to which you can do justice and choose themes that you can portray well. As a dancer, one must strive to elevate their mind and soul. The Chakras or various energy levels of the body symbolise the various planes of consciousness. Many great dancers and gurus have fallen prey to the primeval instincts , chasing after carnal and material yields in-lieu of spiritual, artistic upliftment.
Always remember Dance is a medium of worship and your body is an instrument of devotion.
 *********