The Making of "Venu Visarjana"
–Janani Murali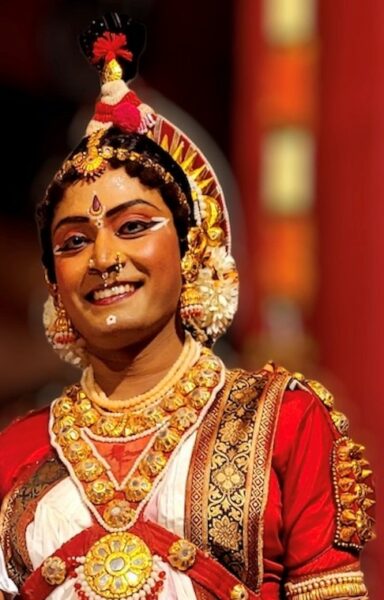 Srinivasan, Creative Director of Sri Natya Shaala, recently premiered "Venu Visarjana" a performance In Stree Vesham. He has received critical acclaim for this work that blurs the boundaries of style and art form. Kalasinchana speaks to him about the Making of this work, the landmarks that he achieved in this process, and what lies ahead.
 How did this production start? What was the seed idea?
The idea of Stree Vesham is not very new to me, this seed was sown in me since the time I chose to take up dance as my career. During my studies at the Natya Institute of Choreography under the tutelage of Guru Dr. Maya Rao, I came across Vedantam Satyanarayana Sharma, a stalwart in Kuchipudi in the syllabus. A study about his life history kindled in me the desire to perform Stree Vesham like him and hence I decided to put up a production "Tandava Lasya" featuring both masculine and feminine aspects of dance soon after my graduation in choreography way back in the year 2005. 
Later I was fortunate to witness mesmerising performances of Sri. Mantap Prabhakara Upadhya Sir. Live performances of Mantap sir filled with pure Satvika abhinaya created a huge impact in me. Thoughtful and imaginative lyrics of Shatavadhani Dr. R. Ganesh, his delineation of the concept before and after performance was an eye opener for me whenever I attended their performances. This paved the path and the strength to attempt and experiment with the works of these two doyens.
Two genius minds have worked with you on this production. How was it? What were the most important lessons you learnt from them during this time?
I had the oppurtunity to interact with Mantap Sir many times regarding his experiences and the in depth knowledge of presenting a female character donning the stree vesha. The conversations usually lasted more than an hour or two at the Mantap ice cream parlour which was located in Majestic then. The complete delineation of Angika, vachika, aharya and Satvika abhinaya was offered in these discussions with sir. When I decided to stage "Venu Visarjana" as a production, Sir began explaining the character of Radha and her understanding of Krishna's love which is quite challenging and isn't that easy to portray on stage. He did advise that I attempt a simpler production but I was adamant upon trying out the same. 
While I have not had many interactions with Ganesh Sir, the lessons that one learns from these two minds are many. One of the lessons I learnt was to completely forget my identity on stage to live the character and to create Rasanubhava. In this case I also have to surpass my gender identity; only when I experience the character to the fullest the audience will be able to connect with me and my performance. 
I should say I continue to learn what Satvika abhinaya is and the rasa Anubhava or Anubhuti through my interactions with them as well as every time I perform.
What were some of the landmarks of the creation process?
First, when Mantap sir enthusiastically encouraged and advised me to take up any of his works and work on it, he allowed me to adapt it to my own style and not confine the production to any form or style since Art doesn't have any barriers or limitations according to Bharata's Natya sastra. I found the courage to call it a Natya production rather than confining it to one single art form or style. In the process, I also found myself exploring more as an artiste than a mere dancer.
Yet another landmark in terms of creative process and learning was in designing the Aharya, the costume and make up since it is a stree vesha. It is quite challenging to cover up everything that is male and enter into the feminine skin and merge into the character.
Especially with this production which is highly philosophical and spiritual, I learnt the significance and value of the character Radha and the way each character is designed in our puranas which leads us into a spiritual journey for a higher purpose.
This patra is not common in mainstream performances even today. What are the main facets that you would like to tell audiences so that they become familiar with this performance genre?
Yes, I do agree that stree vesham is not in the mainstream performances today since it's quite challenging to do justice to the vesha as well as the character portrayed on stage. 
One, the vesha doesn't suit or is pleasing to watch on anyone and everyone. It requires a special understanding of the nuances of the feminine aspects as well as the female body anatomy. 
Two, the deep understanding of a female mind, behaviour, grace and the sensitivity towards the gender helps one to portray the finer aspects.
Three, as Mantap sir says parakaya pravesha, it is as good as entering into a new body and transforming completely to become that which is not your own self.
Your takeaway from the creative process of this production? 
I have always practiced art as a spiritual guide to elevate my own self awareness. This production has helped me dwell much deeper into Art as well as my spiritual upliftment.
What lies ahead now for this production?
I am now working on the next character in the same genre which is again a creation of the two genius minds.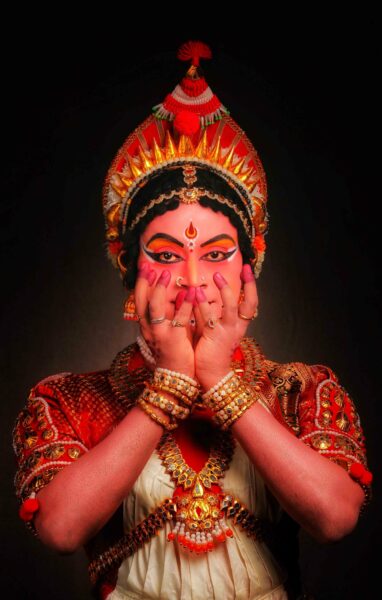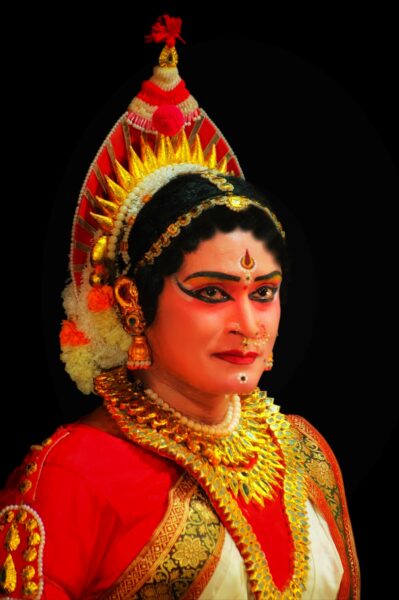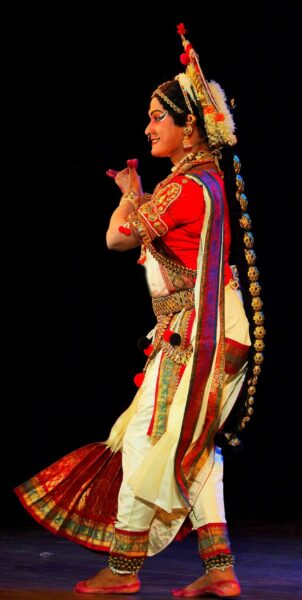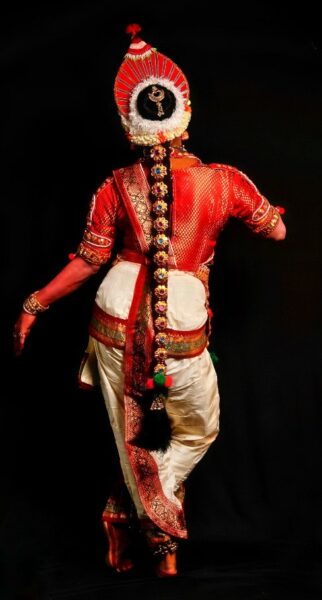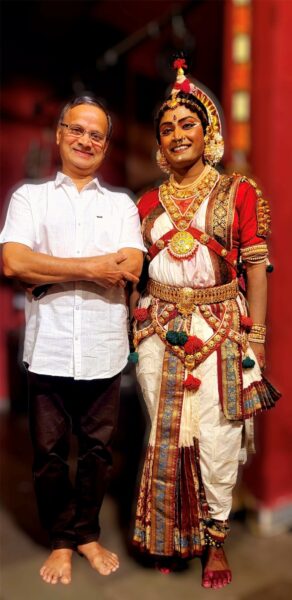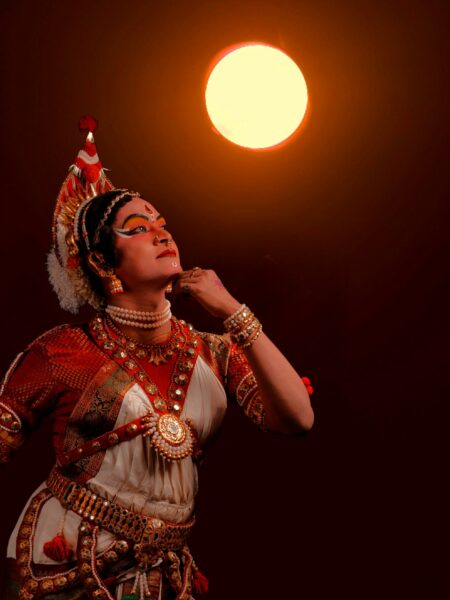 **********