An Interview with Sharath T Suryanarayana
–Kavya Kasinathan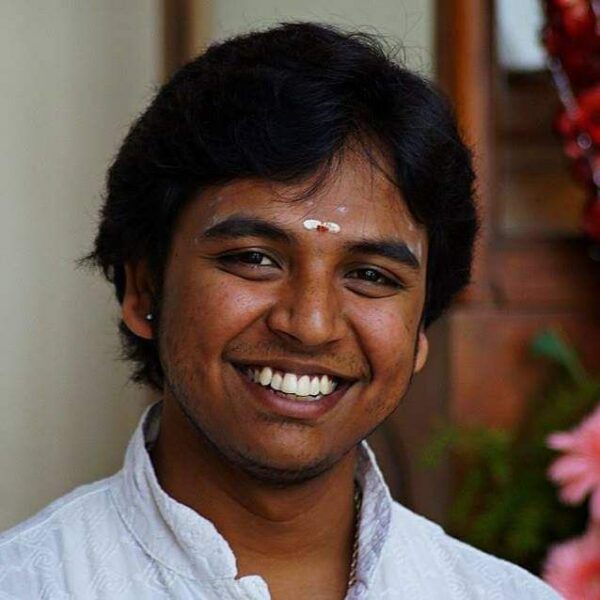 Bhava, Raga and Tala, which embodies the supreme art of Bharatnatyam fascinated Sharath who began learning this artform at a tender age. Following his passion with dedication and sincerity, he has blossomed into a complete artist under the nurturing guidance of his Guru Smt. Suparna Venkatesh. Sharath is a full-time dancer, teacher and Nattuvangam artist who holds a Masters degree in Bharatanatyam and is currently pursuing his Ph.D.

Kalasinchana talks to this young achiever about his journey in the field of dance till now and his experiences as a Nattuvangam artist….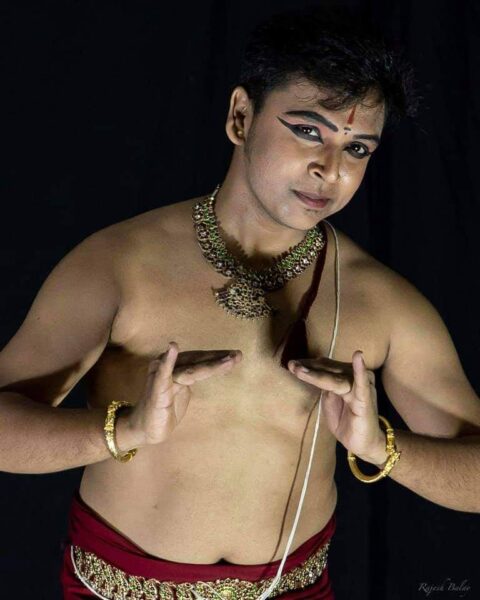 When and how did your journey of dance begin?
I hail from Chikkaballapur, Tumakuru district of Karnataka where artforms did not have a large reach. Being raised by my aunt who was passionate about music and dance, I was enrolled in a dance class when I was 6 years old. And it was under the guidance of Sri Narasimha Murthy that my dance journey began. I completed my junior and senior exams as well before shifting to Bangalore to pursue my learning further. My grandfather, Sri. B. Ramashesha Sharma brought me to Bangalore and guided me to find a Guru to continue my training in dance and through mutual friends I had the fortune of meeting Smt. Suparna Venkatesh ma'am and enrolled at her institution. It was here that I became aware of the richness of classical dance and became curious to learn more about dance.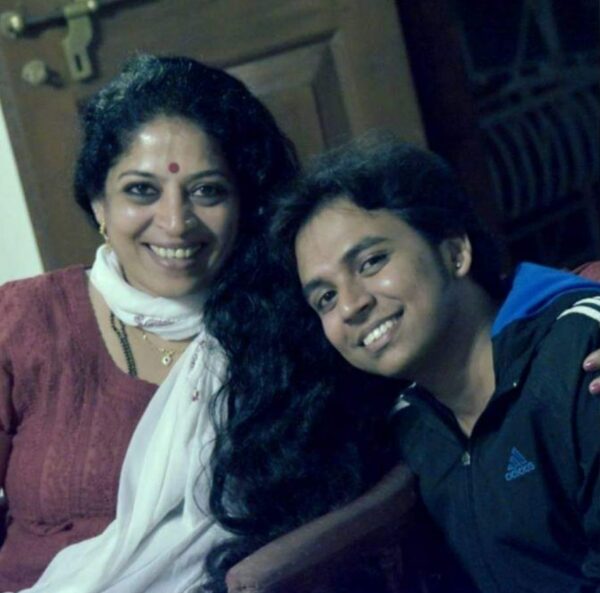 Could you share your experiences of learning under Guru Smt. Suparna Venkatesh.
I had joined Suparna ma'am's class when I was studying in 10th standard. I would complete my school and college at Chikkaballapur and then take a bus to Bangalore to attend my classes. Ma'am had insisted that I start learning from the basics, I was able to grasp the core syllabus at a quick pace and ma'am immediately selected me to take part in her dance productions as well. She also trained us in allied arts like folk dance and Kalari as well. Her teaching style was very nuanced and she taught us a lot about characterisation and presentation. She has built us a strong foundation, which has given us the ability to analyse sahitya, interpret and choreograph it within a given framework. She encouraged me to enrol for a Masters degree in performing arts and stood by my side even when my family was reluctant. I graduated from Bangalore University with a Gold Medal in Master of Arts-Bharatanatyam, and I owe this to Suparna ma'am's support and guidance.
What are the other allied artforms you have learnt and how has it helped you hone your skills as a dancer?
I had learnt music for some years but could not continue. I have learnt Mridangam and am currently learning from Vid. Sri Hari sir. I have also had the opportunity of accompanying dancers with the Mridangam for their junior/senior exams. Learning Mridangam helped me in gaining a better understanding of the concept of Laya and gain control of maintaining the laya. A dancer should have good music and laya knowledge. And I am fortunate to have Gurus who motivate me to learn more and delve deeper into the artforms.
You are one of the most sought after Nattuvangam artists. Could you tell us about the first program you accompanied as the Nattuvangam artist? And how did the journey take you from there?
Suparna ma'am was the first person to give me this opportunity. Sometime back, we, the Sai Arts International group had received an opportunity to perform for the Yuva Sourabha Every Wednesday program at Kannada Bhavana. Unfortunately, I had a ligament tear and could not perform. Instead, ma'am told me to do the Nattuvangam. And that's how it began. I was immensely inspired by Prasanna sir's voice modulation techniques and Gurumurthy sir's rhythmic mathematical calculations. Taking them as my base, I had composed an Alaripu in Khanda Jathi Tripura Thala – consisting of Thishra Gathi Laghu and Khanda Gathi Dhruta. The appreciation I received for this served as a starting point for many more learnings and performances. After accompanying Parshwanath Upadhye anna on the Nattuvangam for Ãbha, I received several opportunities to accompany numerous other artists.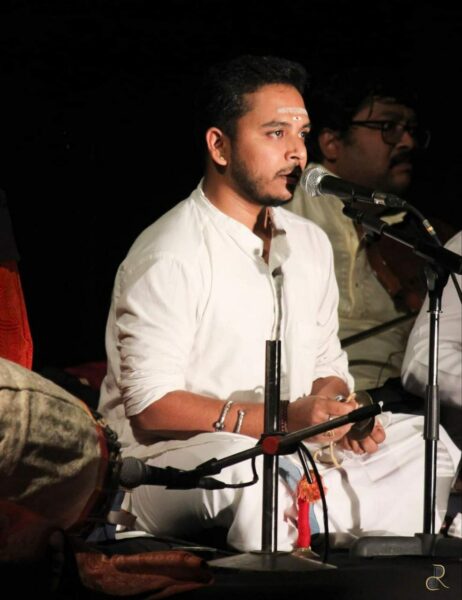 Have you learnt Nattuvangam formally?
I have not had a full-fledged formal training for Nattuvangam. But I did attend a few classes with Vid. Prasanna Kumar sir for a very short span of time. Yet, I have the fortune of working on my skills under the guidance of Prasanna sir who clarifies doubts whenever I ask him.
Learning experiences as a Nattuvangam artist…
Nattuvangam is an Avadhana Kale – we should have the ability to play different patterns on the Nattuvangam while reciting some other pattern. Thus, practice is important. While accompanying a program, we need to realise that Nattuvangam is to support the artist therefore we should have a proportionate amount of modulations. We should know when do give what kind of effect in voice and on the Nattuvangam. And this comes only through experience. Being a dancer myself, I was able to grasp this concept at an early stage and it has helped me hone my skills.
You have worked with several Gurus performing major roles in their productions. Could you share some of your experiences and learnings?
Suparna ma'am always encouraged all of us to explore and gave us the opportunity to freelance and work in different productions directed by different Gurus. Every production was a learning experience for me. Working with different Gurus gave me insights into concept visualization, costuming, character makeup, lightings for production, and an understanding of the overall format of a dance drama.
Apart from your Guru, who is/are your inspiration?
I get inspired and motivated by every artist I see and work with. I do not have one set role model and take the best characteristic from each person. I have been inspired by Nagraj sir, Praveen sir, Satya sir, Parshwanath anna, Mithun anna amongst others. Their dedication and commitment to the artform is something that I aspire to imbibe.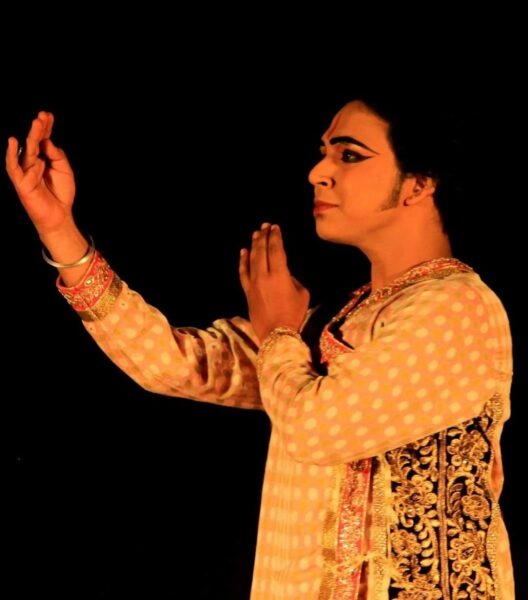 You have learnt Kathak as well. When did you develop an interest to learn Kathak?
While I began my training in Bharatanatyam at Sai Arts International, I used to observe Guru Mysore B Nagaraj sir teaching Kathak at the institute. But I was unable to join as I was already traveling on two other days for my Bharatanatyam classes. When I settled in Bangalore, I immediately started learning Kathak from sir. A knowledgeable, humble and giving teacher, he taught us so much through his experiences, and teachings about the history of Kathak.
As a performer how do you balance both styles? Is there a confluence of styles or how do you manage to keep them distinct?
Kathak and Bharatanatyam are two different artforms with varied backgrounds and social practices. Therefore, by nature they have distinct features. Before we begin to perform, we should know the basics and features of both artforms well. That is the only key to performing them by maintaining their own flavours and boundaries.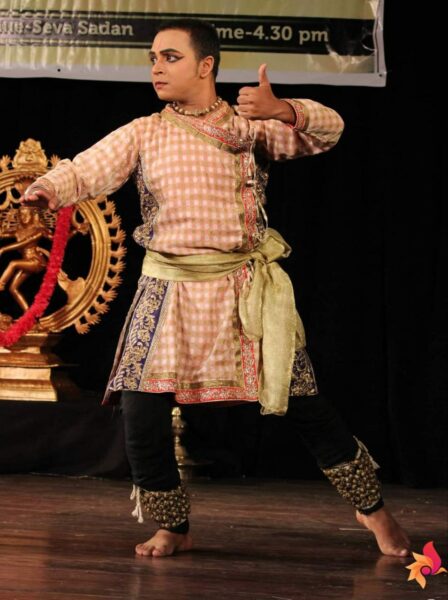 As a male dancer, what are the opportunities and difficulties that you have had to encounter?
Opportunities: As a male dancer, I have had the opportunity of working with several other artists and travel for programs with so many people. I have had a lot of opportunities to explore and perform in dance productions of other Gurus and institutions, owing to the demand for male dancers.
Difficulties: The first difficultly I faced was to convince my family about my choice of pursuing the artform further and choosing it as my career. Making our family understand that dance is also a profession and not just a side hobby is a challenge. It takes some time to understand how the field works and trying to sustain in this field especially financially is a challenge as well.
You have worked closely with children with special abilities and the visually challenged. Could you share your experiences?
Nagaraj sir, Suparna ma'am and Shakthi sir began a trust called the Articulate ability. They would teach the visually challenged students and also give them opportunities to perform along with us. So, my journey with them began while performing with them together on stage. Slowly, I also started helping in training students. I have been teaching at the Deepa academy for the visually challenged for over a decade now. It made me realise the therapy value of the artform. I am humbled to work with such wonderful students.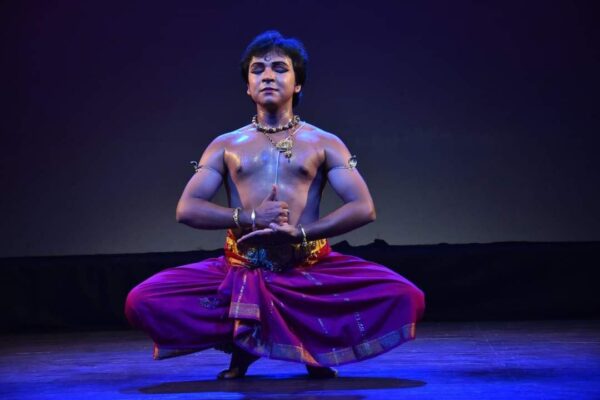 What measures do you think the fraternity and society should take to ensure the sustainability of artists in the area of classical dance?
Dance fraternity can produce dance dramas that will create opportunities for freelancers. Such concept driven performances will help in team building among artists as well. Educational institutions should promote dance as a subject – this will help in spreading awareness of the artform and also help in creating job opportunities for dance teachers.
*******