Bharatanatyam is one of the oldest surviving classical dance forms of India. From the heavens to temples, from temples to courts and from the courts to sabhas, Bharatanatyam has evolved differently at each stage. From being known as the 'Sadir', 'Chinna Melam' and then Bharatanatyam, the artform has been practiced and perceived through different spectrums each time. The concept of Bᾶni is a recent development and plays a role in analyzing the 'why' and 'how' of different performances. These series of articles (written from the perspective of personified Bᾶni for purely fun reading) seek to untangle the ambiguous web of Bᾶni and answer the rhetoric questions related to the subject of its past, present and relevance.
This article focuses on the specialities and nuances of the Pandanallur Bᾶni. Drawn from conversations with Guru Smt. Radha Sridhar and Guru Smt. Padma Murali, this article seeks to highlight the unique characteristics of the Pandanallur Bᾶni…
Tanjavur flourished as the cultural capital of Tamil Nadu during the rule of the Cholas and Marathas. Several artforms prospered under their benevolent patronization. Primary among them was Bharatanatyam. The celebrated quartet of Tanjavur lived during the magnanimous rule of the Marathas. The bountiful patronization they received from the kings, allowed them to spread their wings further and create a better artistic world in and around the city of Tanjavur. They created several knowledgeable artists and Nattuvanars within their genealogy who continued their tradition and popularized their teachings and compositions. As time passed, some of them continued to live and teach in the cultural capital, while some settled down at different places around Tanjavur and continued the legacy. It was from one such family lineage that I, the Pandanallur Bᾶni, was created and nurtured. My genius master was born as the grandson of Ponnaiah (of the Tanjore Quartet fame) in the small town of Pandanallur. Guru Pandanallur Meenakshi Sundaram Pillai had his initial training under Kumaraswamy Nattuvanar, and then furthered his training under Mahadeva Nattuvanar. Having a strong base in the Tanjavur Bᾶni, he strived to add more colours and build an evocative framework from his learnings. Thus, I was born as an offshoot of the Tanjavur Bᾶni.
Pandanallur Meenakshi Sundaram Pillai skillfully sculpted me highlighting my defining characteristics that enchanted and attracted all audiences. He masterfully weaved together the delicacies of Aramandi, grace, neat linear Nritta and subtlety in Abhinaya which became the trademarks of my existence. An illustrious Nattuvanar, he created several dancers through whom I could exhibit my special characteristics. He was among the few Nattuvanars to train non-hereditary dancers and impart them the knowledge of Bharatanatyam during his times. My golden years sparkled under his guidance and I would brightly express myself through his disciples including the likes of Smt. Mrinalini Sarabhai, Sri Ram Gopal, Sri U S Krishna Rao, Smt. U K Chandrabhaga Devi and Smt. Pandanallur Jayalakshmi. The flag of this legacy was then carried forward by Shri Chokkalingam Pillai and Shri Subbaraya Pillai. They created several dancers through whom I continue to showcase my characteristics with pride all around the world……
Professor U S Krishna Rao and Smt. U K Chandrabhaga Devi are two stalwarts who trained under legendary Guru Meenakshi Sundaram Pillai. After their learning process, they settled in Bengaluru and imparted training to several dancers through whom I happily flowed showcasing my uniqueness thus, capturing the eyes and hearts of several rasikas. Professor U S Krishna Rao and U K Chandrabhaga Devi became my prime torch bearers who helped me thrive in the city of Bengaluru. Great performers and scholars themselves, they carved several dancers with whom I share an everlasting relationship. One such dancer, choreographer and teacher is Guru Smt. Radha Sridhar. A very senior dancer, she was an ardent disciple of the dancing couple and passionately followed and carried forward their teachings. Reminiscing about her learning days, she talks about how my different qualities was taught to her.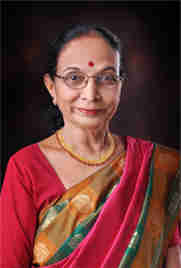 "My Gurus always insisted on Aramandi. They would make me sit with my back perfectly straight and go down half my height and stay in that position till I had learnt it. The Theermana Adavu in our style was performed quite differently. The hand positioning and the leg movements would be opposite and complimentary to each other. Pandanallur Bᾶni is known for its subtlety in Abhinaya. No expression would be dramatized and we would convey everything in a crisp manner with the focus being on the subtlety of expression. Another important aspect of Pandanallur Bᾶni is the Kulukku Nadai. The beautiful lilting walk formed a very important part of our presentations."
Oh! This reminds me of an incident oft quoted by Smt. Alarmel Valli. She was quite young when Master, Shri Subbaraya Pillai, took her to the house of one of his disciples. She was asked to observe and walk behind the senior dancer and learn the method of performing the Kulukku Nadai… The Veranda of the house was our stage for this. I would gracefully lilt up and down through the dancer while her long hair swayed gently to the left and right rhythmically. And young Valli walking behind the dancer, would try to imitate and emulate the same. It was during these long practice sessions that my bond with Valli became stronger and soon our combination created magical wonders. She further developed and molded my Kulukku Nadai to look as beautiful as the walk of a swan. An elegant and enthralling performer, her dance stands as the touchstone for all my qualities!
Bhavayami Raghuram
Bhavya Sugunaa
Ramam…..
A 10-year-old disciple of Guru Pandanallur Palaniswamy Pillai was skillfully expressing and presenting this piece confidently in the prestigious Krishna Gana Sabha. Young Padma Murali was presenting this as the main piece as I flowed through her neat movements. My subtlety sparkled in her eyes as she enacted the different scenarios of Ramayana in the piece. My affinity for lines and graceful movements reflected in her dance and enthralled the audiences. She had carved a niche for herself from that very moment and I started to enjoy a wonderful relationship with her. Our combination would entice audiences each time and it grew to better heights through her students.
Let us listen to what she tells about my characteristics:
"During my initial years of learning, I had never known about Bᾶni or the specialities of Pandanallur Bᾶni. Yet, there were few aspects that my Guru Shri Pandanallur Palaniswamy Pillai would insist on doing right and later I realized that they were the specialities of the Pandanallur Bᾶni that I have been trained in. Master would emphasize on a perfect Aramandi, and insisted that we kept our backs straight always. The movements and Adavus that we perform are more grounded in nature. We do not use many leaps and jumps and work on presenting firm and floor-oriented movements. Pandanallur Bᾶni is known for its neat movements which have an equal combination of stiffness and grace. I remember Master telling us that the sound of our feet stamping the ground should not be above the sound emitted from the bells or the Gejje! With simple and fast Korves coupled with short and crisp Jathis, the rhythmic aspects also exuded its complexities in a very subtle manner."
I have had a very exciting journey through several Nattuvanars and performers. Being born from the creativity and genius of Pandanallur Meenakshi Sundaram Pillai, I enthusiastically showcased my specialities through scores of his brilliant disciples. The relationship with my creator's family continued as I was further nurtured by his son and grandson, Shri Chokkalingam Pillai and Shri Subbaraya Pillai. And today, I can proudly say that I share a meaningful bond with innumerable disciples and grand disciples of these great Gurus.
I am sure that all of you have had the opportunity of feasting your eyes with my unique qualities at some point. We have met each other in various programs on the stage…. But, do you know I was created in the nurturing environment of a small town near Kumbakonam? Yes! My birthplace characterized by the cool breeze from the lush and green surroundings and the simplicity of the majestic Pashupatheeshwarar temple, definitely plays a very important role in shaping my qualities. Hoping to meet you at my birthplace soon….