The Making of… SHURPANAKHI – The woman inside the demon – Vandana Supriya
-Kavya Kasinathan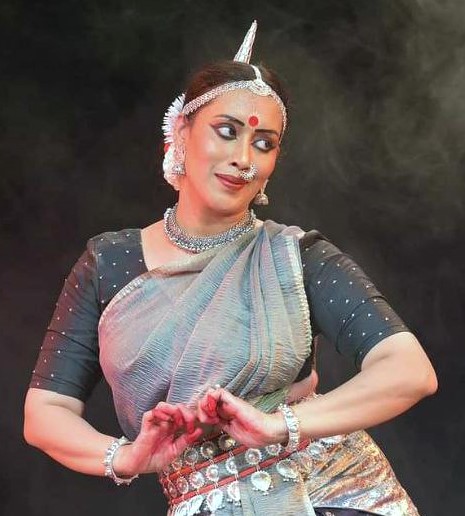 Vandana Supriya Kasaravalli delved into the realms of art and dancing at a very young age. Having undergone professional training from reputed institutes like Nrityagram, Natya Institute of Kathak and Choreography and presently training under Guru Bichitrananda Swain of Rudraksha Foundation, she is an expressive performer, passionate teacher and a creative artist who strives to contribute to the wider reach of dance. Her recent thematic production showcases her sympathetic reading of the character of Shurpanakhi. Refuting the manner in which Valmiki has described her in his version of Ramayana, Vandana takes a more empathetic approach towards her portrayal. Her production captures the innate human and womanly qualities of Shurpanakhi and values them above the negative qualities associated with her. The entire production is in Kannada and utilizes a blend of two different styles- Odissi and Yakshagana.  Kalasinchana talks to Vandana about this unique production and the conceptualization process and the efforts that went behind creating this artistic piece of work.
Inspiration for the thematic work…
Vid. Karthik Hebbar has penned a very beautiful and captivating Navarasa Gadhya which describes the emotional journey of Shurpanakhi after her fatal encounter with Rama and Lakshmana. I had initially choreographed and performed this. This provided the spark in creating an entire production on Shurpanki capturing the true essence of her personality rather than branding her as a negative Asuri.
Germination of the idea…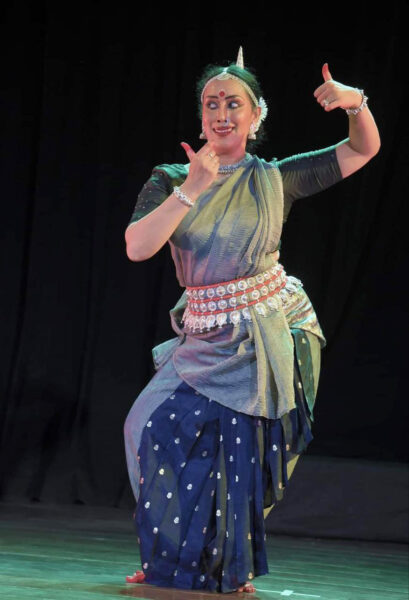 For me, treating Shurpanakhi as a normal woman formed the core of the production. As human beings, we all have good and bad qualities in us. And I aimed to treat her as any other human being. This made me question if her actions were so bad to be punished the way she was? And ponder if we would react similarly to another fellow human being!
I had also taken a conscious decision not to take an extreme feminist and rightist view. My sole intention is to treat as a human and an equal rather than painting her personality with the extreme feminist views.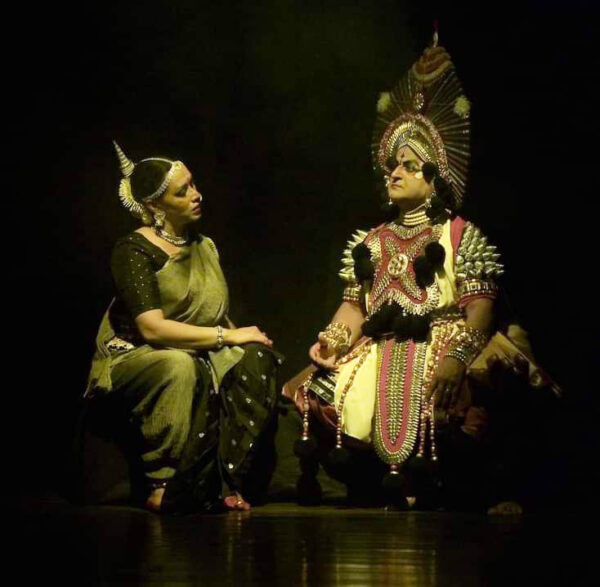 Collaboration with Yakshagana…
While working on the creation of the production, I realised that Shurpanakhi was always portrayed alone with no companions. This was in complete contrast to our understanding of Radha or a Nayika who always has a friend to confide in. Thus, I wanted involve another artist and with my innate liking for Yakshagana, I was able to collaborate with Sri Tunga sir for the production. Yakshagana forms the essence of our state and soil and I was always fascinated by the theatrical elements of the artform. Thus, a collaboration with Yakshagana helped in adding the element of spontaneity to the production.
The Yakshagana Artist (Tunga sir) was a friend through the ups and downs of Shurpanakhi's life experiences. In the production, he plays the Sakha who is present when Shurpanakhi meets Rama, Lakshmana, and is wronged by them.
Conceptualization..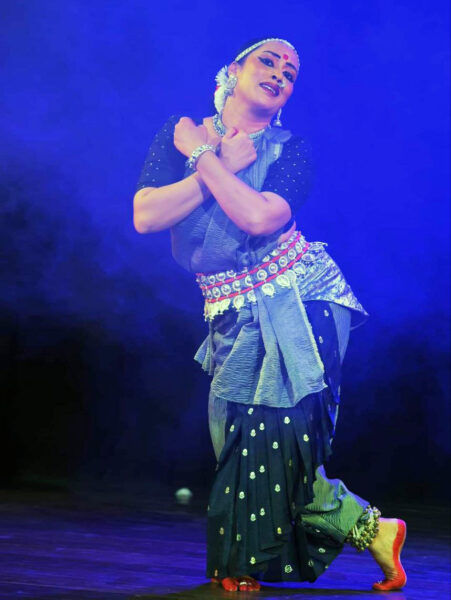 I wanted to begin with a traditional introduction of the character and thus the production begins with a Yakshagana piece introducing the character and eventually Shurpanakhi enters, glances at Rama and falls in love with him. The production involves theatrical elements of impromptu dialogues and conversations between Shurpanakhi and Sakha. Compositions used for Yakshagana are adapted to the Odissi style as well. From experimenting with different styles and languages, the process of creating Shurpanakhi was a rejuvenating experience. A sensuous composition is used to depict the conversation of Shurpanakhi and Rama, and is subsequently contrasted with the heart wrenching Navarasa Gadhya penned by Karthik Hebbar and finally culminating the production on a metaphorical note with a description of Shurpanakhi who is struggling with her emotions. This is depicted through the adaptation of "Kaadu Malige ondu Kaadinalli Narullutide". I also intend to bring in a conversation between Sita and Shurpanakhi after this episode. I am exploring and trying to paint the idea of both women being treated by the whims of men and being made to suffer for it as well.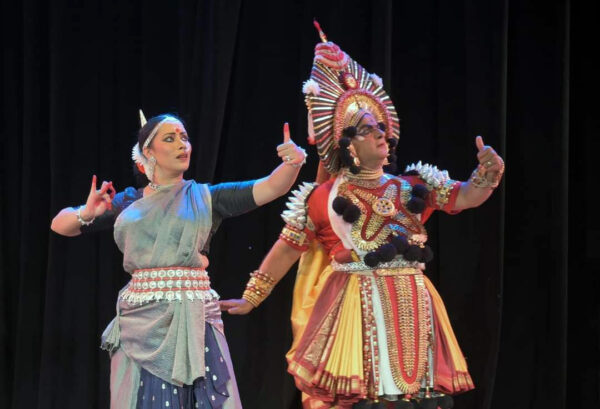 Adaptation of music….
I was inspired by many songs, poetry, phrases, and styles of music and each of this reflected in the overall selection of compositions. While recording the music, I had to keep in mind the element of blending the musical instruments of both artforms as well. An artistic combination of Pakhawaj and Chenda helped in blending the artforms together. The production captures a confluence of both Carnatic and Hindustani styles. I also had the good fortune of working with Vid. Hemanth Kumar, a violinist himself who also runs a studio. Having him as the Music Director for my production helped in several ways as his in-depth knowledge of the language and ragas enhanced the musical score.
Thoughts about Aharya Abhinaya of the production
"Subtle and suggestive Aharya" has always been my mantra. I always feel dance should be more expressive than the aharya and decor.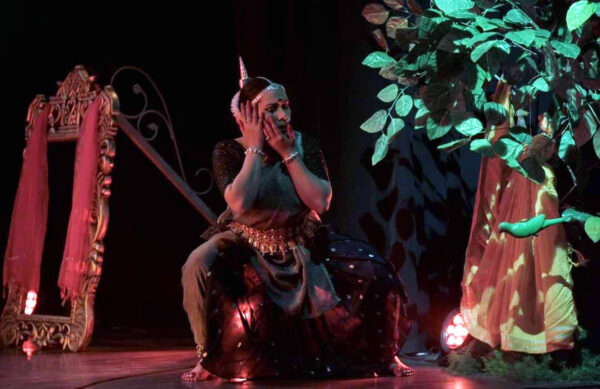 Yet, in productions, minimalistic usage of stage props, lightings and costuming enhances the nuances of the work. In this view, I chose to use grey colour for the costume. Grey is a colour that is in between black and white and captures the essence of my intention of presenting Shurpanakhi.  Stage props are used to place and represent Rama and Lakshmana. A bow is used to represent Rama and a tree on the other side of the stage hints the presence of Lakshmana. I also use a mirror towards the end of the production. Each of these decor objects are designed by Nishant Arvind and they are foldable and easily portable as well.
Message you want to convey through the production
We all have good and bad in us. We should not judge a person solely based on one mistake or bad quality. Shurpanaki is taunted for just one mistake. And it pains me that we are dismissive of her feelings at that point. Isn't she a woman who expresses her innocent desire of passion? If Shurpanakhi committed a mistake by approaching Rama, then he has also committed a mistake by playing with her emotions. Accept people as they are without judging them or playing with their weakness is the main message I wanted to convey.
The challenges you faced in the making of Shurpanakhi…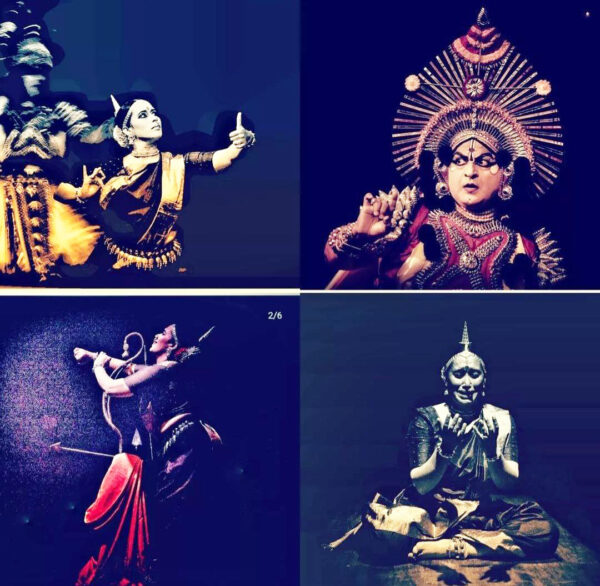 The biggest challenge I had to overcome was getting used to performing theatre and dialogue deliverance. Tunga sir is a master while I am a novice in this field. It was a huge challenge to create a balance. While blending of Yakshagana and Odissi sounds challenging, their unique qualities complimented each other with Yakshagana adding vibrance and Odissi highlighting elegance and grace in the overall presentation. After performing the production, I also met several people who were not very conducive to the idea of looking at Rama as a man who has committed a mistake. They were of the view that Rama is an Uttama Purusha, and what he did is justified! This conditioning is a tough challenge to overcome. But, to each, his own opinion!
Relevance of the production and your major takeaways….
My major takeaways are that works like this create and spark an interest in the minds of viewers and language is never a barrier to communicate what you want.I feel thematic productions are the need of the day. Productions addressing social issues have a wider reach and also crosses several other barriers like language and knowledge of the artform. Even layman audiences connect with and understand the meaning and essence of productions. Shurpanakhi is a production that stands strong to assert the idea of treating a woman as a human being primarily and granting her a voice to lament the course of her life experiences.
*********